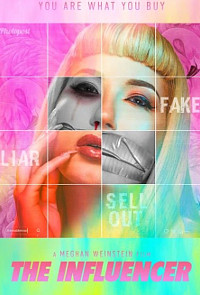 dir-scr-prd Meghan Weinstein
with Kasia Szarek, Shantell Yasmine Abeydeera, Thea Cantos, Ian Jones, Victoria D Wells, Janeva Zentz, Mark Valeriano, Briana Erica, Dylan Wayne Lawrence, Brandon Don Heath, Desanka Ilic, Jerry Gregorio
release US 17.Sep.21
21/US 1h20

---
Is it streaming?

---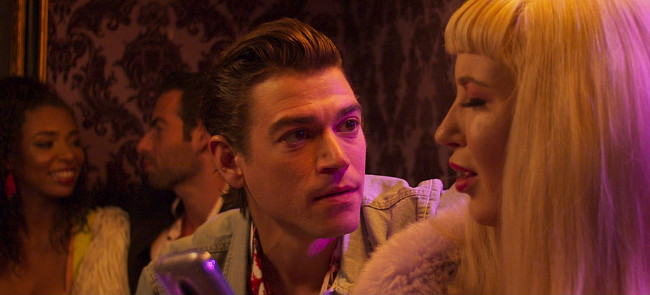 Initially broad and silly, this social media comedy plays pointedly with the vacuous nature of the job, while filmmaker Meghan Weinstein has fun putting snarky characters into colourful situations. It's briskly paced and increasingly manic, with rather a lot of shouting with shallow emotions running very high. Then the narrative shifts into an unhinged thriller, and while the tone remains resolutely cheesy, larger themes come into the mix.
---
Abbie (Szarek) is an Instagram star living the high life in Hollywood, creating wacky commentary about fashion trends. And the newest member of her team of unpaid interns is razor-sharp fan Trendygirl99 (Cantos). Abbie is reluctant to sign a contract with mega-corporation Nutrocon, because it will mean too much work, but she negotiates a huge payout. Then four masked activists hack into her accounts and invade her home, intending to take down Nutrocon and its unjust, sexist policies. Soon her biggest fan Justin (Valeriano) and best pal Skylar (Erica) turn up to complicate things.
---
Cleverly evoking the lure of money, free stuff and the power to influence millions of followers, the film plays with tantalising images and the insanity of bubble-headed models who have armies of fans who worship every filtered photo and over-performed video. The hackers have their own issues between them, with tetchy relationships and differing opinions about how to follow their nefarious plan, which only vaguely makes any sense. But the plot has some strong moments that drive home the idea that followers don't actually know their influencers.

Szarek has plenty of attitude as the diva-like Abbie, who's more horrified that the hackers post unfiltered photos of her than that they have taken over her life and home. Her every reaction is petulant and larger than life, often hilariously so, including the dismissive way she toys with Valeriano's too-keen Justin. Meanwhile, Cantos and Erica sharply play smart fast-talkers who can put Abbie in her place. And as the activists, Abeydeera, Jones, Wells and Zentz each get a distinct characteristic to set them apart.

The bickering hackers offer clever angles on the bigger issues they claim to be fighting for. Their understanding of these things is as paper-thin as the influencers they are railing against. But Weinstein puts more emphasis on the madcap action as well as some gentle intrigue, such as the true identity of the activists' leader. It may be satisfying to see these nutty characters take down a cruel corporation, but the heist is too messy to engage with meaningfully. Still, a late emotional turn packs a kick.
| | | |
| --- | --- | --- |
| | themes, language, violence | 14.Sep.21 |