---
Born to Be
Review by Rich Cline |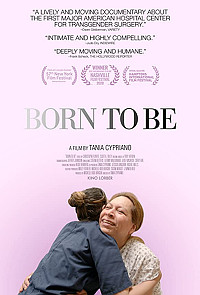 dir Tania Cypriano
prd Michelle Koo Hayashi
with Jess Ting, Mahogany Phillips, Garnet Rubio, Cashmere Vassor, Jordan Rubenstein, Shawn Kamari Frederick Sr, Leiomy Maldonado, Marci Bowers, Elsa Quinones, Bella Avanessian, Zil Goldstein, Jens Berli
release UK Nov.20 rff,
US 18.Nov.20
19/US 1h32

---

---
Now streaming...

---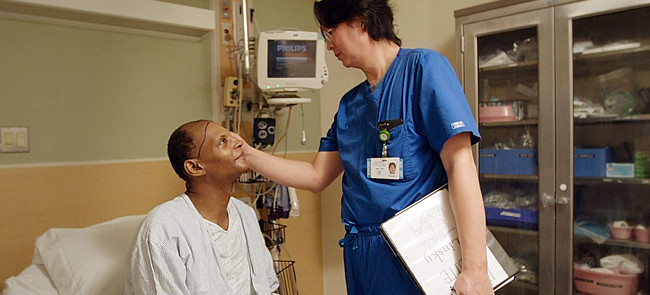 A straightforward observational documentary, this film follows a surgeon who has become an advocate for transgendered people. Dr Jess Ting is a remarkably compassionate man, brushing off criticism from others because he knows the impact he's having on people who are fighting to be themselves. Filmmaker Tania Cypriano's approach is refreshingly offhanded, allowing for natural wit even in the midst of some very serious discussions.
---
At Mt Sanai Hospital in New York, Jess is a groundbreaking plastic surgeon, sensitively helping his patients match their gender identity with their external appearance. Jess has been working in this field for 18 months; he took the job because everyone else said no. He simply couldn't ignore the fact that nearly half of transgender people attempt suicide. They need someone who cares. So he has trained with experts from around the world, developing his own innovations. But he won't accept praise, admitting that his patients are so precious that his work scares him.
---
The film follows a variety of these patients, including the colourful 52-year-old Cashmere, who after living as a woman for 40 years is only now able to afford surgery because New York mandates insurance companies to cover it. She remembers working the streets, and living on them, in the old days. Former male model Mahogany is having facial reconstruction to make her more feminine. Garnet's mother says it's unthinkable that she would disown her child just because her daughter was born as a boy.

The joy these people express is infectious, as they find someone who cares about how they feel and tries to help them be the person they are inside. The unassuming, likeable Jess' goal is to let his patients feel as natural as possible. Meanwhile, he also takes the cameras into his home, where he's a single dad to his kids and loves playing his standing bass. Originally self-taught, he studied at Julliard before deciding to switch to medical school. And now business is booming: his clinic can't expand quickly enough to meet demand.

Gender is in the brain, Jess says. "Human beings are complex," notes expert surgeon Bowers. "And everything including gender is represented by diversity." As Cypriano allows these patients to speak, the film explores issues of dysphoria, gender roles and societal pressures, with references to ignorance, intolerance and bigotry (Jess' response is to offer haters psychological treatment for close-mindedness). The film also outlines some of the surgical complexities involved, which are frankly amazing.
| | | |
| --- | --- | --- |
| | themes, language | 5.Nov.20 rff |
---
Drag Kids
Review by Rich Cline |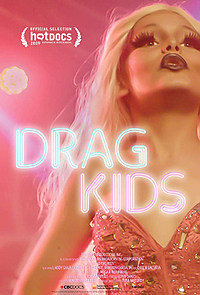 dir-scr Megan Wennberg
prd Erin Oakes
with Stephan Hirst, Jason Kerr, Bracken Hanke, Nemis Melancon Golden, Gabbie Hirst, Paul Derbyshire, Vicki Bailey-Kerr, Greg Kerr, Dominique Hanke, Jessica Melancon, Brian Mendez, Ralph Gvasalia
release Can 25.Jul.19,
UK Nov.20 rff
19/Canada CBC 1h15

---

---
Now streaming...

---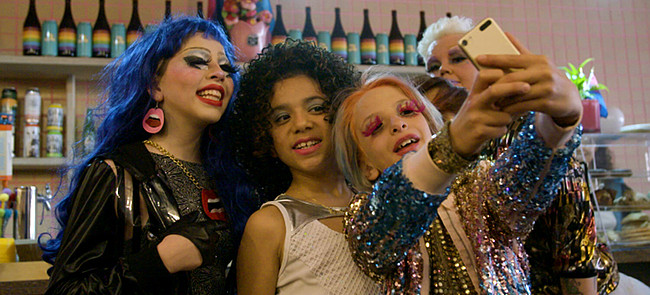 This observational documentary takes a look at pre-teens who love to perform in drag on-stage. Filmmaker Megan Wennberg follows four children from three countries as they travel to Montreal to perform together at Pride and compete at a ball. This gives the movie a terrific story structure, watching they plan, practice and develop a hilarious camaraderie. They also begin to understand the positive impact of drag culture on global society.
---
These infectious, outspoken kids are fierce, bringing artistry and energy to their performances. In Spain, 9-year-old Stephan gets teased just for dressing up as Laddy Gaga, so his parents limit it to when he's in a show. In Missouri, Jason admits that wearing a dress as Suzan Bee Anthony makes him feel independent. In Vancouver, Bracken is an articulate girl who loves to hyper-feminise herself in drag, which makes her feel powerful. And in Montreal, Nemis is larger-than-life both in and out of drag as Queen Lactatia. Each is a full-on diva, so it's fascinating to watch them try to share the spotlight.
---
This isn't about sexuality; it's about expression. Stephan's mum Gabbie is furious when people ask if her son's gay. "How would he know," she says, "he's 9!" Jason's mother Vicki says that every child needs to be able to develop their natural talents, especially her brown-skinned son. Bracken's mother Dominique says she can guide her daughter, but doesn't get to direct her. Nemis' mother Jessica doesn't want her son to have to explain why he likes to wear makeup.

There's of course the issue of where they can perform, because children aren't allowed in gay bars. But they shine at family-friendly venues and events. And they're stars on social media, which their parents sometimes find a little scary. Especially when faced with "concerns" of people who have strong opinions of how kids should be. There are moments when these feel like stage parents, coaching their children to bigger performances, but they all express pride in their child's bravery to be themselves.

The film is intimately shot and edited to create a strong narrative as the kids meet each other, work together, have meltdowns and learn a lot. It's lovely to watch parents who are so supportive of their children, especially in the face of outrageously small-minded prejudice. These kids know that their families have their backs, which of course gives them confidence in other areas of their lives. And the film is so involving that we end up wanting Wennberg to revisit these four amazing kids 10 years from now.
| | | |
| --- | --- | --- |
| | themes, language | 7.Nov.20 rff |
---
He Dreams of Giants
Review by Rich Cline |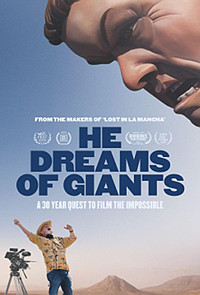 dir Keith Fulton, Louis Pepe
prd Lucy Darwin, Keith Fulton
with Terry Gilliam, Adam Driver, Jonathan Pryce, Olga Kurylenko, Nicola Pecorini, Amy Gilliam
release US Nov.19 afi,
UK Nov.20 rff
19/UK 1h25

---

---
Now streaming...

---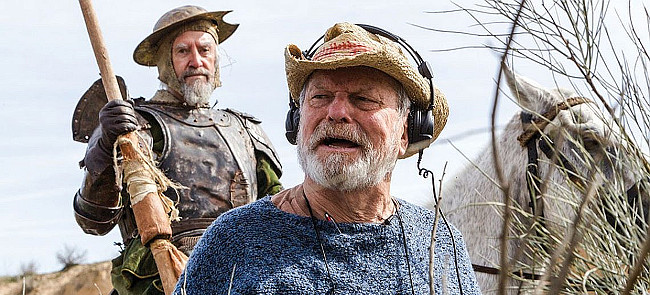 After documenting Terry Gilliam's ill-fated attempt to make The Man Who Killed Don Quixote in 2002's Lost in La Mancha, Keith Fulton and Louis Pepe are back to cover the film's ultimate production 17 years later. It's a story of artistic tenacity that echoes Cervantes' classic tale of a man on a mission. And it's an intriguing echo of Cervantes himself, who published his masterwork after two decades of struggle.
---
Since 1989, Gilliam almost got his dream movie into production at least seven times, cycling through various casts and crews, but never giving up on his quest to tell the story. As usual, Gilliam channels his considerable visual imagination into a meta-narrative, and he ultimately reunites with long-time collaborator Pryce, along with Driver and Kurylenko, to make the film. Cinematographer Pecorini is still on board, as are costumes made two decades earlier. And Gilliam is determined to make a great film that inspires people.
---
This documentary juxtaposes interviews with Gilliam over more than 20 years as he discusses why this project is so important and the various challenges that have faced him over the decades. And their close-ups of him watching scenes being filmed are gorgeous. Fulton and Pepe have full access throughout production, from early script readings to shooting to the Cannes premiere. There are also rather odd sequences inside Gilliam's head, picturing him walking in a white void grapples with his thoughts.

Along with covering the production, this doc is a biopic about Gilliam, complete with extensive archive footage. As a cartoonist, he begins with storyboards that conceptualise his outrageous visuals, showing his desire to amaze and astound viewers. He's always been playful on-set, capturing unexpected moments because of his willingness to follow his curiosity and humour. But he struggles to get his movies made because they're outside the mainstream, are seen by smaller audiences and don't make blockbuster profits. A rare filmmaker with integrity, he's never made an easy film.

Of course, Gilliam is aware that expectations for this movie are far too high after three decades. "I'm going to have to die to get out of this," he jokes. So the pressure on him is intense, especially since his budget has been cut in half, making it impossible to make the film he imagines. He speaks of how the work takes him over, that it's painful and satisfying at the same time. And he's also frightened that he doesn't have a project lined up after this one comes to an end. He needs to feed that addiction.
| | | |
| --- | --- | --- |
| | themes, language | 2.Nov.20 rff |
---

< < D O C S > >
See also: SHADOWS FILM FESTIVAL

© 2020 by Rich Cline, Shadows on the Wall


HOME | REVIEWS | NEWS | FESTIVAL | AWARDS | Q&A | ABOUT | TALKBACK