R E V I E W B Y R I C H C L I N E

This is much more than the average making-of documentary; Fulton and Pepe may have set out to capture a behind-the-scenes look at Terry Gilliam's pet project, The Man Who Killed Don Quixote, but they end up with a gripping film of their own. Gilliam spent the better part of a decade on his vision of Don Quixote, Cervantes' mythical tale about a crazy old man's voyage to sanity.

Orson Welles tried to make a Quixote film for more than 20 years but never managed to complete it, and now his curse seems to have passed on to Gilliam. With cobbled-together finances and a seemingly distracted cast, Gilliam assembles his crew in Spain for seven weeks of pre-production (sets, costumes, make-up tests) followed by six disaster-filled days of filming (floods, a serious illness for star Rochefort) before the insurance company steps in to assess the damage.

Parallels are obvious between Quixote tilting at windmills and Gilliam battling forces he cannot control. Fulton and Pepe have access to the inner workings of this production team, and their footage is remarkable -- both more intimate and more intelligently shot than most behind-the-scenes docs. They coherently and clearly tell the story from start to finish, with Bridges' uncluttered narration providing the background and Gilliam giving the energy and humour.

Like the brilliant Hearts of Darkness, this documentary follows a string of unbelievable catastrophes that never derail the filmmaker's passion. The difference is that Coppola and his crew were left to their own devices, while 20 years later the investors have a more hands-on approach. And watching the "drama" unfold it's clear that 20 years later Apocalypse Now's plug would have been pulled. Watching Gilliam fight against the impending reality, then slowly give up and accept it, is heartbreaking.

This is also a very artful doc, blending in gorgeously animated storyboards (with Gilliam's own dramatised scriptreading), superb original music and real footage from those fateful six days. The film in question looks both brilliant (sets and design, casting) and odd (a strange time travel plot involving a modern day Depp who accidentally becomes Quixote's Sancho Panza). But there's no doubt that, even in the small glimpses we get, it looks absolutely fantastic. Hopefully Gilliam will be ably to buy the wreckage back from the financiers and make the film he's always wanted to make. Surely that's not an impossible dream.
| | | |
| --- | --- | --- |
| | themes, language | 21.May.02 |
dir-scr Keith Fulton, Louis Pepe
with Terry Gilliam, Johnny Depp, Jean Rochefort, Phil Patterson, Tony Grisoni, Rene Cleitman, Gabriela Pescucci, Nicola Peccorini, Benjamin Fernandez, Jose Luis Escobar, Bernard Bouix, Orson Welles
narrator Jeff Bridges
release UK 2.Aug.02
02/US 1h33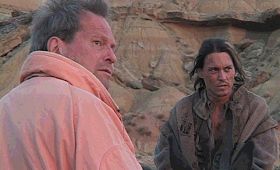 Losing the light. Gilliam and Depp try to regroup after the latest on-set calamity.