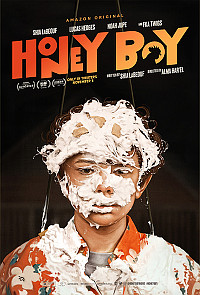 dir Alma Har'el
scr Shia LaBeouf
prd Anita Gou, Alma Har'el, Brian Kavanaugh-Jones, Chris Leggett, Daniela Taplin Lundberg
with Shia LaBeouf, Lucas Hedges, Noah Jupe, FKA Twigs, Laura San Giacomo, Martin Starr, Byron Bowers, Maika Monroe, Clifton Collins Jr, Natasha Lyonne, Mario Ponce, Dorian Pham
release US 8.Nov.19,
UK 6.Dec.19
19/US Amazon 1h34




---
SUNDANCE FILM FEST
TORONTO FILM FEST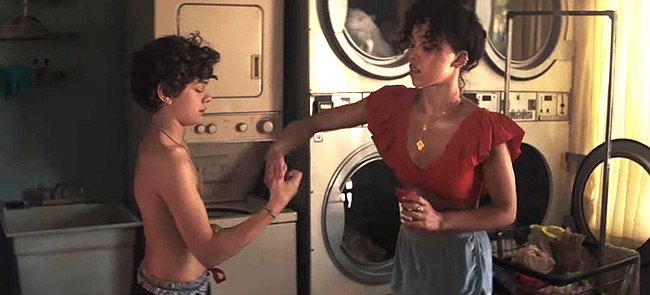 Shia LaBeouf exorcises his personal demons with this thinly fictionalised autobiographical screenplay, inviting the audience into his traumatic childhood. Playing his own father, he's excellent on-screen, as are the exceedingly gifted Lucas Hedges and Noah Jupe who play him. Meanwhile, the film is skilfully directed by Alma Har'el with a vivid visual style and stark emotional depth that reaches the audience on a visceral level.
---
In 2005, blockbuster movie star Otis (Hedges) is a hard partier whose substance abuse lands him in court-ordered rehab. His therapists (San Giacomo and Starr) encourage him to face up to the childhood that has left him badly scarred. So he revisits 1995, when as a 12-year-old (Jupe) he lives with his dad James (LaBeouf) in a trashy hotel while beginning his career. Dad is concerned about child labour laws, but not so much about smoking, drinking or swearing. James also hates Tom (Collins), who provides a responsible adult presence through the Big Brother charity.
---
Har'el lets the story unfold organically, as the two time periods flow into each other, with echoing themes that sometimes swirl into dreams that often feature the chicken who was James' rodeo clown sidekick. Thankfully, LaBeouf's sometimes brutally raw script features sharp edges of humour and irony, tackling the push and pull of this intense father-son relationship. It's often harrowing to watch, and sometimes feels trapped in a cycle of misery, but is underscored with warmth and earthy realism.

LaBeouf's work is astonishing, both writing with such openness and playing James in a sympathetic way that never justifies his considerable flaws. And his bold performance is elevated by shattering turns from both Hedges and Jupe, who bring Otis to life with layers of emotion that are joyful and agonising at the same time. Each actor takes the audience much deeper than expected. And the supporting cast adds pointed kicks without trying to steal a scene.

Defining a tough upbringing as post-traumatic stress may seem indulgent, but the film never wallows in the details. Even as he suffers, Otis refuses to wait for someone else solve his problems, so putting his feelings into a script feels healthy. There are also some telling observations about the challenges of an actor trying to face the emotional pain he relies on for his work: he needs it, but can't let it control him. This adds a surprising and subtly hopeful angle that's properly inspiring.
| | | |
| --- | --- | --- |
| | themes, language, violence | 5.Nov.19 |
R E A D E R R E V I E W S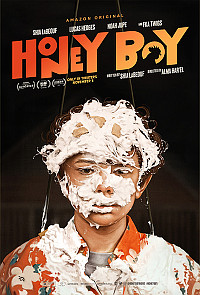 Still waiting for your comments ... don't be shy.