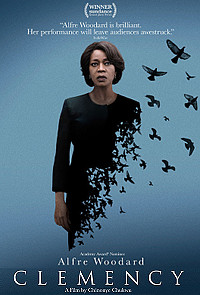 dir-scr Chinonye Chukwu
prd Timur Bekbosunov, Julian Cautherley, Bronwyn Cornelius, Peter Wong
with Alfre Woodard, Richard Schiff, Aldis Hodge, Wendell Pierce, Danielle Brooks, Richard Gunn, LaMonica Garrett, Michael O'Neill, Vernee Watson, Dennis Haskins, Michelle C Bonilla
release UK Oct.19 lff,
US 27.Dec.19
19/US 1h59




---
SUNDANCE FILM FEST
TORONTO FILM FEST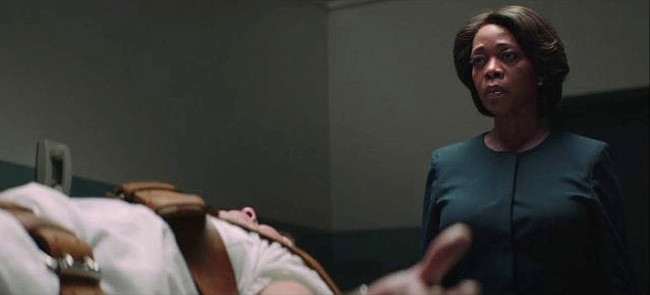 A somewhat overwrought sensibility kind of undermines this hushed, intense death row drama. Where it needs to be coolly aloof, the film indulges in gyrating emotional fireworks. This give the actors plenty of scenery to chomp on, but it waters down the power of the writer-director Chinonye Chukwu's story. Still, the film makes important comments about the issue of capital punishment, without ever preaching.
---
After an execution goes awry, Warden Bernadine (Woodard) is determined that the next one goes smoothly. The next man on death row is Anthony (Hodge), who was convicted of a murder he claims he didn't commit. His new lawyer (Schiff) has found the proof and is awaiting a clemency ruling from the governor. Meanwhile, Bernadine is struggling to keep all of this bottled up, withdrawing from her caring husband Jonathan (Pierce) and her deputy warden Thomas (Gunn). She's also not sleeping and hitting the booze with serious intent.
---
Each scene in this film churns with wrenching emotion, which plays across the actors faces as lips quiver and eyes fill with tears. Many scenes involve people at a loss for words due to their feelings of powerlessness: a warden simply doing her job, a prisoner marched to a wrongful death, a lawyer trying to win one last case before retirement, a husband straining to reawaken his wife's passions. Chukwu directs all of this with quietly assured camerawork, letting the actors do the heavy lifting.

But perhaps they should have been coaxed to bury feelings and reveal them more subtly. Woodard is on the verge of collapse in almost every scene, struggling to get her words out and remain objective in situations that would normally require open expressions of humanity. It's a raw, painful performance. Hodge is the other standout, also internalising his feelings to the point where he's about to explode, which he does in a couple of terrifyingly controlled bursts, using his superb physicality to maximum effect.

The issue of capital punishment is one that the US is struggling with long after the rest of the civilised world put an end to it. This gives Bernadine an almost military intention: she's only acting on orders. So it's impossible for her to admit, even to herself, that killing people is eating right through her soul. The topic is so loaded that the film really needed to be a lot more elusive than this. But its internalised point of view and quietly steely sensibility is properly riveting.
| | | |
| --- | --- | --- |
| | themes, language, violence | 19.Sep.19 lff |
R E A D E R R E V I E W S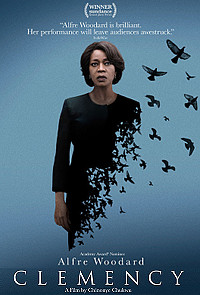 Still waiting for your comments ... don't be shy.