dir Paul Dano
scr Paul Dano, Zoe Kazan
prd Paul Dano, Andrew Duncan, Jake Gyllenhaal, Riva Marker, Oren Moverman, Ann Ruark, Alex Saks
with Carey Mulligan, Jake Gyllenhaal, Ed Oxenbould, Bill Camp, Zoe Margaret Colletti, Darryl Cox, Mollie Milligan, John Walpole, Tom Huston Orr, J Alan Davidson, Michael Gibbons, Nick Marchetti
release US 19.Nov.18, UK 9.Nov.18
18/US 1h44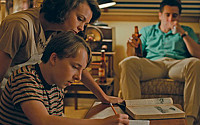 A little distance: Mulligan, Oxenbould and Gyllenhaal



---
SUNDANCE FILM FEST
TORONTO FILM FEST

R E V I E W B Y R I C H C L I N E

Beautifully shot to emphasise the unspoken feelings of the three central characters, this film gets deep under the skin with its dark emotions and intense drama. It's a terrific directing debut for Paul Dano, cutting through the noise to quietly expose the inner lives of the characters from the perspective of a singularly sensitive teen boy.

In 1960 Montana, 14-year-old Joe (Oxenbould) has built a quietly happy life after moving to Great Falls with his parents Jeanette and Jerry (Mulligan and Gyllenhaal). He plays football at school, gets good grades and has been noticed by a smart, cute girl (Colletti). Then Jerry loses his job for being to nice to the customers at the golf club, and Jeanette can't bear to watch his loss of self-worth. So the moment he takes a job fighting an encroaching wildfire, she begins to flirt with wealthy businessman Warren (Camp).

Joe watches all of this happen with a clear understanding of what it means in the grand scheme of things, something neither of his parents are capable of seeing. This point of view gives what happens a surge of intrigue, as Joe tries to hear muffled conversations and catch glimpses through partially closed doors or windows. But it isn't difficult for him to understand how his parents' marriage is collapsing, even if he can't figure out why they're being so stupid.

Mulligan is particularly good in a complex role as a woman struggling to control her messy feelings. Jeanette knows she's in the wrong, making decisions based on survival instinct rather than morality. Mulligan balances likeability with selfishness, because she's clearly aware of what she's doing. In a smaller role, Gyllenhaal has several powerful moments of his own, also balancing Jerry's hang-dog haplessness with a deep sense of frustration. But the film belongs to Oxenbould, who comes of age with a role that's layered and powerfully compelling.

This young Australian actor usually plays the goofball, but has become a striking young man who conveys thoughtful intelligence in every look. This makes it very easy to identify with Joe as he reacts internally to inexplicable things he sees and hears, realising that he is responsible for his own actions and reactions. He is also beginning to understand that he needs to make better decisions than his parents. Although older audience members will understand their motivations far better than he does.
| | | |
| --- | --- | --- |
| | themes, language, violence | 4.Sep.18 |