dir Panos Cosmatos
scr Panos Cosmatos, Aaron Stewart-Ahn
prd Adrian Politowski, Martin Metz, Nate Bolotin, Daniel Noah, Josh C Waller, Elijah Wood
with Nicolas Cage, Andrea Riseborough, Linus Roache, Ned Dennehy, Olwen Fouere, Richard Brake, Bill Duke, Line Pillet, Clement Baronnet, Alexis Julemont, Stephan Fraser, Ivaylo Dimitrov
release US 14.Sep.18, UK 12.Oct.18
18/Belgium 2h01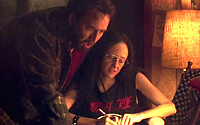 A happy, warm glow: Cage and Riseborough



---
SUNDANCE FILM FEST
CANNES FILM FEST

R E V I E W B Y R I C H C L I N E

Set in 1983, this film has a strong period vibe, echoing the era's horror thrillers everything from the themes to the typeface. Benjamin Loeb's grainy widescreen cinematography and Johann Johannsson's haunting score further add to the tone. Filmmaker Panos Cosmatos creates a deliciously deranged mix of grisly violence and witty characters, although the inevitable climactic carnage is at least 30 minutes too long.

Red (Cage) and his artist girlfriend Mandy (Riseborough) live in an cabin deep in a misty woods. One day on a walk, Mandy encounters a group of people in a van. These are the Children of the New Dawn, a cult group led by the short-tempered Jeremiah (Roache), who sends a follower (Dennehy) to kidnap Mandy. While Jeremiah and Mother Marlene (Fouere) induct her into their group, Red wakes up in captivity too, is brutally tortured and left for dead. So he collects his crossbow, smelts an axe and heads out to get revenge.

The opening beautifully sets the scene, as Red and Mandy enjoy their quiet life far from everyone else. Both dream in fantasy animation sequences. Mandy reads scary books and shares creepy stories from her childhood, seeing the world in a dreamy red haze. So we feel the violation of this incursion into their idyll. Meanwhile, the cult is consorting with a seriously nightmarish biker gang that materialises in the mist when called. And they want blood. More blood.

Performances are arch and loaded with insinuation. Riseborough gives a superbly internalised turn, while Fouere is a terrific combination of sinister and desperate. Roache is also overflowing with menacing urges. But of course, the film belongs to Cage, who dives in with full-throated emotion. His wild-eyed style of acting is perfectly suited to to Red, who only gets more determined with each setback. And when he discovers the biker gang's stash of drugs, the story catches up with Cage, not the other way round.

The script is packed with wry humour, all of it delivered deadpan, which cleverly adds to the nastiness. After the sharply well-observed first half, the film shifts into almost a full hour of violent mayhem accompanied by both fire and gushers of blood. These bikers from hell make formidable opponents, but it's the crazed true-believer mentality of this cult that's properly evil. The film gets somewhat bogged down in the hellish hyper-violence of its final act. But the chainsaw battle is insane.
| | | |
| --- | --- | --- |
| | themes, language, violence, sexuality | 23.Sep.18 |