SUNDANCE FILM FEST


This Cairo-set police thriller is perhaps too elusive to properly grip the audience, but it's a striking portrait of a culture that seems to ignore every rule of law. Assembled with an offbeat approach, the story's most momentous moments are shot in an almost throwaway style, which makes it an intriguing challenge to know who or what is important. This also provides some nasty gut-punches along the way to the requisite shocking finale.

In January 2011, a beautiful singer is executed in a hotel room. Detective Noredin (Fares) follows the trail to building tycoon and parliament member Hatem (Selim), knowing that, even with solid evidence like a set of photographs, he's unable to confront such a powerful man. The only witness is cleaner Salwa (Malek), a Sudanese refugee without any legal status. As her friends try to blackmail Hatem, Noredin tries to navigate a dodgy system and get to the bottom of what actually happened. Is a notorious Tunisian pimp (Yacoubi) involved? Or a mysterious green-eyed man (Dazi)?

Casual corruption infuses this story, from the policeman who casually charges a snack to the murder-scene hotel room to the manager who never asks about his employees' legal status. Everyone is stealing anything they can while protecting the powerful and manipulating the system. Noredin himself has a fling with the victim's flirty best friend (Amar). Meanwhile, Noredin's father (Shafie) tells him to just admit that he stole his cash rather than earned it.

Fares is a solid leading man, easiy to identify with in a variety of unexpected situations and locations. So even if his personal story is only partially explored, he's a likeable guy with an admirable tenacity. Some comical touches add to his personality (his TV only gets Italian channels, and he's struggling to learn how to use Facebook). But there are few people he can trust. Lots of figures circle around him, but few emerge as proper characters.

Noredin's frustration is palpable, as his investigation is derailed by officials, colleagues and people of privilege. Writer-director Saleh offers a vivid depiction of a society in which justice isn't a priority. It's a grim portrait, but it finds an intriguingly complex hero in Noredin. He's flawed, impulsive and prone to pocketing whatever cash he finds at a crime scene. But he's also seeking the right solution here, even as the entire nation is about to erupt, rioting in the street to demand an end to a corrupt regime.
15 themes, language, violence
---
14.Oct.17 lff
---

R E V I E W B Y R I C H C L I N E
A Sort of Family


Una Especie de Familia
dir Diego Lerman
scr Diego Lerman, Maria Meira
prd Nicolas Avruj, Diego Lerman
with Barbara Lennie, Yanina Avila, Claudio Tolcachir, Daniel Araoz, Paula Cohen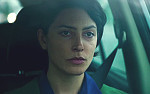 release Arg 14.Sep.17,
UK Oct.17 lff, US Oct.17 ciff
17/Argentina 1h35

---
TORONTO FILM FEST


From Argentina, this dark drama is intriguing enough to hold the interest, but it loses the audience's sympathy along the way. With a central character whose specific issues are only superficially defined, much of what happens feels infuriating, which is a problem for a movie that's straining so hard to be emotionally wrenching. Even so, filmmaker Diego Lerman has an eye for characters and settings, so he draws us in to the dilemma and its implications.

Malena (Lennie) is a young professional who drives all night from Buenos Aires to a remote country hospital, where Marcela (Avila) is about to give birth to a child she intends to adopt. Then when the boy is born, Marcela's family suddenly start issuing demands for money. And the paperwork trail doesn't seem particularly aboveboard. She gets some help from her local friend Costas (Araoz), who convinces her husband (Tolcachir) to come to the rescue. But Malena is panicking that she might not be able to take the baby home.

Basically, Malena's inability to keep calm causes all of her problems, and the plot hinges on her moments of panic. Her impassioned yearning for a child is explained with odd simplicity quite a bit later in the story, leaving other questions about things like the nature of her marriage or how someone so apparently educated could make so many thoughtless, impulsive decisions. Lennie's performance is raw and honest, but as written it's impossible for Malena to be likeable enough to root for.

The film is so tightly focussed on her that no one else registers very strongly. Avila gives Marcela an aching sense of realism as she says she can't raise another child herself. Tolcachir brings a superbly steadying presence to Malena and the film itself, but his reactions are also uneven. He's warmly welcoming the infant but wary with his wife, for example, hinting that their marriage might be over.

In addition to a pointed look at a woman desperate to be a mother, the film feels like a cautionary tale about stepping outside the law to make dreams come true. It's also a rather obvious criticism of Argentina's adoption laws, which allow a small-town hospital to run this kind of scam. Still, there are several moving aspects to the story that make it worth a look, especially as it explores the impact of all of this on a tiny baby, his biological mother and the couple who desperately want to be his parents.
15 themes, language
---
13.Oct.17 lff

R E V I E W B Y R I C H C L I N E
The Square


MUST

SEE
dir-scr Ruben Ostlund
prd Philippe Bober, Erik Hemmendorff
with Claes Bang, Elisabeth Moss, Dominic West, Terry Notary, Christopher Laesso, Lise Stephenson Engstrom, Lilianne Mardon, Marina Schiptjenk, Annica Liljeblad, Elijandro Edouard, Daniel Hallberg, Martin Sooder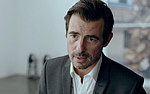 release Swe 25.Aug.17,
US 27.Oct.17, UK 16.Mar.18
17/Sweden 2h22

---
CANNES FILM FEST
TORONTO FILM FEST

Boldly slicing through modern life, this Cannes-winning film uses irony to poke fun at artistic pretension and highlight inequality. It's witty and surprising, packed with moments that veer right up to the edge to confront pretty much every notion of what makes up a civilised society. The acting is unexpected and provocative. And where it all goes is remarkably thoughtful, and also rather harrowing.

Journalist Anne (Moss) meets Stockholm museum curator Christian (Bang) when she interviews him about the nature of modern art. Then outside, his phone is stolen in an elaborate scam, so he and colleague Michael (Saesso) cast a wide accusatory net to get it back. Meanhwhile, an artist (West) has his interview interrupted by a man with Tourette's who seems to speak the truth. And a performance artist (Notary) gazes menacingly, or perhaps yearningly, from his video installation. Al of this culminates when Christian makes a deliberately controversial video clip that predictably causes trouble.

Instead of using a linear plotline, writer-director Ostlund creates a narrative that emerges in a series of relatively disconnected moments that centre around Christian in one way or another. The title refers to an illuminated square carved into a cobbled pavement as a safe space of trust. This is echoed in how, when faced with a key decision, Christian finds it impossible to trust Anne. It also generates considerable chatter on social media, feeding into the film's jaw-dropping climax.

Claes is excellent as a man travelling through an offbeat odyssey that pushes and pulls him in a variety of unexpected directions. He takes life and art seriously, but seems unable to recognise reality in either realm and begins to test his own assumptions both in the gallery and in the streets. Intriguingly, he keeps gaining notoriety for things he hasn't actually done himself. Meanwhile, the other characters all feel strikingly real, inexplicable people whose lives are mainly off-screen.

All of these seemingly disparate elements come together at a grand fundraising dinner during which Notary's artist does a performance piece as a bare-chested ape. It's a clever, challenging scene that's funny and unnerving, like most of the film. The trigger here is that art needs to be controversial to generate media interest. But doesn't that mean that it ceases to be art at all? The bigger question is what people are willing to accept in the name of art. And why we aren't as outraged when horrific things happen in the real world.
15 themes, language, violence, sexuality
---
5.Dec.17
---


< < F O R E I G N > >
See also: SHADOWS FILM FESTIVAL

© 2017 by Rich Cline, Shadows on the Wall


HOME | REVIEWS | NEWS | FESTIVAL | AWARDS | Q&A | ABOUT | TALKBACK