dir-scr Paul Schrader
prd Christine Vachon, David Hinojosa, Frank Murray
with Ethan Hawke, Amanda Seyfried, Cedric Antonio Kyles, Victoria Hill, Philip Ettinger, Michael Gaston, Bill Hoag, Satchel Eden Bell, Frank Rodriguez, Delano Montgomery, Jake Alden-Falconer, Elanna White
release US 18.May.18, UK Jun.18 sffl
17/US 1h48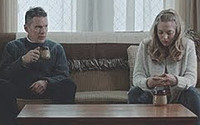 Like a prayer: Hawke and Seyfried



---

TORONTO FILM FEST

R E V I E W B Y R I C H C L I N E

Paul Schrader once again takes a provocative look at religion in America in this dark and twisty drama that has all kinds of repercussions in today's headlines, from climate change to extremism. Anchored by very strong performances, the film gets increasingly intense as it continues, implying in unmistakable ways that it's headed for something awful. Although Schrader himself seems unsure about where he wanted it to go.

In Stonebridge, New York, the First Reformed Church is essentially a tourist stop presided over by Reverend Toller (Hawke). The Abundant Life megachurch across town offers its support, and Pastor Joel (Kyles, aka Cedric the Entertainer) and his assistant Ester (Hill) are good friends. Then one day parishioner Mary (Seyfried) asks Toller to talk to her husband Michael (Ettinger), an activist who is deeply depressed about the dying planet his children will inherit. This begins to light a spark for Toller, even as he is coping with what may be some sort of serious illness.

The film is narrated with journal entries, which Toller calls a prayer, the only place he can honestly express himself. So everything is seen through Toller's eyes, which is tricky since he's not terribly easy to identify with. Bitter after the loss of a son in Iraq, which ended his marriage, he claims to lack faith but clearly doesn't. And it seems odd that he's only just noticed that Pastor Joel has put him in bed with a business tycoon (Gaston) whose corporation is indicative of why the economy and climate are such a mess.

As these political and environmental themes surge up around Toller, the film loses its grip on his story. Hawke delivers a committed performance packed with layers of intrigue as a fascinating man whose trajectory doesn't always make sense. Seyfried is also excellent, giving Mary an offhanded realism as she grapples with everything that happens. Both she and Hawke nicely play a couple of very random moments in the script that push their characters in unexpected directions, one of which involves a drug-free out-of-body fantasy.

The first two-thirds of this film are utterly riveting, as Schrader juggles big ideas while digging deeper and deeper into Toller's emotional inner life. But in the final act, there doesn't seem to be anything left to discover, so the story threatens to devolve into some sort of eco-thriller. Thankfully, Schrader has some final twists and turns that subvert expectations, even if they muddy the waters even further.
| | | |
| --- | --- | --- |
| | themes, language, violence | 30.Aug.17 vff |