A twisty thriller with Hitchcockian overtones, this clever film throws an innocent man into a maze of intrigue and danger. With its knowingly old-school touches and present-day resonance, it feels like something that could easily happen. And watching the events unfold is seriously chilling even if the big finale gets a little too cerebral for its own good.

After suffering a breakdown and going through a 12-step programme for his alcohol abuse, lonely businessman Duval (Cluzet) is trying to put his life back together. His best job offer comes from the mysterious Clement (Podalydes), who wants him to transcribe audio recordings of phone conversations as part of a state surveillance system. But what Duval hears unsettles him, especially when colleague Gerfaut (Akbarian) gets him involved in some dicey after-hours activity. Then intelligence agent Labarthe (Bouajila) contacts Duval, asking him to spy on Clement. And Duval finds himself in way over his head.

Director-cowriter Kruithof gives the film a snaky pace, quietly twisting and turning through a series of enigmatic scenes. The flat in which Duval works feels like it's outside of time itself, with its vintage typewriter, cassette tapes and a prohibition on things like mobile phones. And everyone he meets is shifty, including the cops. A new layer of intrigue is added when he meets Sara (Rohrwacher): is she an addict in need of help, a plant from one of these shady factions or a plot device waiting to get kidnapped?

Cluzet gives a likeable turn as a haunted man trying to reboot his life in middle age, struggling against both economic realities and ageism. He just wants to get on with this job, but the nature of the work and the shifting morality begin to gnaw away at him. And he's certainly not as benign as he looks. The cast surrounding him are excellent at keeping their characters looking shifty.

While the people hold the interest, there are bigger themes that grab hold rather tenaciously. First is the setting amid a divisive election, eerily written and filmed long before the Trump or Le Pen campaigns, which are vividly foreshadowed. The darker political machinations also add a layer of chilling suspense that's tantalisingly out of view since Duval sees only pieces of the puzzle. Sometimes this offhanded approach is a little frustrating for the viewer, and the climactic revelation feels rather talky and abstract. But it's a vivid little thriller that's hard to shake.
15 themes, language, violence
---
21.Jun.17

R E V I E W B Y R I C H C L I N E
You Can't Escape Lithuania


Nuo Lietuvos Nepabėgsi
dir-scr Romas Zabarauskas
prd John Flahive, Romas Zabarauskas
with Denisas Kolomyckis, Irina Lavrinovic, Adrian Escobar, Vaidas Baumila, Juste Arlauskaite-Jazzu, Petras Kuneika, Orijus Gasanovas, Solveiga Mykolaityte, Titas Motuzas, Justina Dirse, Dominykas Klajumas, Monika Biciunaite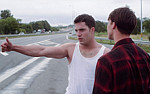 release Lit 18.Nov.16,
US/UK 10.Jul.17
16/Lithuania 1h21


Lithuanian filmmaker Romas Zabarauskas uses himself as the central character in this melodramatic thriller. It's a low-key, low-budget road movie that indulgently asks us to accept a plot that feels made up as he went along, never quite ringing true. At least the meta-story about a filmmaker trying to escape narrative strictures adds some zing.

Finding his latest film by promising naked photos to donors, Romas (Kolomyckis) is achieving fame at festivals but hasn't made any money. The star of his last movie, Indre (Lavrinovic), drops in for a visit while his beefy Mexican boyfriend Carlos (Escobar) is sleeping in the next room. With her hands covered in blood, Indre spins a story about returning from Russia to demand her fair inheritance from her mother, accidentally killing her in the process. Romas offers to help her get out of the country, but Carlos doesn't want to be involved.

Without a common language between them, what follows is a very frustrating drive for Carlos, who has no idea what Romas and Indre are talking about. And they rarely stop talking. Romas says he just has to help his friend, but his behaviour seems erratic. The textures of the relationships are believable but vague. Interludes include impromptu filmmaking, a spot of skinny dipping, inexplicable violence and a sudden stop to take in a beautiful landscape. Then Romas remembers that there happens to be a family cabin nearby.

The filmmaking has a crisp, intriguing style, although a corny electronic score continually undermines any real tension. The understated writing and direction build a sense of mystery, but Zabarauskas struggles to dig very deeply into the characters or situations. Bizarre swirling interludes overstate a random theme about desire and the search for meaning in life. But the main problem is that the premise makes no sense: Indre is simply running, ignoring the fact that she's too well-known to have any sort of a life unless she faces the music.

Acting from the three leads is solid if underpowered, so the shifting dynamic between them is rather implausible, as are some of their pointed conversations. Zabarauskas relies heavily on rambling dialog to express any big ideas, then cuts timidly from anything spicy. There are some very clever touches along the way, including skilful camerawork and witty touches, like the way everyone refers to him as "gay filmmaker Romas Zabarauskas" or that Indre tells him, "Romas, you have no talent!"
15 themes, language, violence, sexuality
---
11.Jul.17
---


< < F O R E I G N
See also: SHADOWS FILM FESTIVAL

© 2017 by Rich Cline, Shadows on the Wall


HOME | REVIEWS | NEWS | FESTIVAL | AWARDS | Q&A | ABOUT | TALKBACK