dir-scr Kenneth Lonergan
prd Matt Damon, Lauren Beck, Chris Moore, Kimberly Steward, Kevin J Walsh
with Casey Affleck, Lucas Hedges, Michelle Williams, Kyle Chandler, CJ Wilson, Gretchen Mol, Matthew Broderick, Tate Donovan, Tom Kemp, Ben O'Brien, Mary Mallen, Anna Baryshnikov
release US 18.Nov.16, UK 13.Jan.17
16/US 2h15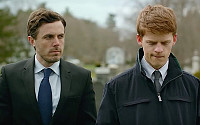 Talk to me: Affleck and Hedges





• SUPPORTING ACTOR:
LUCAS HEDGES

---
SUNDANCE FILM FEST
TORONTO FILM FEST

R E V I E W B Y R I C H C L I N E

Anchored by the cast's raw performances, this drama is packed with big themes that are easy to identify with, from strained family connections to the lingering effects of grief. It sometimes feels like writer-director Kenneth Lonergan has dumped too much misfortune on these beaten-down characters, but the film maintains a strong sense of hope simply because none of them will give up.

Hiding in Boston from his dark past, Lee (Affleck) is called back to Manchester when his brother Joe (Chandler) suffers a heart attack. Both Lee and Joe have estranged wives, for very different reasons: Randi (Williams) has started a new life, while Elise (Mol) has vanished. This means that Lee needs to take care of Joe's 16-year-old son Patrick (Hedges), who is fiercely protective of his independence. Building a working relationship doesn't come naturally to either the uncle or nephew, as both are grappling with major personal issues they don't want to discuss.

Lonergan's astute writing and direction dig deep, revealing the characters' private inner lives. They're almost unnervingly authentic, as if we're only glimpsing the tip of the iceberg, so there's no end to what we can discover about them. Lonergan also has a number of big plot points up his sleeve, with flashbacks and new encounters that reveal key details and help define who these people are and why they have so much trouble connecting with each other. And with themselves.

Affleck delivers his finest performance yet as Lee, a troubled guy who prefers a mindless daily grind to thinking about the tragedies in his past. As Patrick, Hedges also brings a depth of feeling that's unusual for a teen movie character (Patrick's personal history helps explain that). Together, their harsh clashes are beautifully underscored by a profound, almost subliminal affection. And as women who reinvent themselves to survive, Williams and Mol add blistering kicks of earthy honesty.

There are moments when the information revealed is simply too wrenching to bear, which is precisely the point. Since Lonergan drops in details throughout the story, it takes awhile to understand why each person is so reluctant to do what seems like the most logical thing. Meanwhile, the brittle, hard interaction sometimes feels unnecessarily cruel. These are down-to-earth people who have experienced so much grief that they're reluctant to go there again. And at its heart this is a sharp, tough movie that affirms the resilience of the human spirit.
| | | |
| --- | --- | --- |
| | themes, language, innuendo, violence | 7.Oct.16 lff |