SHADOWS ON THE WALL | REVIEWS | NEWS | FESTIVAL | AWARDS | Q&A | ABOUT | TALKBACK

Shadows off the beaten path
Indies, foreigns, docs, videos, revivals and shorts...
On this page: THE FIRST MONDAY IN MAY | NO HOME MOVIE
NOTES ON BLINDNESS | TRANSIT HAVANA
< < D O C S > >
last update 6.Jul.16
See also: SHADOWS FILM FESTIVAL

R E V I E W B Y R I C H C L I N E
The First Monday in May


dir Andrew Rossi
prd Fabiola Beracasa, Sylvana Ward Durrett, Dawn Ostroff
with Andrew Bolton, Anna Wintour, Thomas Campbell, Harold Koda, Andre Leon Tally, Rihanna, Baz Luhrmann, Wong Kar-Wai, John Galliano, Jean-Paul Gaultier, Guo Pei, Karl Lagerfeld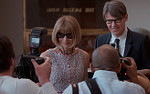 release US 15.Apr.16,
UK 30.Sep.16
16/US 1h30

---
EDINBURGH FILM FEST

This is a remarkably seamless documentary about the organisation behind New York's Metropolitan Museum of Art's 2015 fashion exhibition China: Through The Looking Glass. Fluid and witty, it follows curator Andrew Bolton and patron Anna Wintour through their paces as they prepare to launch the exhibition at arguably the most glamorous annual event on the planet, the Met Gala on the first Monday in May.

The Met's Costume Institute has one of the largest collections of textiles in the world. And for their 2015 show, they are planning a massive installation that will spread throughout the museum. Curator Bolton is working on on this with the museum administrators and his team, which includes filmmakers Wong Kar-Wai and Baz Lurhmann and a range of designers and musicians. Meanwhile, Vogue editor Wintour is also providing input, as well as planning the annual themed gala that will launch the show. It's the world's biggest collision of art and fashion.

Director Rossi lets the audience observe all of this without ever intruding. The photography and editing are so fluid that we're barely aware of them. Instead, we're left to get completely caught up in the story, the big characters and the glorious artistry. The film is a vivid argument for the fact that high fashion is museum-ready art, especially as it includes an event as singular as the Met Gala, a glorious melange of celebrity and couture.

Yes, the screen is packed with big names in fabulous frocks, as people from fashion, movies and music parade up the red carpet, and many of them are also seen collaborating on the museum show. The gala's main purpose is to raise funds for the museum, and with star power like this it easily brings in millions. But it clearly costs millions as well, with one particular exchange about Rihanna's fee grabbing the attention (to be fair, she earns it).

Intriguingly, the film's most engaging aspect is Bolton's personal story, which comes out in his conversations along the way. He's a fascinating man whose unceasing curiosity has driven him to the top job in his career. It's remarkably involving to watch him put the exhibition together, from brainstorming early concepts to travelling to collect iconic items to the tiniest details of arranging a gown on its pedestal. This is documentary in its purest form, holding back and just observing a riveting story. And everything in this movie is simply exquisite.
18 themes, some language, strong imagery
---
9.May.16

R E V I E W B Y R I C H C L I N E
No Home Movie

dir-scr Chantal Akerman
prd Chantal Akerman, Patrick Quinet, Serge Zeitoun
with Chantal Akerman, Natalia Akerman, Sylvaine Akerman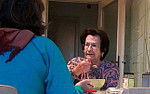 release Fr 24.Feb.16,
US 1.Apr.16, UK 24.Jun.16
15/Belgium 1h55

---
TORONTO FILM FEST

Fans of indulgent arthouse cinema will no doubt love this relentlessly evasive documentary by the late Chantal Akerman about her relationship with her mother. It's assembled in a way that will try the patience of even the most adventurous filmmaker, with long takes that seem to say absolutely nothing. But its ideas linger.

In between her trips abroad, filmmaker Chantal spends time at the Brussels home of her mother Natalia, occasionally accompanied by her sister Sylvaine. Their time together consists mainly of worrying about their mother's frail condition, although Natalia seems uninterested in her daughters' concerns. They talk about family members, and Natalia tells a few stories from her past, growing up in with Polish-Jewish parents as the Nazis marched across Europe, then surviving the horrors of Auschwitz. When Chantal travels, she chats with them by Skype, although their true communication seems to be on a subliminal level.

The film alternates between essentially four kinds of shots: most intriguing are scenes in which Chantal, her mother and sister chat, with the fixed camera usually positioned in a way that makes it difficult to see their faces. Second are what look like nanny-cam scenes, with a camera looking into an empty room with sounds and perhaps glimpses of people moving. In the Skype sequences, we can see the laptop screen. And finally, there are shots out of a car driving through a windy desert landscape.

About three-fourths of this is utterly inexplicable. Long, static sequences in which nothing happens, merely examining the apartment that contains her mother's memory. The desert scenes are especially perplexing, as the reason for their inclusion remains elusive, hinting that the meaning is so intimate that Akerman can't share it. During this self-absorbed camerawork, academic fans will nod knowingly as they stroke their beards, while the majority of the audience struggles to remain awake.

Even so, Akerman makes telling observations about generational relationships and the legacy of European migration and war. And the title is a witty play on words, echoing the fact that she will have no home once her mother passes. But all of that would fit in a 15-minute short. Clearly she has a reason for including all of these seemingly endless, hard-to-uncode shots. Frankly, it feels like the kind of movie that should be projected in an art gallery, so people can walk on when they realise that it's not speaking to them. Although its haunting images do carry a kick much later on, as they swirl around in your mind, finding unexpected resonance.
PG themes, language
---
14.Apr.16

R E V I E W B Y R I C H C L I N E
Notes on Blindness


dir-scr Pete Middleton, James Spinney
prd Mike Brett, Jo Jo Ellison, Pete Middleton, James Spinney, Alex Usborne
with John Hull, Marilyn Hull, Dan Skinner, Simone Kirby, Lorelei Winterfrost, Stanley Pemberton-Warbrick, Sidney Pemberton-Warbrick, Mahalia Martin-Jones, Eileen Davies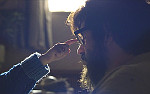 release US Jan.16 sff,
UK 1.Jul.16
15/UK 1h30

---
SUNDANCE FILM FEST


An extraordinary mingling of documentary and drama, this haunting film explores what it feels like to become blind. By using the words and perspective of professor John Hull, filmmakers Pete Middleton and James Spinney take the audience on an insightful odyssey. But it's all rather gloomy.

A writer and theologian, John has had trouble with his eyes since childhood, and now just days before the birth of his second child in 1983, he sees the light fade for the last time. Determined to grasp his new life, he records his thoughts on cassette tape, including conversations with his wife Marilyn and lively children. And over the coming years, he grapples with the fundamental changes he feels as his brain learns how to survive without visual information and how memories themselves begin to shift.

The film is gorgeously shot (by Gerry Floyd) and edited (by Julian Quantrill), with an inventive use of lighting and focus to let images play across the screen. Most scenes are in deep shadows and extreme close-up, but there are moments of glaring whiteness as well as some inventive visual depictions of the layered sound (such as how falling rain gives blind people a detailed sense of their surroundings). This helps evoke some powerfully emotional moments, such as when John muses about the children he has no visual memory for.

The way this film has been assembled is fascinating, using John's original recordings with actors Skinner and Kirby lip-synching their words as they play John and Marilyn on-screen. This creates a remarkably realistic depiction of these people, and allows the audience to see deeply into their personalities. Both Skinner and Kirby are understated and almost disarmingly natural, as are the young actors who play the Hulls' children.

After all of the dark, intensely serious contemplation about this experience, the film's attempt to wrest an uplifting ending seems a little late. There are moments of sheer joy scattered throughout the film, and John's words about questioning God and seeing the world in a fresh way add a strong note of optimism. But the filmmakers instead give the movie an overpoweringly sad tone, sometimes allowing the pace to creep to an almost panicky halt. This may make the impact that much stronger, but it's jarringly at odds with John's more curious, deliberately positive point of view.
U some themes
---
21.Jun.16

R E V I E W B Y R I C H C L I N E
Transit Havana


dir Daniel Abma
scr Alex Bakker
prd Iris Lammertsma, Stefan Kloos, Boudewijn Koole
with Malu Cano Villaderes, Giselle Odette Diogenes Dominguez Rodriguez, Juani Santos Perez, Mariela Castro Espin, Stan Monstrey, Marlon Buncamper, Willy, Alberto, Fernando, Alegna, Yolanda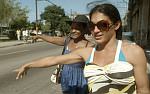 release Ned 24.Mar.16,
UK Jul.16 eeff
16/Netherlands 1h26

---


Beautifully shot and edited, with a warm sense of humour, this sensitive documentary never pushes its point, merely observing a series of colourful people as they face issues relating to gender reassignment in Cuba. Along the way, the film provides a remarkably intimate, honest depiction of everyday life in Havana.

Malu is awaiting the committee's decision to find out when she can have her final male-to-female surgery. She has a tough-guy boyfriend Willy, whom she visits in prison. And then there's Odette, a skilled army tank operator who works on a farm and cares for her grandmother. But her family won't support her, and her forthright personality makes her an outsider in the trans community. Mechanic Juani is an older man looking for help from a Dutch doctor who arrives each year to do a series of surgeries in a few busy days.

Director Abma cleverly observes these people in their everyday places, working, hanging out with friends, in support groups and socialising. So as they express their feelings and tell their stories, they are also offering telling details about their lives, from the usual domestic arguments to the struggle to find work as someone who stands out from the crowd. Each of them worries that he or she won't be one of the five who get to have the operation each year.

This intimate style of filmmaking offers fascinating personal observations, such as how as a child each of them thought they were a special kind of homosexual. Odette faked her way through the military and is still in the reserves, laughing about what they'd think if they called her back. And then there's their patron saint, Mariela Castro (daughter of President Raul), who marches with them in a pride parade: "Homophobia no! Socialism yes!"

The film is so packed with moments that reveal daily issues that are infused with emotions, which makes watching it very moving. Castro notes that sexism in Cuba isn't different from anywhere else on earth, stressing that transgender people need to be protected. And it's also refreshing to see a group of people who address the issue of transactional sex head-on. As well as the importance of always having a supply of surgical tape on you.
15 themes, language, imagery
---
12.Jun.16


< < D O C S > >
See also: SHADOWS FILM FESTIVAL

© 2016 by Rich Cline, Shadows on the Wall


HOME | REVIEWS | NEWS | FESTIVAL | AWARDS | Q&A | ABOUT | TALKBACK