dir-scr Paolo Sorrentino
prd Carlotta Calori, Francesca Cima, Nicola Giuliano
with Michael Caine, Harvey Keitel, Rachel Weisz, Paul Dano, Jane Fonda, Robert Seethaler, Alex Macqueen, Luna Mijovic, Chloe Pirrie, Mark Gessner, Ed Stoppard, Paloma Faith
release It 20.May.15, US 4.Dec.15, UK 29.Jan.16
15/Italy Film4 1h58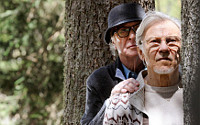 Behaving like children: Caine and Keitel



---
CANNES FILM FEST
TORONTO FILM FEST

R E V I E W B Y R I C H C L I N E

Gorgeously shot in a spectacular setting and edited with cheeky energy, this atmospheric film has a rather freeform plot exploring age and mortality from unexpected angles. But the characters are so witty and offbeat that they can't help but hold the attention, and writer-director Paolo Sorrentino plays engagingly with artistic ambition and romantic passion to keep the film utterly riveting.

At an isolated luxury spa in the Swiss Alps, retired composer Fred (Caine) and his lifelong friend, film director Mick (Keitel), are enjoying a bit of pampering out of the view of the clamouring public. Fred is here with his daughter/assistant Lena (Weisz), while Mick is workshopping his next screenplay with a team of young writers (including Pirrie and Gessner). But Mick's movie isn't coming together as expected. And Fred bristles when a Buckingham Palace emissary (Macqueen) arrives to offer Fred a knighthood, stipulating that he conduct his Simple Songs for the Queen.

There are several more plot strands circling these characters, including brainy actor Jimmy (Dano) quietly researching his pigeonhole-shattering next role, and Lena's estranged husband (Stoppard) visiting with his new girlfriend, the popstar Paloma Faith. Mick is also paid a visit by his cynical lead actress, played with scene-chewing brio by an unforgettable Fonda. Every scene is laced with observations about the gap between generations, including clever comments about how absurdity and humour are just as important as wisdom and emotion.

Sorrentino's fragmented approach echoes The Great Beauty, but with a warmer tone that delves into characters to reveal repressed fears, dark desires and unresolved hopes. And with a continual blast of comedy, the film gives the actors seriously meaty characters to play without needing to get heavy. Some of running jokes are the expected ones about creaky joints and prostate problems, but there are also surprising gags involving an obese former footballer and even Adolf Hitler.

All of this is assembled with artistry that never feels remotely stuffy. Each scene catches the audience aback with earthy humour and the punch of real emotion, expertly played and skilfully photographed (by Luca Bigazzi) and edited (by Cristiano Travaglioli) to rise and fall like a symphony. There are some moments that don't quite work, such as when Mick has a Fellini-esque encounter with his past leading ladies. But this is a celebration of the circle of life, and the fact that even when we think it's all over, there's still plenty left to play out.
| | | |
| --- | --- | --- |
| | themes, language, sexuality | 14.Oct.15 |