dir Ramin Bahrani
scr Ramin Bahrani, Amir Naderi
prd Ramin Bahrani, Andrew Garfield, Ashok Amritraj, Justin Nappi, Kevin Turen
with Andrew Garfield, Michael Shannon, Laura Dern, Clancy Brown, Tim Guinee, JD Evermore, Nicole Barre, Noah Lomax, Cullen Moss, Judd Lormand, Yvonne Landry, Donna Duplantier
release US/UK 25.Sep.15
14/US 1h52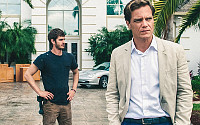 Taking possession: Garfield and Shannon



---
VENICE FILM FEST
TORONTO FILM FEST

SUNDANCE FILM FEST
R E V I E W B Y R I C H C L I N E

Strikingly directed by Bahrani with an attention to internalised details, this harrowing morality play gets increasingly intense as its characters discover that a crashing economy offers plenty of dodgy ways to make a lot of money from banks, the government and people who have just lost everything they have. It may not be subtle, but it's riveting drama.

As the housing crisis reaches its peak in 2010, Florida builder Dennis (Garfield) loses his job and, with his mother and son (Dern and Lomax), is evicted from his cruelly foreclosed home by estate agent Rick (Shannon). But Rick likes Dennis' work ethic, and offers him a job. And soon Dennis finds himself right alongside Rick, profiting from others' misfortune. Which of course eats away at him. The question is whether he will settle for living the high life or do what is so clearly the right thing.

The script skilfully highlights the issues, even if the plot feels over-constructed and a bit too reliant on coincidences. As the story continues, it almost begins to feel like a heist movie, as Rick and Dennis quietly walk away with anything not nailed down. It also gets darker and darker, which makes it clear that something is going to have to snap somewhere, namely Dennis' conscience. So we brace ourselves for an obvious moralistic trumpet call. And indeed it arrives right on cue.

All of this is acted with raw intensity. Garfield's alert, aware Dennis sits in striking contrast to Shannon's slick, rather scary Rick. Dern offers a sunny balance in her somewhat truncated role. And it's the performances that hold the interest right through the story's creepy progression into a moral quagmire and out the other side. Thankfully, Garfield's sympathetic presence offers the badly needed emotional kick.

This is a striking depiction of how hopeless life feels when there are no jobs, banks still want to squeeze you dry, and no one shows any compassion. Rick blames the government's removal of restrictions for the pain people are feeling, refusing to take any responsibility for his role in the process. In fact, he also blames victims for taking bad loans to begin with, even though the banks never told them they were bad. It's important that this film presents these actions for what they are: rampant fraud that bends but technically doesn't break the law.
| | | |
| --- | --- | --- |
| | themes, language, some violence | 24.Oct.14 adf |