SHADOWS ON THE WALL | REVIEWS | NEWS | FESTIVAL | AWARDS | Q&A | ABOUT | TALKBACK

Shadows off the beaten path
Indies, foreigns, docs, videos, revivals and shorts...
On this page: BRAND: A SECOND COMING | DRESSED AS A GIRL
HE NAMED ME MALALA | MISERY LOVES COMEDY
< < D O C S > >
last update 11.Oct.15
See also: SHADOWS FILM FESTIVAL

R E V I E W B Y R I C H C L I N E
Brand: A Second Coming


dir-scr-prd Ondi Timoner
with Russell Brand, Barbara Brand, Ron Brand, Noel Gallagher, Katy Perry, Jonathan Ross, Rosie O'Donnell, Simon Amstell, Stephen Merchant, David Lynch, Oliver Stone, Mike Tyson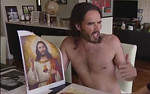 release UK 23.Oct.15
15/UK 1h44

---


Fast-paced and abrasively entertaining, like Russell Brand himself, this documentary reveals a man who throws himself into everything with wild enthusiasm. It demonstrates vividly how he wins people over against all odds. And it explores why the things everyone wants bring him no happiness. So he has set out to disrupt the prevailing ideology.

Throughout his life, Brand has sought answers to life's questions in drugs, sex, alcohol, fame and fortune. And he's still searching. His mother Barbara remembers him as a very young boy saying he thought he was the new Jesus. Politically active with a desire to change the world, he used comedy and acting to get out of his grim hometown, then was thrown out of drama school for using drugs. He's ambitious and difficult, mixing comedy, art, spirituality and politics to share his vision for a more compassionate world.

Filmmaker Timoner explores this through lucid interviews with Brand, his family and colleagues, illustrated with never-seen footage of his early life, including street activism and various addictions. It's colourful, quick, witty and pointed, overflowing with Brand's passionate belief in global unity and equality. No wonder he has become obsessed by people who transcend celebrity, like Jesus, Gandhi and Malcolm X. Essentially, he wants to replace greed and power with love and compassion. And he knows the media attack him so they can ignore what he's saying.

Thankfully, the film also explores his darker sides, such as his difficulty dealing with criticism and his headline-grabbing antics. But Brand's ideas have power because he knows that laughter is unifying. And he's genuinely outraged by the vulgar disparity of his life: a millionaire calling for redistribution of wealth. Brand speaks about the "war between my self-destruction and my creativity", but knows his fame is only worthwhile if he uses it to do something good. So his success emboldens him to make radical comments, such as his call to stop criminalising drug users, which helps no one.

Timoner finds funny and astute comments everywhere. There's an astounding clip from American morning TV in which he shows up the presenters for their vacuous approach. And he skilfully highlights how Christian teaching actually contradicts everything America's right-wing religious leaders preach. But he isn't interested in politics because it's about maintaining the status quo, but the world needs to change. And he's proud to be named among taboo-busting comics like George Carlin, Richard Pryor, Bill Hicks and Lenny Bruce. But the film is also worth seeing just for Brand's conversation with David Lynch about infinite love.
15 themes, language, drugs
---
7.Oct.15

R E V I E W B Y R I C H C L I N E
Dressed As a Girl


dir-scr Colin Rothbart
prd Chris Amos
with Jonny Woo, Scottee, Holestar, Pia, Amber Swallows, John Sizzle, Ma Butcher, Beth Ditto, Lisa Stansfield, Debbie Harry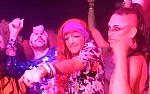 release UK 2.Oct.15
15/UK 1h34

---


Focussing on a few shining stars from the London drag scene, this documentary is packed with telling observations as performers reveal the real person under the wigs and sequins. It's entertaining and enlightening, but the film is also rather fragmented, never quite building up a sense of momentum to bring new fans into the scene.

Did the word "drag" come from Shakespeare's abbreviation for actors dressed as a girl? The film explores a segment of London's more recent drag scene, focussing on performer Jonny Woo and his experiences over the past five years. The furthest back it goes is 2003, with the anarchic, provocative dawn of Gay Bingo and a scene involving drugs, alcohol and liberation. There are also memorable performances at Glastonbury, Lovebox, the Edinburgh Frings and a lavish production at the Royal Opera House, plus street appearances such as a protest of the Pope's visit to London.

Hosted by Woo, the film moves through a loose structure of short chapters that never delve too deeply beneath the surface. But even if the material isn't very smoothly connected, the clips are packed with fabulous moments, telling details and a lot of attitude. Shot largely on home-video, filmmaker Rothbart cleverly augments the film's "let's put on a show" atmosphere with cheesy editing, camp electronic background score and lots of corny split screens.

This is a celebration of the freedom that comes from rebelling against a world that says you can't wear a skirt. And the range of people profiled offer all kinds of texture. Scottee offers a moving, heartfelt performance about growing up with addict parents and trying to stop carrying his shame around with him (frankly, he deserves a documentary of his own). Holestar revels in her status as a rare biological female drag queen. Amber knew at 13 that she'd have the operation to become a woman. John talks about growing up gay, looking for love when it wasn't acceptable.

Most importantly, the film is about finding the strength to take control of your life. It explores the tension between the real people and their on-stage personas, which offers resonant insight into transgender issues. For example, the deeply troubled Pia vividly explains the horror of puberty, watching herself grow into a man against her wishes. But this documentary is also about the unstoppable urge to perform, and these people need attention and affection from an adoring crowd simply to know that they can be themselves without regret or fear.
18 themes, language, nudity
---
16.Feb.15

R E V I E W B Y R I C H C L I N E
He Named Me Malala

dir Davis Guggenheim
prd Davis Guggenheim, Laurie MacDonald, Walter F Parkes
with Malala Yousafzai, Ziauddin Yousafzai, Toor Pekai Yousafzai, Khushal Khan Yousafzai, Atal Khan Yousafzai, Barack Obama, Queen Elizabeth II, Goodluck Jonathan, Jon Stewart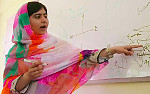 release US 2.Oct.15,
UK Oct.15 lff
15/US Fox 1h27

---
TORONTO FILM FEST


Filmmaker Guggenheim manipulates the audience with a rather jarring story structure in this documentary, choosing to place events in order to build the maximum emotional punch. But when the subject is this strong, the audience doesn't mind too much. And Malala Yousafzai is inspirational even without all of these cinematic flourishes.

Raised in the Swat Valley in northern Pakistan, Malala was named after an Afghan heroine who rallied Pashtun fighters against British invaders in the 19th century and was shot. Unsurprisingly, the young Malala followed her adored father Ziauddin's lead to champion the importance of education, bravely speaking out against the increasing violence of Taliban oppression. They replied by shooting her in the head, after which she and her family fled to England. She has recovered from her injuries and, now 18, travels the world during her school breaks, challenging world leaders and encouraging refugee children.

Malala is a bold, articulate young woman, but she's also a cheeky teen who delights in teasing her cocky younger brothers Kushal and Atal. And she has a very strong bond with her parents. Filmmaker Guggenheim balances the portrayal between Malala's stirring speeches, her humanitarian work and her life at home with her family. At one moment we see her confronting President Obama about his use of drones, then in the next she giggles admitting a crush on Roger Federer.

Guggenheim carefully gives a full telling of Malala's story, using news footage, family photos, new interviews and beautifully animated segments to explore what makes this young woman so important as a human rights activist. The chronology of her story has been shuffled around, which makes the film feel collage-like. And the reason for this only emerges at the end, as Guggenheim finally explores the hideous attack that propelled Malala into the global spotlight, drawing tears right on cue thanks to Thomas Newman's emotive score.

But the fact is that Malala deserved to become the youngest Nobel Peace Prize winner even before she was shot at age 15. Her pointed defiance of the Taliban's prohibition of female education is powerfully eloquent, as is the way she explains the core truths of her faith: "Islam teaches me humanity, equality and forgiveness." To her, the Taliban aren't Muslims ("They think God is tiny; they're not about faith, but power"). And at its core, this skilful documentary is the riveting story of a family with a history of speaking the truth, knowing that to keep silent is a sin.
PG themes, images
---
15.Sep.15

R E V I E W B Y R I C H C L I N E
Misery Loves Comedy


dir Kevin Pollak
scr John Vorhaus, Kevin Pollak
prd Becky Newhall, Burton Ritchie, Barry Katz
with Tom Hanks, Martin Short, Christopher Guest, Lisa Kudrow, Matthew Perry, Steve Coogan, Whoopi Goldberg, Amy Schumer, Jemaine Clement, Jimmy Fallon, James L Brooks, Judd Apatow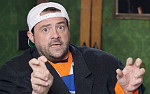 release US 24.Apr.15,
UK 18.Sep.15
15/US Tribeca 1h34

---
SUNDANCE FILM FEST


This fast-paced documentary explores how comedy works and where comics come from. Despite the topic, and the starry roster of talking-heads, the film is dryly academic. So viewers will need a serious interest in the subject to get involved in the telling, intriguing discussion. It's never particularly groundbreaking, and only occasionally funny, but it's a terrific archive.

Actor-turned-filmmaker Pollak asks more than 60 well-known funny people to discuss the roots of their careers. Most talk about their witty families, the need to be the centre of attention and an addiction to the buzz of adrenaline that comes from making people laugh. They also explain how they discover what works and what doesn't, and how the core of most comedy lies in self-deprecation and pretending to be confident while you're struggling to make it. There's also a look at the changing scene, including the difference between stand-up, theatre, film and television.

The title refers to the question: "Do you have to be miserable to be funny?" Everyone agrees that isn't true, but misery and insecurity are sources of comedy, and comedy helps deal with personal demons. They also discuss the importance of connecting with other comics, fellow oddballs who share a common language and private jokes. This of course offers some schadenfreude when a good friend bombs. And indeed, each person interviewed vividly remembers their worst moment.

With almost no cutaway clips, the relentless talking begins to feel exhausting. And there's an almost blinding array of comics, interviewed in random locations with varying technical quality. These include rising stars, seasoned veterans, actors and filmmakers, plus second-generation comics like Jason Reitman, Freddie Prinze Jr and Kelly Carlin. And iconic influences are referenced, including Marx Brothers, Lenny Bruce, George Carlin, Andy Kaufman, Richard Pryor and Robin Williams.

Peppered throughout the film are some superb insights that make the film like a school for stand-ups. For example, the fear of silence is the root of all comedy: make the audience laugh, keep them off balance, know where they are, work them. There's a cautionary message to parents to encourage their children to go against the flow and discover their individuality. And a note that real success is in the doing, not the achieving. Or maybe being a comic, as Greg Proops notes, is just a way of fixing "the gaping hole that can only be filled with the love of strangers".
15 themes, language
---
13.Jul.15


< < D O C S > >
See also: SHADOWS FILM FESTIVAL

© 2015 by Rich Cline, Shadows on the Wall


HOME | REVIEWS | NEWS | FESTIVAL | AWARDS | Q&A | ABOUT | TALKBACK