SHADOWS ON THE WALL | REVIEWS | NEWS | FESTIVAL | AWARDS | Q&A | ABOUT | TALKBACK

Shadows off the beaten path
Indies, foreigns, docs, videos, revivals and shorts...
On this page: AMY | DO I SOUND GAY?
MALA MALA | THE SALT OF THE EARTH
< < D O C S > >
last update 12.Jul.15
See also: SHADOWS FILM FESTIVAL

R E V I E W B Y R I C H C L I N E
Amy


MUST

SEE
dir Asif Kapadia
prd James Gay-Rees
with Amy Winehouse, Blake Fielder, Mitchell Winehouse, Janis Winehouse, Nick Shymansky, Yasiin Bey, Salaam Remi, Raye Cosbert, Juliette Ashby, Lauren Gilbert, Tyler James, Tony Bennett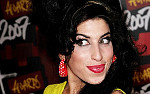 release UK/US 3.Jul.15
15/UK 2h03

---
CANNES FILM FEST


Beautifully assembled to tell a wrenchingly sad story, this documentary doesn't let anyone off the hook in the fatal spiral of Amy Winehouse's life. And that's what makes it so essential, as it resists revising history to protect the survivors feelings. Instead, filmmaker Kapadia combines their words with archival footage, letting the story reveal itself.

Amy began writing music at 14 and had a publishing contact by 18, providing vocals for the National Youth Jazz Orchestra and performing in small clubs. After music executives found her, her jazz-infused 2003 debut album Frank caused ripples through the industry. Three years later, her bold second album Back in Black catapulted her to global stardom, something she never craved. With her boyfriend Blake, she turned to drugs and alcohol to cope with fame, resulting in uneven performances and a series of rehab stints before her death in 2011, caused by alcohol-induced heart failure after decades of bulimia.

Kapadia and editor Chris King assemble this with a melodious pace that echoes Amy's intensely personal music. Avoiding a script, they let interviews with Amy, her family, friends and colleagues narrate the story, which is illustrated with a remarkable range of home movies, unseen performance footage, paparazzi images and TV clips. They also hauntingly let her song lyrics play across the screen, revealing so much in hindsight that it's shocking no one stepped in to rescue her when they had a chance.

Notably, the film never allocates blame on anyone in particular, instead revealing a system in which artists are removed from real-world consequences at the first flush of success, let down by everyone who depends on them for a living. The one gap in this story is Amy's eating disorder, which everyone seems to have dismissed, while the press made a meal of her substance abuse. No one here ever suggests she got any help to overcome bulimia, which makes her gaunt appearance in the final months especially disturbing.

By taking such a boldly honest approach, Kapadia has created a film that should change the way the press and fans approach troubled young artists. Although the brutal fact is that people will continue to exploit talented people for whatever they can get from them. Amy Winehouse never wanted to be a superstar travelling the world to play to ever-increasing audiences. The people who profited from her wanted that. And it's a shame that she was unable to make sense of her own gifts, because the film reminds us how much we miss her.
15 themes, language, drugs
---
30.Jun.15

R E V I E W B Y R I C H C L I N E
Do I Sound Gay?

dir-scr David Thorpe
prd Howard Gertler, David Thorpe
with David Thorpe, Susan Sankin, Bob Corff, Dan Savage, Don Lemon, George Takei, David Sedaris, Margaret Cho, Tim Gunn, Jeff Hiller, Zach King, Richard Barrios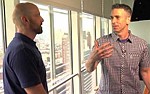 release UK Mar.15 flare,
US 10.Jul.15
14/US 1h17

---
TORONTO FILM FEST


Filmmaker Thorpe puts himself at the centre of an issue everyone's aware of but nobody talks about: why gay men have distinct vocal patterns. Or do they? It's a fascinating topic, especially as Thorpe delves deeper into bigger issues about identity and equality. So in the end the film is both witty and surprisingly empowering.

A Brooklyn writer, Thorpe wants to kickstart his love-life after a breakup, but lacks confidence because he thinks his voice sounds queeny. Voice coach Sankin explains that people code-switch all the time, such as talking to a child or a dog. He also meets Los Angeles voice guru Corff, known for helping celebrities sound less gay, and talks to friends and family who note that his speech changed when he came out at 17. "Maybe it's because I stopped trying to sound less gay," he says. And as he finds his stronger voice, David doesn't worry so much about how he sounds.

As with Morgan Spurlock's docs, focussing on the filmmaker is self-indulgent. But Thorpe broadens his approach to explore the public reaction to celebrities with distinctively gay vocal patterns - Paul Lynde, Liberace, Charles Nelson Reilly, Truman Capote - plus mincing movie villains in Disney animation. And along with a range of interviews and film clips, Thorpe includes some hilariously offhanded personal interaction with his family and friends.

Intriguingly, these more relaxed moments provide some astute observations, such as when one of Thorpe's friends refers to "generic self-loathing", the idea that it's somehow wrong for a man to speak with female-sounding patterns. Is this also about perceptions of masculinity and status in society? Because hiding it can lead to shyness and acting out. The fact is that gay men pay more attention to how women talk to each other, and that camping it up can be liberating.

The film is sharply edited with a strong structure and a cheeky sense of humour. And Thorpe makes his strongest points as he discovers that straight men tend to have the same vocal tics if they grow up largely around women. In other words, it isn't about sounding "gay" at all, but about resisting the hyper-masculine world and being secure enough in your sexuality, whatever it is, to sound feminine. Either way, it boils down to how comfortable you are in your own skin. Your voice is part of you: it comes from your body and soul, so own it.
15 themes, language, sexuality
---
14.Feb.15

R E V I E W B Y R I C H C L I N E
Mala Mala


dir-scr-prd Antonio Santini, Dan Sickles
with Samantha Close, Ivana Fred, Denise 'Sandy' Rivera, Alberic Prados, Soraya Santiango Solla, April Carrion, Queen Bee Ho, Sophia Voines, Paxx Moll, Bebo Nazario, Audrey Berry, Rafael Eli Vazquez, Carmen Yulin


release UK Mar.15 flare,
US 3.Jul.15
14/US 1h27

---


By centring on a handful of people in Puerto Rico's trans community, this stylish but unflashy documentary offers some surprisingly pungent insight into their variety and vibrancy. Most intriguing is how it shows them as vital members of society who are finding ways to feel comfortable in their surroundings. For many of them this is not remotely easy, and watching their journeys is both moving and hopeful.

At the centre is a group of fabulous women in San Juan. Some are trans-women, others are cross-dressing men, but all are larger than life. The film follows them through their daily routines, leading to the Butterfly Foundation's march for equality. "We just want to live our lives like everyone else, but the government won't let us work," they say, as politicians debate (and pass) an anti-discrimination bill. Each has a strong sense of their gender and sexuality, which are of course independent of each other.

Samantha talks about the time, money and personal sacrifice involved in this life, while social worker Ivana says she's worked too hard on her body to not show it off, and Sandy explains how they have to look more beautiful than other women. Alberic created his alter-ego Zahara because he wanted to be a sensation; April's ultimate goal is to get onto RuPaul's Drag Race. Many have also worked in porn or prostitution, struggling to make money as time is ticking ("You can't be a prostitute when you're 40," Ivana says).

Echoing the bright, cheeky attitude of these likeable performers, the film is energetically edited but tends to be rather talky. But the comments from these people are eye-opening, exploring personal yearnings, relationship struggles, family issues and the side-effects of hormone therapy, all as they struggle to be themselves. Strikingly, no two people have the same story, so the range of observations is profound. The usual labels simply refuse to fit.

What also gets under the skin is how these people expose their souls. Each is trying to do the best they can, to make the world a little more colourful while living their life without having to constantly fight prejudice. And it's fascinating to see glimmers of hope in the society around them, such as how Sandy's boyfriend Eli finds himself unable to continue being homophobic when he gets to know her friends. More acceptance gives these people the dignity they crave, and broadens the possibilities for the entire culture.
15 themes, language
---
23.Mar.15

R E V I E W B Y R I C H C L I N E
The Salt of the Earth: A Journey With Sebastião Salgado


MUST

SEE
dir Wim Wenders, Juliano Ribeiro Salgado
prd David Rosier
scr Wim Wenders, Juliano Ribeiro Salgado, David Rosier
with Sebastiao Salgado, Wim Wenders, Juliano Ribeiro Salgado, Lelia Wanick Salgado, Sebastiao Ribeiro Salgado, Hugo Barbier, Regis Muller, Jacques Barthelemy, Maria Tereza Salgado Rochas Bastos, Joao Pessoa Mattos, Leny Wanick Mattos, Rodrigo RIbeiro Salgado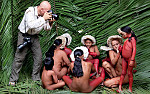 release US 27.Mar.15,
UK 17.Jul.15
14/France 1h46


SUNDANCE FILM FEST
ABU DHABI FILM FEST


This staggeringly beautiful documentary about the noted Brazilian photographer Sebastiao Salgado not only traces the way a man captured the world, but how the world changed him. And how he changed it in turn. This anthropological angle is both riveting and important. As filmmaker Wenders notes, it's novel to make a film about a photographer, because he shoots back.

A photographer draws with light and shadow, so if you put many photographers in the same place, they'll take different photographs. Sebastiao has such a distinct eye that his shots are immediately identifiable. An economics student, he gave up a lucrative banking career to work as a photographer with his architect-editor wife Lelia. He documented famine and genocide in Africa, refugees in Yugoslavia, the post-war fires of Kuwait, community life throughout South America and manual labourers around the world. Needing a break from humanity, he turned to photographing untouched habitats, then returned to Brazil to replant the lost forest where he grew up.

Salgado's striking images are accompanied by his own commentary, plus the voices of friends, family and colleagues. He speaks about how witnessing such terrible conditions caused him to lose his faith in humanity: "We humans are terrible animals! Our history is a history of wars." But his images show a strong link with the earth: "I'm as much a part of nature as a turtle or a tree." So it's not surprising that he spent a decade restoring fertility to his deforested family farm.

With wit and insight, filmmakers Wenders and Ribeiro Salgado (Sebastiao's son) skilfully reflect Salgado's perspective. There's the pessimism of Brazil's gold mines, where thousands scrabble for the chance to get rich in black and white scenes that look like historical paintings of hell. This is in contrast to optimistic images of nature from the Galapagos or a filmed adventure to the arctic to photograph walruses while being watched by a pesky polar bear.

Salgado's eye always finds the humanity in the frame. Over his career, he has brought attention to the appalling way people treat each other, whether creating famines or inflicting violence. But he also captures what brings people together, including art and a sense community. And by so vividly depicting Salgado's restoration project in Brazil, this film makes a vital statement about the possibility of healing after brutality and destruction.
12 themes, disturbing images
---
5.Jul.15


< < D O C S > >
See also: SHADOWS FILM FESTIVAL

© 2015 by Rich Cline, Shadows on the Wall


HOME | REVIEWS | NEWS | FESTIVAL | AWARDS | Q&A | ABOUT | TALKBACK