dir Charlie Kaufman, Duke Johnson
scr Charlie Kaufman
prd Charlie Kaufman, Duke Johnson, Dino Stamatopoulos, Rosa Tran
voices David Thewlis, Jennifer Jason Leigh, Tom Noonan
release US 30.Dec.15, UK 11.Mar.15
15/US Paramount 1h30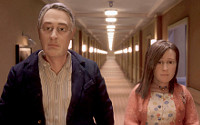 An unexpected spark: Michael and Lisa



R E V I E W B Y R I C H C L I N E

Using a bracingly original style of stop-motion animation, this film explores the nature of human identity in a simple story about a man and a woman who crack through the sameness of the world around them. It's complex, delicate and dreamlike, telling a grown-up story without compromise. And while what it has to say isn't terribly hopeful, it's so beautiful that the resonance is hard to shake.

Efficiency expert Michael (voiced by Thewlis) travels to Cincinnati to deliver a lecture, but his mind is on a woman he finished with badly who now lives there. He phones his wife and son for moral fortitude before getting up the nerve to call Bella and invite her to meet him at his hotel. Later that evening, he runs into one of his fans, Lisa (Leigh). Something about her strikes a nerve, and she can't believe that he's actually paying attention to her, because she has always felt like an anomaly.

Aside from Michael and Lisa, the characters are all voiced by Noonan and designed to look eerily similar, which at the film's beginning feels like a gimmick. But the meaning becomes clear as the story unfolds, connections are made and feelings come to the surface. What Kaufman is saying here is staggeringly profound, exploring the essential loneliness of existence as we plot our way through a bewildering environment looking for anything to cling to, and then trying to work out what to do about the things we find.

Every element of the film is exquisitely crafted, from the puppets' delicate features and expressive eyes to the sets and costumes, which often look eerily lifelike due to details of design and movement (the characters even breathe). There are moments that look almost unnervingly realistic, and the characters are packed with quirks that bring them wonderfully to life. Vocally, Thewlis gives Michael a worn-out yearning that's hugely sympathetic, while Leigh's hopeless disbelief is lovely.

Every moment in this film is infused with honest awkwardness, that sense that we are living our lives in disguise, trying to make sure no one sees the real person inside while longing for a moment of authenticity somewhere, anywhere. As a movie, it's haunting and exquisitely beautiful, even with its surge of dark emotion (you'll never hear Girls Just Wanna Have Fun quite the same way again). And it carries such a strong kick that it might be one of those rare movies that changes the way you look at the world. And yourself.
| | | |
| --- | --- | --- |
| | themes, language, sexuality | 4.Dec.15 |