dir-scr Rob Epstein, Jeffrey Friedman
prd Rob Epstein, Jeffrey Friedman, Elizabeth Redleaf, Christine K Walker
with James Franco, David Strathairn, Jon Hamm, Bob Balaban, Mary-Louise Parker, Jeff Daniels, Alessandro Nivola, Treat Williams, Andrew Rogers, Todd Rotondi, Jon Prescott, Aaron Tveit
release US 24.Sep.10, UK 25.Feb.11
10/US 1h30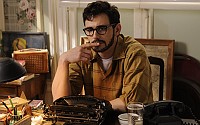 O victory forget your underwear we're free : Franco



---
SUNDANCE FILM FEST
BERLIN FILM FEST

R E V I E W B Y R I C H C L I N E

Oscar-winning documentarians Epstein and Friedman turn their skills to a narrative feature. Sort of. This is essentially a movie based on a poem, but it also tells a remarkable life story and grapples with hugely important issues.

Published in 1956, Allen Ginsberg's poem Howl launched the Beat Generation with its mix of soulful yearning and rage at injustice. When the publisher (Rogers) faces charges that the poem is obscene, Ginsberg (Franco) refuses to attend the trial in San Francisco. And after hearing the lawyers (Strathairn and Hamm) and witnesses (Parker, Daniels, Nivola and Williams), the judge (Balaban) rules in favour of both artistic expression and freedom of the press.

Instead of telling this as a straightforward courtroom drama, Epstein and Friedman weave the trial into the fabric of the poem itself, crosscutting back to New York where Ginsberg is being interviewed about his life and his work (the directors claim that 98% of the words in the film come from court records, letters and interviews). As Ginsberg speaks, we see past veents in striking black and white, including significant friendships with Jack Kerouac (Rotondi), Neal Cassady (Prescott) and Peter Orlovsky (Tveit).

These scenes are also echoed in the poem. And while Franco performs it as a dramatic monologue, as originally intended, the screen is also filled with animation. Designed by Eric Drooker, who worked with Ginsberg on Illuminated Poems, these sequences are visually stunning, blending a variety of animation styles in an impressionistic, moving way.

It also helps to have an actor like Franco fully inhabiting Ginsberg from the gravelly voiced interview to the stylised flashbacks. It's a complex performance that balances beat poetry with wry humour and political controversy. And as all of this is skilfully edited together, what emerges is a remarkable look both at the man and his work, and also what makes his work so important more than 50 years later.

More broadly, the film takes a provocative, meaningful look at censorship, while pointedly noting that Ginsberg was never promoting homosexuality, he was fighting for honesty and frankness. Although it was his sexuality that caused him to look into his own "holy" soul. This is fiercely original cinema worthy of one of the 20th century's most fiercely original artists.
| | | |
| --- | --- | --- |
| | themes, language, sexual imagery | 27.Oct.10 lff |