SHADOWS ON THE WALL | REVIEWS | NEWS | FESTIVAL | AWARDS | Q&A | ABOUT | TALKBACK

Shadows off the beaten path
Indies, foreigns, docs, videos, revivals and shorts...
On this page: GANGSTER'S PARADISE: JERUSALEMA | LEAVING
RAGING SUN, RAGING SKY | WHITE MATERIAL
< < F O R E I G N > >
last update 4.Jul.10
See also: SHADOWS FILM FESTIVAL

R E V I E W B Y R I C H C L I N E
Gangster's Paradise: Jerusalema


dir-scr Ralph Ziman
prd Ralph Ziman, Tendeka Matatu
with Rapulana Seiphemo, Ronnie Nyakale, Jeffrey Zekele, Malusi Skenjana, Shelley Meskin, Robert Hobbs, Jafta Mamabolo, Motlatsi Mahloko, Louise Saint-Claire, Kenneth Nkosi, Daniel Buckland, Eugene Khumbanyiwa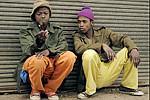 release SA May.08,
US 11.Jun.10, UK 9.Jul.10
08/South Africa 1h58

---
BERLIN FILM FEST

Bold, energetic and extremely complicated, this epic thriller is an eye-opening exploration of how a warped free-market turned Johannesburg into the crime capital of the world. It's long and exhausting, but strikingly well-made.

Lucky Kunene (Mamabolo then Seiphemo) grew up in poverty in Soweto with his pal Zakes (Mahloko then Nyakale). Usually in trouble for something minor, local criminal Nazareth (Zekele) takes them under his wing and teaches them more serious stuff, which they take to naturally. But Lucky's conscience keeps getting the best of him, and he eventually ends up in Johannesburg, where being the victim of a crime inspires him to combine charity with money-making. As he builds an empire as a "property developer", he makes enemies on both sides of the law.

As the story progresses, two nemeses emerge who challenge Lucky's position. And that's not including his disapproving, deeply religious mother. On one side is the tenacious Detective Swart (Hobbs), still stinging from his loss of power as a white cop, not that he defers to anyone. On the other is a Nigerian drug dealer (Shenjana) who is like a stain on Lucky's efforts to make life better for the poor city residents.

And it's this disparity that becomes the most interesting thing about the film: the way Lucky is actually trying to do something good and challenge the callous slumlords who leave the buildings to rot. On the other hand, he is also making rather a lot of illicit cash through this scheme, enough to attract an upscale Jewish girlfriend (Meskin). In other words, Lucky isn't a bad guy, even though his methods bend the law to the breaking point. But his friends indulge in rather a lot more brutality.

The fact that we root for him without being supportive of his methods makes watching the film a charged experience. Writer-director Ziman fills the screen with snappy visuals, high-energy action and the constant threat of violence. The shifting alliances between the characters are powerfully gripping, and even if some local knowledge is needed to understand the film's subtleties, it's a revelatory look into a complex society. And perhaps at Africa's real future.
18 themes, language, violence, drugs
---
9.Jun.10

R E V I E W B Y R I C H C L I N E
Leaving


Partir
dir Catherine Corsini
scr Catherine Corsini, Gaelle Mace
prd Michel Seydoux, Fabienne Vonier
with Kristin Scott Thomas, Sergi Lopez, Yvan Attal, Bernard Blancan, Aladin Reibel, Alexandre Vidal, Daisy Broom, Berta Esquirol, Gerard Lartigau, Genevieve Casile, Philippe Laudenbach, Helene Babu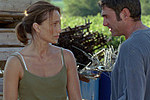 release Fr 12.Aug.09,
UK 9.Jul.10
09/France 1h25

---
TORONTO FILM FEST


This fascinating drama puts us in the mind of a deeply flawed person and makes us sympathise completely with her. This is no mean feat, especially when she does some seriously irrational things. But Scott Thomas is so good in the role that she really makes us care.

In southern France, Suzanne (Scott Thomas) is a wife and mother who, bored with her bourgeois life, decides to go back to work. But when beefy builder Ivan (Lopez) arrives to work on her home office, she starts flirting with him. This eventually turns into a lusty affair, and she decides to leave her husband Samuel (Attal) and teen children (Vidal and Broom). But exchanging financial stability for passion isn't easy; when money runs short Samuel tries to exploit her need for security. And things get very messy indeed.

The film's opening shot gives away its most shocking plot turn, which is a way of letting us know that this movie isn't about the storyline: it's about the people. And every character is complex and imperfect, making bad decisions and doing cruel things along the way. Director-cowriter Corsini plays with this aspect of the film, constantly challenging our own morality and perceptions. And it's gorgeously shot by Agnes Godard, who almost subliminally gives us constant insight into the characters' motivations.

Of course, having an actress like Scott Thomas in the central role lifts this film into something unmissable. Even when the plot stretches credibility, her performance is utterly riveting. In another movie, Suzanne would be the villain of the piece, and yet we are always on her side, even when she does something horrible. Opposite her, Lopez and Attal are also excellent as men grappling with their own shortcomings.

Through it all, Corsini creates an intriguingly realistic atmosphere punctuated by moments of raw tension and wrenching dialog. And without ever romanticising marriage, she sharply shows how easy it is to take a misstep in a moment of weakness. As the film descends into desperation and humiliation, it begins to feel somewhat contrived. But the attitudes and issues it examines leave us thinking long after the lights come up.
15 themes, language, sexuality, violence
---
2.Mar.10

R E V I E W B Y R I C H C L I N E
Raging Sun, Raging Sky


Rabioso Sol, Rabioso Cielo
dir-scr Julian Hernandez
prd Roberto Fiesco
with Guillermo Villegas, Jorge Becerra, Javier Olivan, Giovanna Zacarias, Clarissa Rendon, Juan Carlos Torres, Joaquin Rodriguez, Salvador Alvarez, Fabian Storniolo, Harold Torres, Ruben Santiago, Baltimore Beltran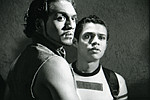 release Mex 16.Oct.09,
US 22.Jun.10 dvd,
UK 12.Jul.10 dvd
09/Mexico 3h13

---



Achingly slow and artistic from the opening shot, Hernandez continues with his visually lush and virtually dialog-free filmmaking style. And on this evidence, he's also even more pretentious than before, stretching a thin plot out over more than three draggy but eye-catching hours.

After a brief encounter, a mysterious woman (Zacarias) urges the young Ryo (Villegas) to find his one true love. But how can he do that when the only option for gay men is cruising in a seedy cinema? There he encounters the aggressive boxer Tari (Olivan) and nice-guy Kieri (Becerra), who's tired of casual sex. Clearly, Ryo and Kieri are meant for each other, but Tari is making their romance impossible. Their story then plays out in a colour-washed, clothing-free primal dreamscape.

Over the years, Hernandez's films have increased in length (see 2003's 80-minute A THOUSAND CLOUDS OF PEACE and 2006's 140-minute BROKEN SKY) as his filmmaking ambition expands, always exploring the difficulty of finding a solid relationship in the gay world. His chief reference continues to be Cocteau's Orphee in his use of dual lives. And much of this film is skilfully shot in striking black and white, with astute editing and sound. But it's also at least twice as long as it needs to be.

Watching this film is an enveloping experience full of moody imagery and sensual physicality. No one says a word on screen, and yet the interaction is straightforward and simplistic. The depiction of sexuality is raw and natural, but never enlightening beyond the clear hope in the men's eyes that maybe this new stranger might turn into someone important. Honestly, a couple of these scenes would have been enough, but Hernandez gives us more than two hours of soulless coupling before the title appears on screen.

Even the mythological climax is repetitive and protracted. IN the end, we admire the audacity and technical artistry. But the overwhelming indulgence of each carefully orchestrated shot becomes exhausting. And while the film is bold and provocative in its exploration of the emptiness of gay life, its attempt to tell a story about the difficult and (very) long path to true love feels rather corny.
18 themes, strongsexuality, violence
---
4.Jul.10

R E V I E W B Y R I C H C L I N E
White Material


dir Claire Denis
prd Pascal Caucheteux
scr Claire Denis, Marie N'Diaye
with Isabelle Huppert, Christophe Lambert, Nicolas Duvauchelle, Isaach De Bankolé, William Nadylam, Michel Subor, Adele Ado, Daniel Tchangang, Ali Barkai, Jean-Marie Ahanda, Patrice Eya, Serge Mong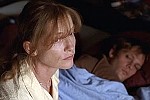 release US Oct.09 nyff,
Fr 24.Mar.10, UK 2.Jul.10
09/France 1h46

---
VENICE FILM FEST
TORONTO FILM FEST


Claire Denis resolutely refuses to make simple movies, so this intense drama set during a civil war in central Africa feels somewhat elusive as it concentrates on emotions rather than plotting. But it's still riveting.

Maria (Huppert) is passionate about her family's coffee plantation, which she runs with her ex-husband Andre (Lambert) and her father-in-law (Subor). She's sure that a violent clash between the army and rebels will pass them by, so she works to make sure the harvest goes as planned. But Andre, now married to a local woman (Ado), is more realistic. And their late-teen son Manuel (Duvachelle) is struggling to find his identity. Meanwhile, an iconic rebel leader (De Bankole) has taken refuge in Maria's home.

The film's prologue, a scene from later in the story, establishes the earth as the main character. Yves Cape's cinematography beautifully takes the perspective of the land itself, which makes the clashing groups of men and women seem almost frivolous compared to the raw power of nature. It's a clever approach that undermines the events and forces us to look into the people themselves.

It of course helps to have an actress as gifted at showing her soul as Huppert is, effortlessly conveying Maria's conflicting loyalties and tough-but-fragile physicality. Around her, Lambert and Duvachelle add remarkable textures that aren't always easy to read, especially as Manuel loses the plot and goes Rambo. Nadylam is also very good as the local mayor who realises that the balance of power is shifting sharply.

The title refers to the riches left behind by colonialists who exploited the land and took what they could get. Their time is over, and it's no longer a case of fitting in and working together, as Maria does. Even if it's not easy to get a grip on the events themselves, we can certainly identify with the feeling that something unthinkable is happening here. How could such an ordered society crumble so completely? How can the children be the givers (and receivers) of so much of the violence? This is complex, evocative filmmaking that leaves us deeply disturbed by what's happening in the world around us.
15 themes, violence, some nudity
---
29.Jun.10


< < F O R E I G N > >
See also: SHADOWS FILM FESTIVAL

© 2010 by Rich Cline, Shadows on the Wall


HOME | REVIEWS | NEWS | FESTIVAL | AWARDS | Q&A | ABOUT | TALKBACK