---


Piecing together a remarkable story from first-hand accounts, still photos and grainy video footage, filmmakers Harlock and Thomas assemble a gripping narrative documentary about a modern-day prophet.

Bill Hicks grew up in Houston with his pals Dwight and Kevin. His deeply religious mother Mary always knew there was something different about him, as did his older siblings Lynne and Steve. And indeed, by the time he was a teen, he and his friends were sneaking off to comedy clubs, where Bill quickly built a reputation as a funny and very outspoken comic. Over the years, his reputation grew as a regular at Los Angeles' famed Comedy Store and as a recurring guest on David Letterman's show.

Typically, there is a period of drug and alcohol abuse in his story, but it was after this that he emerged with an even sharper edge, taking on political taboos and speaking out with sometimes brutal candour against government hypocrisy and, most notably, the culture of marketing and advertising that erodes personal freedom. "It's all about money, not freedom," he said predicting both the War on Terror and the Homeland Security business. And he also took on pop culture, asking, "When did mediocrity become a role model?"

Amazingly, he said all of this before 1994, when he died from cancer at age 32. And the filmmakers use a terrific archive of stills and home video to tell the story. Many of these images are cleverly tinkered with to add animation and context, which gives the film a sharp visual tone to go with Hicks' sharp words. Even his most uneven, drug-addled performances still sting with blunt honesty. So it's a little frustrating that, with all of the off-screen voices, we're not always clear who's talking.

Beyond Hicks' genius for finding humour in every situation, what emerges over the course of this film is a challenging message about standing up for what's right. This is especially potent now, when dissent is seen as traitorous and partisan politics have replaced real governance. As one person notes about Hicks, a true patriot criticises the state in the name of truth. And his most enduring message is that life is a choice between fear and love.
15 themes, language
---
4.Feb.10

R E V I E W B Y R I C H C L I N E
Good Hair


dir Jeff Stilson
prd Jenny Hunter, Kevin O'Donnell, Jeff Stilson
scr Chris Rock, Jeff Stilson, Lance Crouther, Chuck Sklar
with Chris Rock, Maya Angelou, Al Sharpton, Nia Long, Eve, Ice-T, Tracie Thoms, Raven-Symone, Meagan Good, Salt-N-Pepa, Salli Richardson, Vanessa Bell Calloway, Melyssa Ford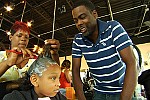 release US 9.Oct.09,
UK 25.Jun.10
09/US HBO 1h36

---
SUNDANCE FILM FEST
TORONTO FILM FEST

Chris Rock hosts this exploration into hair issues in the African-American community, talking to celebrities, experts and hairdressers. What's surprising is that this is such a big issue, although the film isn't much more than entertaining fluff.

The question is who decides what hair is good hair? Most of the black magazines show women with long, straight, silky locks, but this isn't the reality for the readers. Or at least not an easily achievable reality, as it involves lots of product, weaves and wigs. A series of award-winning stylists tackle black hairdos for a living, and the issue of black women's hair has a rather huge impact on their men.

The best thing about Rock is that his mind is so clearly boggled by all of this, just as we'd be, so he asks the questions we'd ask, only in much funnier ways. The key item in any black woman's (and some men's) arsenal is relaxer, which loosens the curls and, as one person notes, makes white people more comfortable. Women call it "creamy crack", because once you use it you can't stop. He even visits Dudley's relaxer factory in North Carolina, heart of a massive hair-product empire.

Even bigger money is found in weave culture (best advice: "You've got to know your weaver!"), so Rock takes a trip to India, to see where the extensions come from. The filmmakers include lots of hilarious old TV footage, including ads about how to beat those afros into submission. And Rock consults with Al Sharpton, whom he calls "the Dalai Lama of Relaxer", and does experiments with a scientist on the chemical burn of a bad perm.

He also makes things more personal by continually referring to his young daughters and the future they face. But this isn't a hugely complicated documentary; it's assembled in a straightforward way that's never satirical or ironic. Personality comes from Rock and the colourful people he talks to. And most of them people are great fun to watch, bursting with humour and creativity. The intensity of the climactic hairdresser competition is jawdropping, and following these flashy competitors would make a great doc on its own.
12 themes, language
---
8.Jun.10

R E V I E W B Y R I C H C L I N E
Suddenly, Last Winter


Improvvisamente L'Inverno Scorso
dir-scr Gustav Hofer, Luca Ragazzi
prd Gustav Hofer
narr Frank Dabell
with Gustav Hofer, Luca Ragazzi, Barbara Pollastrini, Paola Binetti, Roberto Lastel, Franco Grillini, Rocco Buttiglione, Angelo Bagnasco, Cesare Salvi, Francesco D'Onofrio, Anna Finocchiaro, Giulio Andreotti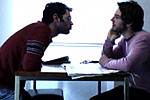 release US Jan.10 psiff,
UK 7.Jun.10 dvd
08/Italy 1h19

---
BERLIN FILM FEST

With a disarmingly light-hearted tone, this documentary explores one of Italy's most contentious issues: the struggle for equal rights for all couples. Virtually every argument against them gets an airing, and yet what's right couldn't be any clearer.

Gustav and Luca are journalists in Rome who, under Italian law, are not considered a couple even after eight years together. Then in winter 2007 a civil partnership law is introduced that gives rights to couples regardless of gender or nationality. It sparks heated debate up and down the country. As an openly gay couple, Gustav and Luca are literally poster boys for the cause, and they decide to explore it by making this documentary. But as things escalate, Luca loses his nerve. He wants to stop talking to bigots who attend fascist demonstrations. He'd much rather attend the gay pride parade.

The comedy-style narration keeps things moving briskly as we watch the bill's difficult journey through the Italian parliament. The film has a homemade quality, with images that are witty and sometimes downright goofy as these guys reveal their mischievous personalities in every scene. Meanwhile, glimpses of their domestic life, including their pranks and spats, are notable for their banality. So why are so many people afraid to allow them to have the rights of a couple?

With their bold, almost childlike approach, something interesting happens: by just asking simple questions, Hofer and Ragazzi diffuse every argument thrown at them. And most importantly, like good journalists, they let everyone have their say without confrontation, although they sometimes can't resist a snappy comeback. Which isn't a surprising reaction in a nation with so much deep-seated homophobia and racism.

And the central point is clear: if Italy wants to be part of Europe, it needs to give its people the same rights. As one official (Grillini) explains on camera, "No children, no family". Does that mean that childless couples shouldn't have rights? And what about gay couples that have children? By simply letting these people explain their views, Hofer and Ragazzi not only make their point with real power but expose the rampant fear and ignorance that infects their nation.
12 themes, language
---
30.May.10

R E V I E W B Y R I C H C L I N E
Videocracy


dir-scr Erik Gandini
prd Axel Arno, Erik Gandini, Mikael Olsen
narr Erik Gandini
with Fabrizio Corona, Ricky Canevali, Silvio Berlusconi, Lele Mora, Fabio Calvi, Marella Giovannelli, Angiolina Canevali, Gerlinde Bernmeister Gianna Tani, Cesare Cadeo, Roberta Lafranchi, Flavio Briatore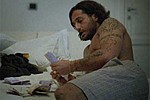 release Swe 28.Aug.09,
US 12.Feb.10, UK 4.Jun.10 09/Sweden 1h25

---
VENICE FILM FEST
TORONTO FILM FEST

This extremely clever documentary explores the power of the media through a remarkably unsettling case study: namely, Italy. Not only is the situation there pretty frightening, but it has implications for every other media-obsessed nation.

Filmmaker Gandini calls it "television of the president": the striptease game shows that built Italian President Berlusconi's media empire. And since he owns three of the country's commercial TV channels, Berlusconi runs 90 percent of Italian television (plus all of the major gossip magazines). So it's perhaps no surprise that he's managed to cling to power for so long, crushing all opposition and criticism along the way. Especially disturbing is a big corporate musical number thanking God that Berlusconi exists, like some a modern-day variation on a hymn to Mussolini.

Along the way we meet some vivid characters. Ricky Canevali is a young, muscle-bound mechanic who wants to be a star. His plan of action includes combining the talents of his two heroes: the karate of Jean Claude Van Damme and the singing of Ricky Martin. He's still waiting for fame. And then there's Fabrizio Corona, who sells compromising photos of celebrities to the celebrities themselves, rather than the press. Then he becomes famous himself after a run-in with the law. This seriously goes to his head, and we vividly see what he'll do to maintain the illusion of his fame.

The film is a terrific look at the influence of television and the desperate desire for stardom, however it is achieved. Watching Canevali audition for shows and Corona grab at notoriety is eerily familiar, as is a TV culture that's packed with scantily clad women who aren't allowed to speak. But then, as Big Brother director Calvi notes, this mirrors the attitudes of the man who owns the media.

This is a riveting, important look at the inner workings of the industry, cleverly assembled like a thriller with constant revelations that take us deeper into a dark underworld most TV viewers would never suspect lies beneath their light entertainment. It's a cutthroat world in which people are willing to blackmail their friends for fame and fortune. And even though we're horrified, we can't look away.
15 themes, language, nudity
---
1.Jun.10


< < D O C S > >
See also: SHADOWS FILM FESTIVAL

© 2010 by Rich Cline, Shadows on the Wall


HOME | REVIEWS | NEWS | FESTIVAL | AWARDS | Q&A | ABOUT | TALKBACK