dir-scr Jane Campion
prd Jan Chapman, Caroline Hewitt
with Abbie Cornish, Ben Whishaw, Paul Schneider, Kerry Fox, Thomas Brodie-Sangster, Edie Martin, Antonia Campbell-Hughes, Claudie Blakley, Gerard Monaco, Samuel Barnett, Samuel Roukin, Jonathan Aris
release UK 6.Nov.09
09/UK Pathe 1h59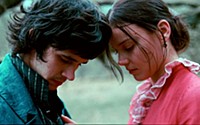 Awake for ever in a sweet unrest: Whishaw and Cornish



---
CANNES FILM FEST
TORONTO FILM FEST

R E V I E W B Y R I C H C L I N E

With a sumptuous attention to detail, lush photography and beautifully understated performances, Campion turns real events from the life of a poet into cinematic poetry. It may be too mopey for some audiences, but for others it's pure bliss.

In 1818 Hampstead, 23-year-old John Keats (Whishaw) is living with his lively friend Charles (Schneider) next door to the Brawne family: a quietly resolute mother (Fox), strong-willed 18-year-old Fanny (Cornish), younger brother Samuel (Brodie-Sangster) and little sister Toots (Martin). Initially sparring about art and poetry, John and Fanny begin to quietly fall for either other. But Fanny would never be allowed to marry a penniless poet, and John's health is deteriorating.

This simple, straightforward story is told with breathtaking beauty by Campion. Her script is playful and subtle, with dialog that's packed with clever wordplay and a rich vein of subtext that tells us everything these people aren't allowed to express in polite society. The actors grab onto this tone, delivering performances that say more with their physicality and mutual chemistry than the words themselves. As all of the characters swirl around each other over about two years, their lives entangle inextricably.

Cornish is particularly good as Fanny, through whose eyes we see the whole story. Sometimes this limited perspective is a bit frustrating, as we want to see other angles as well, but Fanny's raw yearning is even more vivid as a result. Whishaw is also very good as the fragile young artist, while Fox does wonders with her hushed and stoic but compassionate character. The scene-stealer is Schneider, who generates plenty of inner fire as the mischievous Charles.

But this is Campion's film, really, and she tells the story so sensually that we feel like we've lived it. The luxuriant scenes are exquisitely photographed by Grieg Fraser, with an eye-grabbing array of shadows and light, shades and textures. This lets Campion take us right into each scene, using the screen as a canvas to create a two-hour work of art, all while showing both reverence and cynicism for serious artistes. It might be a bit slow, slim and dark for some viewers, but the rest of us vividly feel the truth in Keats' description of "the holiness of the heart's affections".
| | | |
| --- | --- | --- |
| | themes | 27.Jul.09 |