dir Darren Aronofsky
scr Robert D Siegel
with Mickey Rourke, Marisa Tomei, Evan Rachel Wood, Mark Margolis, Todd Barry, Wass Stevens, Judah Friedlander, Ernest Miller, Dylan Summers, Tommy Farra, Mike Miller, Marcia Jean Kurtz
release US 19.Dec.08, UK 16.Jan.09
08/US 1h49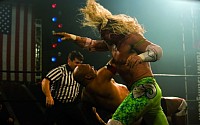 Ready to rumble: Rourke and friends




See also: INTERVIEW with MICKEY ROURKE
---
Golden Lion:
VENICE FILM FEST
TORONTO FILM FEST
Surprise Film:


R E V I E W B Y R I C H C L I N E

A powerful sense of masculinity floods through this story of a man at the end of his rope. And in addition to the pungent writing and direction, the film features a truly stunning performance from Rourke.

Randy the Ram (Rourke) was once a major wrestling star, and still holds his own against the up-and-comers. But things are getting nastier in the ring, and his heart isn't holding up as well as it used to. Deciding to slow down, he takes on more hours in his day job in a supermarket and tries to actually get to know his favourite lap dancer (Tomei). He also looks up his estranged daughter (Wood) with the hope of making up for lost time. But can an old dog learn new tricks?

Aronofsky takes a sharp turn in his filmmaking style, using a powerfully real doc-like approach. As the camera follows Randy through long takes, we feel like we're there with him: tired and beaten and yet gearing ourselves up for whatever is through the next doorway, whether it's a crowd of fans braying for another "Ram Jam", a counter full of demanding customers or a daughter who can't help but be disappointed. And even in the most heart-wrenching scenes, the film catches the earthy humour.

Rourke is breathtakingly focussed in the role. Randy's relaxed, ambling gait is clearly pained by decades of injury and drug use, as is his bruised self-image after years of misplaced priorities and dwindling options. While his face looks like it's been bludgeoned with a sledgehammer ("I'm an old, broken-down piece of meat"), it's also so expressive that we can't help but fall in love with this flawed mess of a man. We can see the tenacious fire in his eyes as well as the emotional longing. And his chemistry with Tomei and Wood, as well as a number of real wrestlers, is simply magical.

As the story progresses, it casually captures so many aspects of a wrestler's life that the film actually benefits from a second viewing. The wrestling sequences are astonishingly tough--life-or-death theatre filmed with gritty camerawork and raucous crowds of extras. Meanwhile, the observant script is laced with dry wit and sharp interaction. Scenes are packed with details that beautifully create moments that are hilariously funny, warm and tender, or achingly sad. And the humanity the film finds in a seemingly inhuman situation is truly haunting.
| | | |
| --- | --- | --- |
| | themes, language, violence, sexuality, drugs | 23.Oct.08 |