SHADOWS ON THE WALL | REVIEWS | NEWS | FESTIVAL | AWARDS | Q&A | ABOUT | TALKBACK

Shadows off the beaten path
Indies, foreigns, docs, videos, revivals and shorts...
On this page: A PERFECT DAY | CHOCOLATE
SUNSHINE BARRY AND THE DISCO WORMS | UPRISE
< < F O R E I G N > >
last update 26.Oct.08
See also: SHADOWS FILM FESTIVAL

R E V I E W B Y R I C H C L I N E
Chocolate


dir Prachya Pinkaew
scr Chukiat Sakveerakul, Nepalee Sakweerakul
with Yanin Mitananda, Ammara Siripong, Hiroshi Abe, Taphon Phopwandee, Pongpat Wachirabunjong, Dechawut Chuntakaro, Hirokazu Sano, Aroon Wanasbodeewong, Anusuk Jangajit, Nattakit Teachachevapong, Sirimongkhon Iamthuam, Kittitat Kowahagul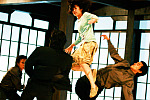 release Tha 6.Feb.08,
US Sep.08 ffa,
UK 24.Oct.08
08/Thailand 1h28
---
BERLIN FILM FEST
TORONTO FILM FEST

From the makers of ONG-BAK, here's another organic-style fight movie with an unhinged but irrelevant plot. But even if the story is weak, the fact that there are clearly no stuntmen involved makes the fight scenes seriously impressive.

Zen (Mitananta) is a young autistic raised in Thailand by her mother Zin (Sripong) after her father Masashi (Abe) was forced to return to Japan. Both parents were once fighters working for their respective mobs, and Zen has inherited their skills, picking up manoeuvres savant-like, just by seeing them. Her main obsessions are Bruce Lee movies and chocolate, but when her mother needs to call in some debts to fund her medical treatment, Zen and her pal Moom (Phopwandee) will make people pay.

As strange as it is, the plot only exists to string together an escalating series of battles that showcase Zen's developing Muay Thai skills. She doesn't quite grasp the reality of the violence she's inflicting; she just needs the money for her mother. And this purity of purpose gives the film a straightforward, linear quality despite the quirky elements thrown into every scene. At one point she takes on a brutal opponent who's having an epileptic seizure.

Mitananta (aka Jajee Yanin) plays Zen as a woman who fights on autopilot, which essentially removes any emotional aspect to focus on eye-catching choreography that mixes Bruce Lee-style rapid fire movement with Jackie Chan-style use of everything that's at hand. She's bendy and leggy beyond reason as she takes on a seemingly endless succession of shirtless, sweaty men. And director Pinkaew stages each grisly, rough, desperate fight with a theme--ice factory, meat market, the side of a building--complete with colour scheme and different sharp and dangerous things to both dodge and throw around.

The film's big final sequence is like the climax of Kill Bill, as hundreds of henchmen put Zen through her paces. And along the way, there are some terrific sideroads, including a beautifully animated dream sequence that gets even further into Zen's mind. Yes, it's extremely choppy and not terribly well-developed, with characters appearing and disappearing at random. But the fights are so impressive that we can't help but be thoroughly entertained.
18 themes, extreme violence, sexuality
---
12.Oct.08

R E V I E W B Y R I C H C L I N E
A Perfect Day


Un Giorno Perfetto
dir Ferzan Ozpetek
scr Sandro Petraglia, Ferzan Ozpetek
with Isabella Ferrari, Valerio Mastandrea, Valerio Binasco, Nicole Grimaudo, Federico Costantini, Monica Guerritore, Angela Finocchiaro, Stefania Sandrelli, Nicole Murgia, Gabriele Paolino, Giulia Salerno, Laura Sampedro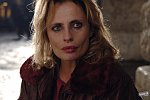 release It 5.Sep.08,
UK Oct.08 lff
08/Italy Fandango 1h45

---
TORONTO FILM FEST
VENICE FILM FEST


Italian filmmaker Ozpetek shifts gears with this dark and emotional drama, dissecting a series of collapsing relationships in a way that's surprisingly involving. And the film's bleak and warm aspects are elegantly balanced by the cast.

Emma (Ferrari) dresses more like a tart than a middle-aged mother, which embarrasses her kids (Murgia and Paolino). But her ex-husband Antonio (Mastandrea) won't stop following her, despite the restraining order. He works as a bodyguard for Italian politician Elio (Binasco), whose young wife (Grimaudo) has a dark secret. As does his son Aris (Constantini). Over the course of 24 hours, all of these people will be involved in situations that will redefine their lives, leading to heartbreak, violence and tragedy.

With his fluid filmmaking style (and a momentous score by Andrea Guerra), Ozpetek builds a Hitchcockian sense of dread from the opening shot of a family asleep in a flat. And indeed, we soon learn something awful has happened, then jump back to see the previous day, when everyday events pile up on these characters. It's a little bewildering at first, because there are so many people and we're unsure how they connect. But each story strand is compelling and emotional, and the film is insinuating and gripping as a result.

The cast take strikingly straightforward approaches to their roles. The most sympathetic is Ferrari, who beautifully catches Emma's desperation and resilience. She's the heart of the film, and also the one we really root for against all odds. Other characters are more shadowy, obsessive, misguided or even evil, but all are superbly well-played. Mastandrea is especially notable, making us believe his promises right along with Emma.

In the end, the film feels slightly ephemeral; the various plot strands are like fragments of a much larger story. But the events and interaction are powerfully resonant, letting us identify with everything these people go through. Ozpetek has always been great at getting under the skin of people who have been through (or are going through) personal tragedy, taking us along in the process. In that sense, this film isn't very easy to watch, but you certainly won't forget it in a hurry.
15 strong themes, violence, language
---
19.Oct.08 lff

R E V I E W B Y R I C H C L I N E
Sunshine Barry and the Disco Worms


Disco Ormene
dir Thomas Borch Nielsen
scr Morten Dragsted
voices David Bateson, Heather Carino, Helle Dolleris, Trine Dyrholm, Peter Frödin, Jason Graae, Lars Hjortshoj, Frank Lenart, Troels Lyby, Tesz Millan, Birthe Neumann, Peter Hesse Overgaard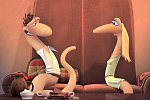 release Den 10.Oct.08,
UK Oct.08 lff
08/Denmark 1h15
---
TORONTO FILM FEST


Ropey animation that looks a bit unfinished (and unchecked for continuity errors) nearly sinks this film before it gets going. But an infectious disco beat and some surprisingly grown-up humour keep us engaged.

Earthworm Barry is about to embark on a dull new career when he discovers an innate love of 1970s disco classics. He decides to form a band and enter an upcoming music competition with his pal Tito on base, his monotone crush Gloria singing backup, secretary Donna on drums and metalhead Jimmy on guitar. But the bugs don't want to share the stage with mere worms.

Yes there's a whiff of social commentary here as Barry and his pals battle deep prejudice and bullying. Not that it goes very deep. Nor does the suspense interlude, when our heroes are grabbed by humans and sold as live bait. No, everything is played for laughs, usually of the wacky slapstick variety. And none of these physical comedy set pieces really work; they feel half-baked at best, while the cheap and cheerful animation often judders and skips, causing items to vanish as if the scenes weren't properly rendered.

That said, the design is colourful and bouncy, especially during songs that it's impossible to hate. Everything from Disco Inferno to Blame it on the Boogie by way of I Will Survive gets the feet tapping. And the characters are rather cute too, like cuddly Muppet worms with incredibly useful tails. Although it's always dangerous to have a character say, "And I was thinking this couldn't get any worse."

More disturbing for parents is a slightly sleazy undercurrent, most notably in the character of lecherous lounge singer Tony. And there's also a running homophobia gag about the Village People, with the expected pay-off, plus an opening joke with a zipper that will hopefully go over the kiddies' heads.
PG themes, innuendo, brief language
---
20.Oct.08 lff

R E V I E W B Y R I C H C L I N E
Uprise


A Zona
dir-scr Sandro Aguilar
with António Pedroso, Isabel Abreu, Guilherme Pina Cabral, Cátia Afonso, Tiago Barbosa, Adriana Queiroz, Nuno Bernardo, Manuel Mesquita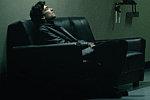 release UK Oct.08 lff Portugal 1h39
---


This wilfully vague and incomprehensible experimental film will infuriate most moviegoers, although fans of offbeat cinema will find plenty to chew on in what appears to be a rumination on grief and tragedy.

There is virtually no dialog at all, as the film consists of a series of scenes and images that are mainly set in a hospital, where a premature baby clings to life and an old man passes on, or an isolated woods where some sort of accident has taken place. People continually meet in hospital hallways and look achingly at each other, mumbling a few words here and there. How these scenes are linked is anyone's guess; they could be flashbacks, since there are two guys named Rui (Pedroso, about 35, and Cabralone, about 10).

Filmed in a lush, textured style with images that are mostly pitch black with moments of soft light, it's clear that the filmmaker is only showing us selected glimpses of whatever is happening. It's assembled with a moody, atmospheric tone that cuts through the pretentious filmmaking, creating an almost visual poem that does carry some mood and emotion. Although it's so gloomy and bewildering that it's difficult to care about the characters or situations. Not that we have a clue about either.

As a calling card for cinematographer Paulo Aresor or Aguilar as editor, this is striking work, with extreme close-ups and an artful use of depth of field that demand our active participation. And if the writer-director is happy to toil in the experimental margins, he'll have a long, acclaimed career making films no one actually wants to see. But if he wants to actually speak to audiences, he really should stop indulging in this kind of closed filmmaking and let us in just a little bit
15 themes, language, disturbing images
---
20.Oct.08 lff


< < F O R E I G N > >
See also: SHADOWS FILM FESTIVAL

© 2008 by Rich Cline, Shadows on the Wall


HOME | REVIEWS | NEWS | FESTIVAL | AWARDS | Q&A | ABOUT | TALKBACK