Rich Cline comments: Several things set our awards apart from all the others: it's the only awards ceremony presented by the critics themselves; it's the only one that benefits a charity (nearly half a million pounds have been raised for the NSPCC over the years); and it's one of the few awards in which the people voting have actually seen all of the eligible films.

It's also a rare event in which the critics mix socially with the people who make the movies. And the atmosphere is definitely relaxed and friendly, especially after a few glasses of champagne in the reception beforehand. A glamorous new venue this year added a bit of spark, with a much more dramatic stage and a bit more space around the tables.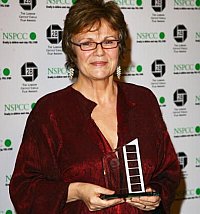 The awards themselves were great fun, with lively acceptance speeches and some hilarious moments scattered through the evening, mainly thanks to the double appearance on stage of the almost shockingly tall and dryly funny Florian Henckel von Donnersmarck (who won for screenplay and foreign-language film), and the hysterically witty banter of Julie Walters, who won the night's final accolade, the Dilys Powell Award for excellence in cinema.
Also making repeat appearances on stage were the sardonic Anton Corbijn (breakthrough filmmaker and British film of the year) and the bubbly and very pregnant Kelly Macdonald, who shared the podium with Vanessa Redgrave in a tie for supporting actress and then read the Coen brothers' thank you for film of the year. Other winners in attendance included Marion Cotillard (best actress), Julie Christie (British actress), James McAvoy (British actor) and Sam Riley (breakthrough actor).
The videotaped thank-yous were especially nice - sent in by Daniel Day-Lewis (best actor) and Paul Thomas Anderson (best director) from the Berlin Film Festival, and Paul Greengrass (British director) from on location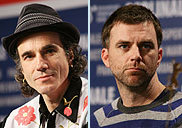 in Morocco. Tom Wilkinson (supporting actor) sent a note, read by the evening's host Mariella Frostrup, apologising for not attending due to the fact that it was his 60th birthday and his wife required his attendance at what was supposed to be a surprise party.
And the other nominees in attendance didn't go home empty-handed. Besides a superb meal and after-dinner dancing, everyone received a goody bag containing DVDs and books from nominated films, various cosmetics and chocolates, and even a jar of Barry Norman's pickled onions. Nominees in attendance included: Benedict Cumberbatch, Sarah Gavron, Christopher Hampton, Toby Jones, Toby Kebbell, Sienna Miller (cue the paparazzi!) and Dakota Blue Richards.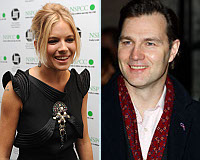 alt="miler and morrissey"> Special guests included Richard Attenborough (who presented the award for British film that bears his name), Guillaume Canet, Ruthie Henshall (who fabulously handed out the raffle prizes), Tim McInnery, Carlo Nero, Mark Strong, and David Morrissey and Esther Freud (who were seated next to me). Paul Gambaccini, who cohosted the evening with Mariella, ran the concluding auction for a Wallace & Gromit watercolour, hand-painted by Nick Park.
Being on a Friday night certainly added to the festive atmosphere this year, but it also limited our press coverage significantly, since the Monday papers are bound to be Bafta-centric (not to mention the Grammys, which also happen on Sunday). But it's hard to imagine beating our night for sheer fun - and our list of winners couldn't be much stronger.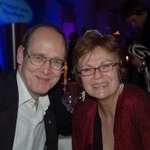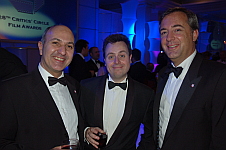 Critics' night out: James Cameron-Wilson with honoree Julie Walters;
critics George Savvides, Neil Smith and Rich Cline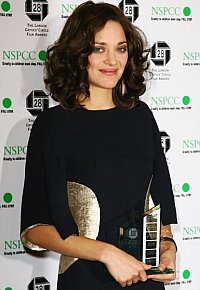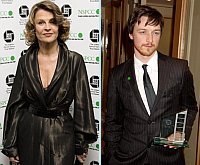 The winners take it all. Above: Cotillard; Christie; McAvoy. Below: Redgrave and Macdonald; Riley; the Control gang; Henckel von Donnersmarck; Corbijn