Rich Cline comments: Once again, I was actually present for the dinner and awards presentation (and after-party). As a member of the London Film Critics' Circle, I was able to participate by voting and attending the awards ceremony. Unlike last year I wasn't presenting an award, so I could just sit at the table and enjoy myself.

The stage set-up this year was extremely impressive - in honour of the Critics' Circle's 25th annual awards - and the dinner and table settings were flashier as well. Not to mention the goodie bags! The presentation of awards was crisply handled - this is one of the only awards shows in the world at which the critics present the honours to the actors and filmmakers themselves. And it's a fairly relaxed event - we get the chance to chat with each other, so for one evening at least all animosity is forgotten!
The evening is also in benefit of the National Society to Prevent Cruelty to Children, and this year we raised more than £65,000 through ticket sales and sponsorship.
London critics have a nice tradition of spreading the awards around a bit - so most of the year's best films go home with something. Vera Drake was, unsurprisingly, the big winner of the evening. But top honours also went to Sideways, The Aviator, The Motorcycle Diaries and Eternal Sunshine of the Spotless Mind. Many winners were on hand to accept their awards and enjoy the evening; easily the shiniest star of them all was Cate Blanchett, who even took the stage to present the directing prize to her escort Martin Scorsese. I had a chance to chat with several special guests, including Scorsese, Walter Salles and Bob Hoskins, although I couldn't get anywhere near Cate.
Here are a few pics from the evening, and a list of the celebrity guests who attended. Others were on-hand by satellite link and in special videotaped greetings...


Winners present: Eva Birthistle (British actress - Ae Fond Kiss), Daniel Craig (British actor - Enduring Love), Phil Davis (supporting actor - Vera Drake), Romola Garai (supporting actress - Inside I'm Dancing), Norma Heyman (Silver Anniversary Award), Mike Leigh (British director/screenplay - Vera Drake), Ken Loach (Dilys Powell Award - Ae Fond Kiss), Alexander Payne (film - Sideways), Natalie Press (newcomer - My Summer of Love), Walter Salles (foreign film - The Motorcycle Diaries), Martin Scorsese (director - The Aviator).



Honoured guests: Amma Asante (A Way of Life), Nellie Bellflower (Finding Neverland), Cate Blanchett (The Aviator), Samantha Bond (Die Another Day), Hugh Dancy (King Arthur), Anthony Daniels (Star Wars), Bob Hoskins (Vanity Fair), Paul Laverty (Ae Fond Kiss), Eddie Marsan (Vera Drake), James McAvoy (Inside I'm Dancing), Emily Mortimer (Dear Frankie), Paul Morrison (Wondrous Oblivion), Joe Penhall (Enduring Love), Michael Radford (Merchant of Venice), Anne Reid (The Mother), Nicholas Roeg (The Witches), Ruth Sheen (Vera Drake), Rita Tushingham (Being Julia).
Critics presenting awards: Mariella Frostrup and John Marriott (hosts), William Russell (awards coordinator); Carol Allen (Independent), Matthew Bond (Mail), Anwar Brett (freelance), James Cameron-Wilson (Film Review), Peter Cargin (Film), Henry FitzHerbert (Express), Charles Gant (Heat), Sarah Gristwood (Nine to Five), Allan Hunter (Screen), Karen Krizanovich (Ms), Derek Malcolm (Standard), Richard Mowe (freelance), Hilary Oliver (freelance), George Perry (Times), Dee Pilgrim (Now), Chris Tookey (Mail).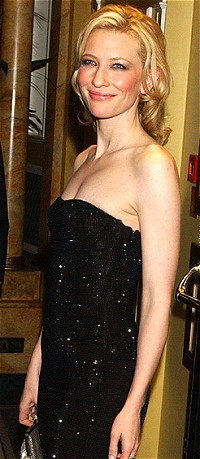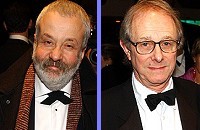 Starry starry night: Mike Leigh and Ken Loach both took home awards (above); Emily Mortimer and Anthony Daniels, aka C-3P0 (below).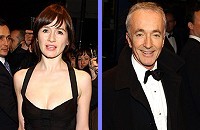 [photos by Jeff Spicer/Alpha]