Rich Cline comments: For the first time in my life, I wasn't watching the show from my living room. I was in the grand ballroom of the Dorchester in London, glitzed up to the hilt for the biggest film critics' night on earth--the only ceremony in which critics hand awards to the stars! Most of the acceptance speeches referred to the fact that filmmakers and actors aren't used to getting accolades from the critics; they normally only remember the bad reviews. And sometimes memorize them word-for-word. Almost everyone on the stage confessed to actually reading their reviews, including the ones they were warned were unkind.

Anyway, we're all set, with an elegant stage backed by a mammoth video screen and a room full of champagned guests who are starving, but will have to wait while 16 awards are handed out before they can eat. Awards coordinator William Russell welcomes everyone reminds us that the night is a benefit for the National Society to Prevent Cruelty to Children.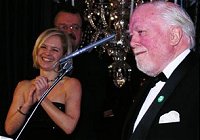 He then hands over to tonight's cohosts, film critic Mariella Frostrup and John Marriott (chairman of the film section of the Critic's Circle), who make some witty opening remarks and introduce the FOREIGN FILM category, which is given by the night's first film critic presenter, Wendy Idle. The winner is GOOD BYE LENIN, and actor Alexander Beyer is there to accept the award. He makes some hilarious comments about his East German heritage and the terrible English he learned in school, then reads a faxed message from director Wolfgang Becker.
Allan Hunter awards BRITISH NEWCOMER to DAVID MACKENZIE, who gives a warm and lively acceptance speech and is whisked off to meet the press backstage. Carol Allen then presents the BRITISH SCREENWRITER category, and the award goes to DAVID HARE for The Hours, which wasn't eligible in last year's ceremony due to its late UK release. He takes the stage and gives a witty, warm and very eloquent thank you.
Now it's my turn! Trying to hide my nerves, I stride up to the stage and make my little speech about the BRITISH SUPPORTING ACTRESS nominees, then open the envelope and announce EMMA THOMPSON as the winner. She gushes up to the stage and I hand her the glass sculpture award, complete with hand-clutching and cheek-kissing. Then I try to blend in to the backdrop as she gives a typically hilarious acceptance speech, beginning by saying that she's never won one of these before. But she has (as screenwriter of Sense and Sensibility); I did my homework. She goes on to comment that 'it's very unusual to receive such a thing. You usually think of critics as sadists.' I just grin like a goon, then keep the envelope as a souvenir. If only I'd got her to sign it for me! [This paragraph is fully illustrated below!]
My table host Pauline McLeod presents the next award, BEST SCREENWRITER, to JOHN COLLEE and PETER WEIR for Master & Commander. They're in Australia at the moment, but the film's costar David Threlfall (a nominee tonight) accepts the award after some on-the-spot prompting by Mariella.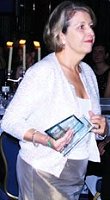 Next up is BRITISH SUPPORTING ACTOR, and Hilary Oliver hands the award to BILL NIGHY, who delights us with a predictably comical acceptance speech: 'With comedy, it's not a dispute. It's either funny or it's not funny and I guess this award means it was funny.' And up comes Jason Solomons, who gleefully introduces the BRITISH ACTRESS nominees and then is taken aback when a clip reel unspools on the big screen behind him. But he maintains his cool and hands the award to a delightful, and clearly delighted, ANNE REID, who says she's never won anything before and still can't quite believe she got the chance to star in The Mother.
Dee Pilgrim presents the BRITISH ACTOR award, which goes to PAUL BETTANY, an impossibly tall and gorgeous man who somehow manages to look plain and normal-sized in his films. He is pure charm on stage, and even manages to work in a cute reference to his (absent) wife and the family business. Next up is George Perry to present a LIFE ACHIEVEMENT AWARD to legendary British filmmaker RONALD NEAME, who accepts via tape from sunny California. At age 93 he has more spark than I do, and gives a warm and very funny speech, talking about his favourites among his films, the top spot going to The Poseidon Adventure, which he reminds us was slated by the critics but gave him enough "FU money" to live the rest of his life in luxury. Fantastic.


David Gritten gives the BRITISH DIRECTOR award to PETER MULLAN, who wears a political statement T-shirt under his suit-coat and gives a very political speech about children who are still in horrific situations in this country. James Cameron-Wilson then announces the BEST ACTRESS winner as JULIANNE MOORE for Far From Heaven, another film that wasn't eligible last year. She accepts via tape with an absolutely lovely thank you speech. The woman is divine, and it's a testimony to her astonishing performance that the London critics didn't forget it after all this time!
BEST ACTOR is then presented by William Hall to SEAN PENN, who also accepts by tape, but keeps his comments to about 10 well-chosen words. Next up is Karen Krizanovich, frankly looking a bit too glamorous for a film critic as she awards BEST DIRECTOR to CLINT EASTWOOD, who offers a stately and very brief thank you by tape. Actually, the acceptance speech starts rolling before Karen announces his name--the only glitch of the evening. (There will be far more problems at the Oscars, mark my words!) Then Clint's extremely tall and handsome son Kyle takes the stage to give a very gracious thank you.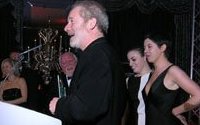 Peter Cargin is the next on stage, introducing a new name for the BRITISH FILM award, which henceforth will be called the Attenborough Award. And of course Richard Attenborough is on hand to present the first one. After giving a superb, and hilarious, speech Lord Dickie hands the award to THE MAGDALENE SISTERS. Peter Mullan returns to the stage with two of the film's stars, Nora-Jane Noone and Eileen Walsh, and all three make lovely comments.
You can hear stomachs rumbling around the room. Only two awards to go, and the first is the Dilys Powell Award for EXCELLENCE IN FILM, which Chris Tookey presents to TOM COURTENAY, who takes the stage and keeps us laughing. And finally, Quentin Falk takes the stage along with actor Jason

Isaacs and Steven Gaydos, editor of Variety, which sponsors the FILM OF THE YEAR award. All three take turns to announce the winner as MASTER AND COMMANDER. This is the night's big upset, and the award is happily accepted by Peter Weir on tape from the far side of the world.
Finally we can eat! And the night carries on from here in very lively fashion indeed. During dessert Emma Thompson and Paul Bettany take the stage to raffle off a few prizes, laughing loudly and obviously enjoying the kitschness of the moment. And after the meal, there's dancing in the terrace room with Radio One deejay Marianne Hobbs. Although most people slope off into the night beforehand.



Throughout the evening, it's fun to spot the stars around the room, interlaced with my film critic colleagues and publicity staffers from the various studios. The special guest at my table was Paddy Considine, a seriously nice man who's deeply down-to-earth about his rising fame and looking forward to his first Hollywood movie, which he starts filming with Russell Crowe for director Ron Howard next month. I also had a long chat with Anne Reid, among others. Familiar faces around the tables included: director Don Boyd, Richard Curtis, Julie Dreyfus (Kill Bill), designer Nicole Farhi, Romola Garai (I Capture the Castle), Shirley Henderson, Hanif Kurieshi, Burt Kwouk, Roger Michell, Colin Salmon (the James Bond films), Jamie Sives (Wilbur Wants to Kill Himself), Michael Winterbottom, Greg Wise and Fenella Woolgar (Bright Young Things).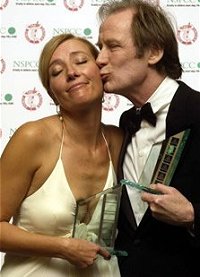 And the winners are: Emma Thompson and Bill Nighy (above), Paul Bettany (below).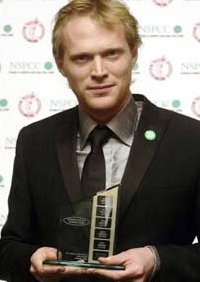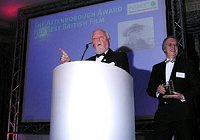 Starry starry night: Lord Dickie and Peter Cargin inaugurate the Attenborough Award (above), Karen Krizanovich with Kyle Eastwood (below).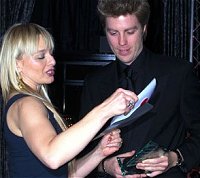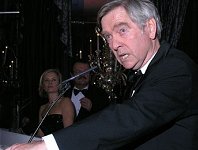 And the winner is: Special honoree Tom Courtenay (above); best newcomer David Mackenzie and best foreign film star Alexander Beyer (below).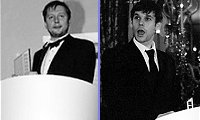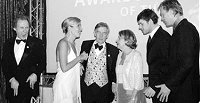 The winning actors: Bill Nighy, Emma Thompson, Tom Courtenay, Anne Reid, Alexander Beyer, Paul Bettany (above and below).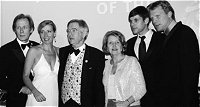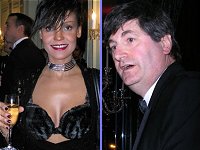 The critics: Elsa O'Toole and Chris Tookey (above), Hilary Oliver and James Cameron-Wilson (below).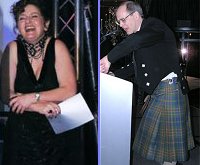 [Most photos by Adam Keen.]