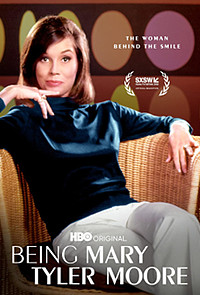 dir James Adolphus
prd Ben Selkow, James Adolphus, Lena Waithe, Rishi Rajani, Debra Martin Chase
with Mary Tyler Moore, Robert Levine, James L Brooks, James Burrows, Michael Lindsay-Hogg, Norman Lear, Rob Reiner, Edward Asner, John Tinker, Beverly Sanders, Treva Silverman, Bill Persky
release US 26.May.23
23/US HBO 1h59





---
Now streaming...

---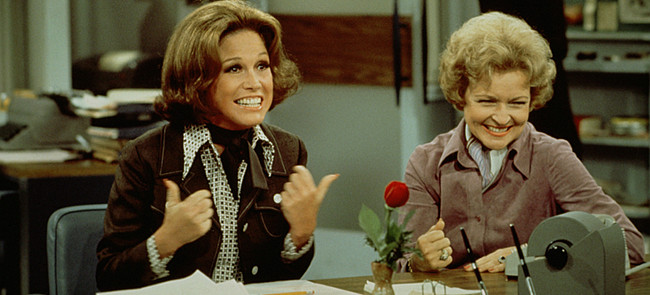 Mary Tyler Moore became a household name with Emmy-winning roles in classic sitcoms, then further revealed the width and depth of her talent as an actor, producer and activist on film, television and stage. Using extensive interview footage, director James Adolphus allows Moore to narrate her own story alongside friends, family and colleagues. This creates an inspiring narrative without flinching from darker elements like personal tragedy, illness and alcoholism.
---
Watching her in chat show interviews in the mid-1960s, it's clear now that Mary Tyler Moore was ahead of her time about female identity, championing the intrinsic value of women and men alike. She proved her comedic talent on Carl Reiner's The Dick Van Dyke Show (1961-1966), forever changing the image of a sitcom housewife into someone independent and sexy. Then in The Mary Tyler Moore Show (1970-1977), she played a successful single woman who wasn't looking for a man. Serious roles on the big screen and Broadway followed, crushing both personal and professional stereotypes.
---
In addition to a terrific collection of clips from Moore's career and interviews, there is also a wide range of material that adds context to her story, vividly evoking the changes in social attitudes from the 1950s to the 1990s. Some wonderfully extended clips are included (such as the unforgettable Chuckles the Clown episode), and there are also home videos, conversations and memorable moments from her television and film work. Along with both new and archival material, those who knew and were inspired by her offer observations in voiceover.

The film is assembled with a lovely fluidity, recounting Moore's story chronologically to include elements from her life and work, lively anecdotes and wonderfully intimate touches. At every step, it documents how Moore broke new ground in the industry, both with her attention to character detail and as a producer who insisted on hiring female writers. It's telling that the people she worked with remained close friends up to her death in 2017 at age 80.

Included here is her advocacy on various issues, from women's rights to diabetes research. Since she's such a beloved figure, her impact on culture is perhaps difficult to measure, although it's easy to see how she inspired many who followed her. And her production company forever changed the nature of television with both comedies and dramas like Hill Street Blues. Most importantly, Moore proved, both on-screen and off, that a woman could be feminine, funny and strong at the same time.
| | | |
| --- | --- | --- |
| | themes, language | 17.May.23 |
---
Desperate Souls, Dark City and the Legend of Midnight Cowboy
Review by Rich Cline |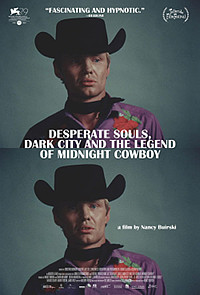 dir-scr Nancy Buirski
prd Nancy Buirski, Simon Kilmurry, Susan Margolin with Jon Voight, Dustin Hoffman, John Schlesinger ,Bob Balaban, Brenda Vaccaro, Jennifer Salt, Brian De Palma, Lucy Sante, Michael Childers, Ian Buruma, J Hoberman, Edmund White
release US 23.Jun.23
22/US 1h41

---

---
Now streaming...

---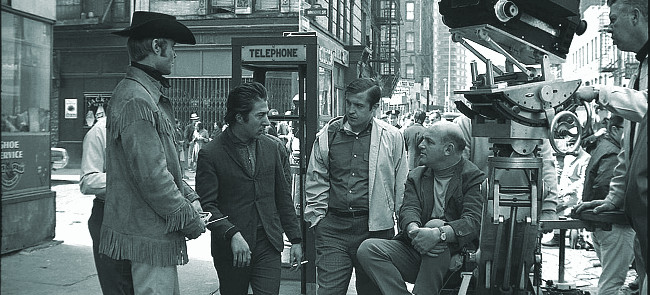 This fascinating documentary places the 1969 classic Midnight Cowboy into its social context, offering layers of riveting insight. Filmmaker Nancy Buirski weaves together a wonderful variety of archival clips to paint a portrait of a movie that struck a major nerve. And it's great to revisit the making of such a landmark film as told firsthand in the words of people who were in the cast and crew.
---
With a documentary background, gay British filmmaker John Schlesinger was drawn to Midnight Cowboy as his first American project, aiming for realism rather than pushing any message. The film captured the anti-glamour zeitgeist of the time, as the Vietnam War was unravelling and the battle for LGBTQ equality was just beginning. Without being a gay story, it openly takes on sexuality in a way never done before on screen, and rarely since. It's also the only X-rated film to win Oscars for Best Picture and Director, in the same year John Wayne won Best Actor.
---
Because it came out at just the right time, the film had a major impact both in the Hollywood industry and the culture at large. Voight saw this, and recalls telling filmmaker Schlesinger in his moment of doubt that the film was going to be a masterpiece. Costar Balaban comments that this was the first movie that he thought captured the truth of Manhattan. And Hoffman's Ratso became iconic because he wasn't the usual movie character, but rather a real-world oddball.

Buirski includes a huge variety of footage and accompanies it with great music. With extensive newsreel clips, it's as much an exploration of late-1960s America as of Midnight Cowboy. The point here is that the film put the unseen on-screen, deliberately twisting the Western genre to focus on misfit, marginal characters who display an unusual kind of masculinity. Alongside the unpopular war, the national attitudes toward sexuality, racism and pornography were shifting, while American filmmakers like Coppola and Scorsese began to take artistic chances like the European masters.

While some of the juxtapositions feel rather odd, this documentary is expertly edited to bring out a wide range of topics, all while remembering that above all Midnight Cowboy is simply a great film with a strong story. And its depiction of an offbeat male relationship pushed boundaries at a moment when that was the coolest thing to do. So against expectations it broke box office records. And it remains as fresh today as it was then.
| | | |
| --- | --- | --- |
| | themes, language, sexuality | 1.Sep.22 vff |
---
Fragments of Paradise
Review by Rich Cline |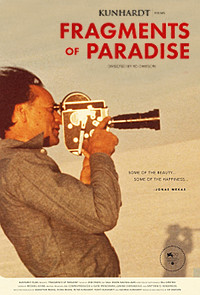 dir KD Davison
prd Elyse Frenchman, Leanne Cherundolo, KD Davison, Matthew O Henderson
with Jonas Mekas, Adolfas Mekas, Andy Warhol, Allen Ginsberg, Martin Scorsese, John Waters, Jim Jarmusch, Peter Bogdanovich, Marina Abramovic, Hollis Melton, Oona Mekas, Sebastian Mekas
release US Sep.22 tff,
UK 2.Jun.23
22/US 1h38

---


---
Now streaming...

---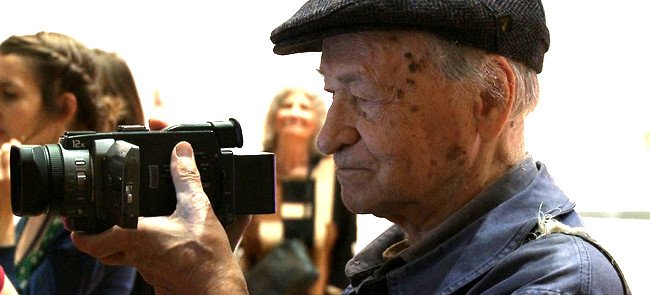 Poet and avant-garde Lithuanian filmmaker Jonas Mekas recorded everyday life with his cameras for 70 years, from his 1949 arrival in New York with his brother Adolfas until his death in 2019. Sifting through this footage, director KD Davison adds interviews and archival audio to create a striking account of the immigrant experience. It's a remarkably intimate look at both Mekas and an undervalued aspect of the cinematic landscape.
---
Escaping from war-torn Europe, Jonas and Adolphus settled in Brooklyn. They founded the Film Culture journal in 1954 and began what would be come the world's most comprehensive archive of avant-garde film. Jonas went on to collaborate with artists like Andy Warhol, Salvador Dali and Allen Ginsberg, and he produced a now-classic filmography over the next six decades, often featuring his wife Hollis and two children on-screen. A tireless champion of freedom of expression, he made fiercely independent films and mentored others who were working on the fringe, including Scorsese, Bogdanovich and Waters.
---
Because of how Davidson mixes together Mekas' film footage and video diaries, this documentary is able to reveal his heart and soul along with the details of his life. This is edited together in ways that are often jaw-dropping, allowing the audience to experience Mekas' life and art as they evolve over the decades. Because he shot footage every day, what's shown here is only the tip of the proverbial iceberg. And Davidson cleverly uses this wide range of material to paint an unusually vivid portrait of an important but often forgotten cinematic master.

The most powerful aspect of this documentary is the way it so engagingly reveals how Mekas used his camera to make sense of his identity. So scenes of his children and granddaughter add emotion to his continual quest to work out where he considered home to be. Right up to his death at age 96 in 2019, Mekas was working on exhibitions, making feature films and releasing material every day on his online video diary. "I don't know why I make movies," he said, "but I just have to do it."
| | | |
| --- | --- | --- |
| | themes, language | 7.Oct.22 |
---

< < D O C S > >
See also: SHADOWS FILM FESTIVAL

© 2023 by Rich Cline, Shadows on the Wall


HOME | REVIEWS | NEWS | FESTIVAL | AWARDS | Q&A | ABOUT | TALKBACK