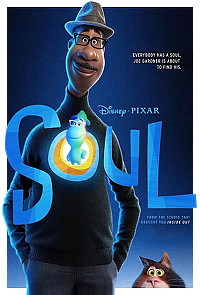 dir Pete Docter
prd Dana Murray
scr Pete Docter, Mike Jones, Kemp Powers
voices Jamie Foxx, Tina Fey, Graham Norton, Rachel House, Alice Braga, Richard Ayoade, Phylicia Rashad, Donnell Rawlings, Ahmir-Khalib Thompson aka Questlove, Angela Bassett, Cora Champommier, Daveed Diggs
release US/UK 25.Dec.20
20/US Pixar 1h41




CANNES FILM FEST

---
Is it streaming?

---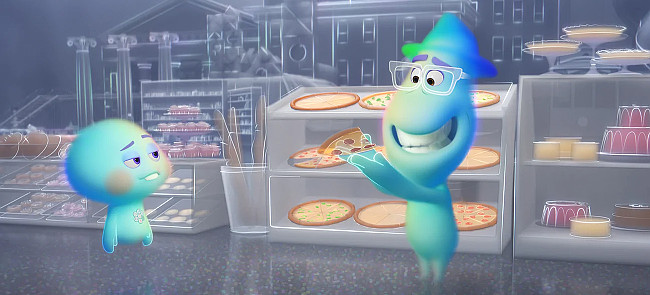 Jazz rhythms and sharp comedy run through each moment of this gorgeously animated odyssey. With a fast-paced story that spirals through fantastic set-pieces and takes outrageous twists and turns, the film quickly gets under the skin, exploring the things that make us happy about who we are. It's a fiercely intelligent approach, funny and warm, knowing and insightful, and the way it expresses what's truly important is simply staggering.
---
Middle-school band teacher Joe (Foxx) is thrilled to land a gig with iconic musician Dorothea (Bassett). Then suddenly he finds himself transformed into a blue blob in a black void, heading to the Great Beyond. But he can't die just as his life starts, so he runs the other way. Now he's in the Great Before, assigned to help rebellious unborn soul 22 (Fey) find her spark. With assistance from lively renegade Moonwind (Norton), Joe hopes to return to Earth in time for the gig. But Terry (House) wants to return him where he belongs.
---
Outdoing even themselves, Pixar's design work is breathtakingly inventive, as photo-real earthbound scenes contrast sharply against the cotton-candy pastels in the Before. Souls are cuddly balls, while celestial beings, most of whom are named Jerry (voiced by Braga, Ayoade and others), are rendered as witty squiggles. And the setting is a wonderfully surreal mash-up of various imaginative flights of fancy, from the inspirational Hall of Everything to the Zone, where the physical and spiritual mix. We've all been there.

The characters are wonderfully rounded, both physically and personality-wise, as the voice actors explore a range of ideas and feelings. Foxx gives Joe an underlying tenacity, a nice guy who has been walked over most of his life but is determined to do what he loves to do, even as he takes this mind-boggling detour. Fey is simply fantastic as 22, a sparky cynic who is just beginning to understand the tiny pleasures (and annoyances) of life. And the all-star supporting cast adds lots of vocal zing, with Norton and House as scene-stealers.

The film's existential discussions are snappy and engaging, exploring provocative ideas with remarkable insight into the way our passions sometimes drive us in happily unexpected directions. They also sustain us when life gets tough, including times when we feel lost. And it gets deeper than that, exploring the idea that what sparks us doesn't define our purpose: what's important is fully living each moment. Meanwhile, the narrative captures the imagination, and where it goes sets our spirits soaring.
| | | |
| --- | --- | --- |
| | some themes, | 8.Dec.20 |
R E A D E R R E V I E W S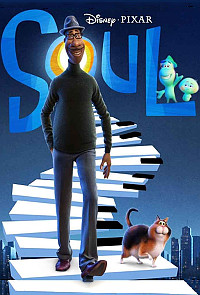 Still waiting for your comments ... don't be shy.