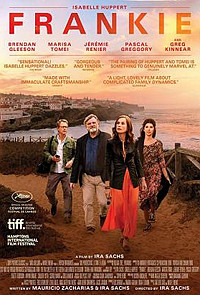 dir Ira Sachs
prd Said Ben Said, Michel Merkt
scr Ira Sachs, Mauricio Zacharias
with Isabelle Huppert, Brendan Gleeson, Marisa Tomei, Jeremie Renier, Greg Kinnear, Pascal Greggory, Sennia Nanua, Vinette Robinson, Ariyon Bakare, Carloto Cotta, Manuel Sa Nogueira, Maximo Francisco
release Fr 28.Aug.19,
US 25.Oct.19, UK 22.May.20
19/France 1h40




---
CANNES FILM FEST
TORONTO FILM FEST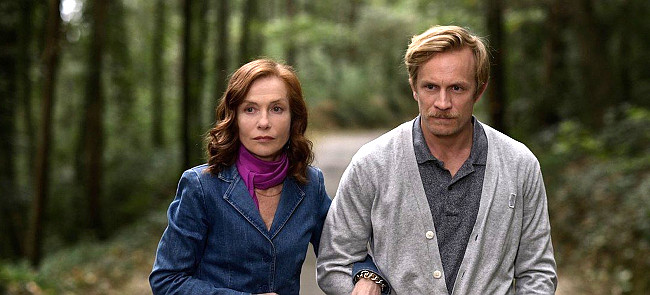 Filmmaker Ira Sachs never rushes a story, and this ensemble drama sometimes feels like it's barely moving at all, as a group of interconnected people seem to merely exist around each other, having somewhat clumsy conversations about nothing. Viewers may get impatient since so little happens plot-wise, but the interaction is often raw and real, touching on bigger themes about the delicate links people make, even in families.
---
In the fairy-tale town of Sintra, just outside Lisbon, French actress Francoise (Huppert), aka Frankie, has organised a family holiday for her Scottish husband Jimmy (Gleeson), lovelorn son Paul (Renier), gay first husband Michel (Greggory) and teen granddaughter Maya (Nanua), whose parents (Robinson and Bakare) aren't getting along. Frankie also invites her long-time stylist Ilene (Tomei), who arrives unexpectedly with cinematographer Gary (Kinnear). Frankie knows that she's ill, and is hoping these people will learn to get along after she's gone.
---
The dialog is so natural that it never feels terribly cinematic, downplaying the drama. Still, there's plenty going on between the deliberately awkward lines, including Frankie's crazy plan to set up Paul with Ilene, which is threatened by Gary's presence ("We will see," Frankie sighs enigmatically). Meanwhile, Michel wants Frankie to dip into a legendary healing spring, but she just wants everyone to accept her fate. Oddly, Sachs never shows much of the almost ludicrously picturesque Sintra on-camera.

The understated nature of the performances makes it tricky to identify with the characters. Their personalities emerge in subtleties, as do their feelings about each other. As always, Huppert is a master at this kind of characterisation, conveying punchy emotions with the faintest of flicker. Her complex scenes with Renier are the most interesting in the film. Gleeson and Tomei have the most expressive roles as people whose thoughts are very clear. Kinnear has the trickiest part, as a blithely unaware guy who thinks everything is much simpler than it is.

There are some glaringly obvious lines along the way ("It's amazing how sometimes people refuse to see what's right in front of them"), but the script mainly dances delicately around its central themes about the messy nature of love and family connections. Still, it often feels like Sachs has made a film that stubbornly refuses to move forward, just like the characters. Everyone talks without making much progress on the decisions they need to be making, yet in the end each person has moved in a new direction.
| | | |
| --- | --- | --- |
| | themes, language | 28.Dec.19 |
R E A D E R R E V I E W S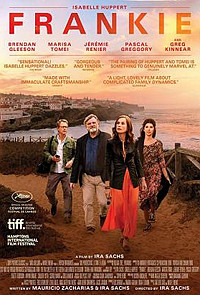 Still waiting for your comments ... don't be shy.