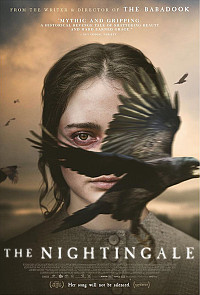 dir-scr Jennifer Kent
prd Kristina Ceyton, Steve Hutensky, Jennifer Kent, Bruna Papandrea
with Aisling Franciosi, Sam Claflin, Baykali Ganambarr, Damon Herriman, Harry Greenwood, Charlie Jampijinpa Brown, Ewen Leslie, Charlie Shotwell, Michael Sheasby, Matthew Sunderland, Magnolia Maymuru, Claire Jones
release US 2.Aug.19,
Aus 29.Aug.19, UK 29.Nov.19
18/Australia 2h16




---
VENICE FILM FEST
SUNDANCE FILM FEST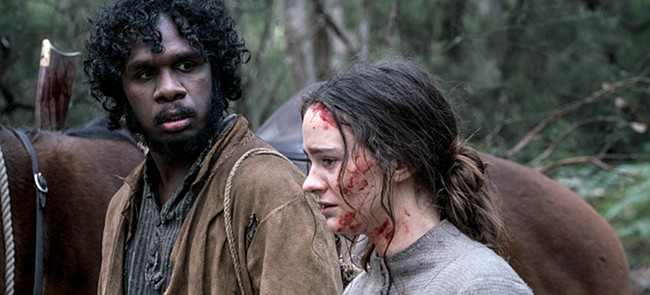 There's a dark intensity to this Australian period film by Jennifer Kent, which begins as a look at sexist oppression and broadens to explore bigger issues of colonialism with powerful emotional resonance. It's a sprawling film, and it sometimes feels too long as the story circles around to its raw conclusion. But it's strikingly well shot in a naturalistic style, with earthy performances that get under the skin.
---
In 1820s Tasmania, young mother Clare (Franciosi) is an Irish convict whose jailer-cum-slavemaster Lt Hawkins (Claflin) refuses to release her even after she serves her term. Clare's husband Aidan (Sheasby) confronts Hawkins, with grisly results. To avoid confronting this, Hawkins takes two cohorts (Herriman and Greenwood) and heads to a new post up north, with Aboriginal guide Charlie (Brown). So Clare hires Charlie's nephew Billy (Ganambarr) to track them through the perilous mountain wilderness. And it takes awhile for Clare and Billy to realise that they have a shared score to settle.
---
Kent is playing with genre conventions here, opening as a straightforward period drama before shifting into a revenge thriller with moments of horror alongside nasty fairy tale touches. Some elements work better than others (dream sequences are repetitive and obvious), but the cumulative effect is riveting. And because themes are deepening as the story unfolds, the film holds the audience in its grip even when it briefly gets lost in the mountains along with the characters.

Francoisi offers a steely, razor-sharp performance that gives Clare a properly pungent story arc. Her internal journey is even more harrowing than the external one, and the actress stirs in nuance and intrigue by internalising Clare's emotions. Her connections with the men around her are complex, with surprising textures. Claflin boldly dives full-on into the monstrous Hawkins, while Ganambarr gives a star-making turn as the prickly but deeply likeable Billy.

By beginning with a personal drama then expanding it into a global one, Kent makes sure the audience is fully invested in the characters. Clare and Billy are an unlikely duo as they struggle against each other, nature and the men trying to harm them. So in the end, this is a story of two people who have been hideously oppressed by the English and find common ground in anger and grief. Their journey is tough and very violent, and each moment of peace only reminds them that their business is unfinished. And that it will likely stay that way.
| | | |
| --- | --- | --- |
| | themes, language, violence | 17.Sep.19 |
R E A D E R R E V I E W S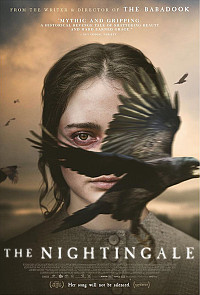 Still waiting for your comments ... don't be shy.