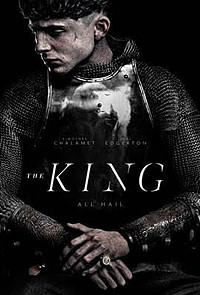 dir David Michod
scr David Michod, Joel Edgerton
prd Brad Pitt, Dede Gardner, Jeremy Kleiner, David Michod, Joel Edgerton, Liz Watts
with Timothee Chalamet, Joel Edgerton, Sean Harris, Robert Pattinson, Ben Mendelsohn, Lily-Rose Depp, Thomasin McKenzie, Tara Fitzgerald, Dean-Charles Chapman, Andrew Havill, Tom Glynn-Carney, Edward Ashley
release UK/US 11.Oct.19
19/UK Netflix 2h13



---
VENICE FILM FEST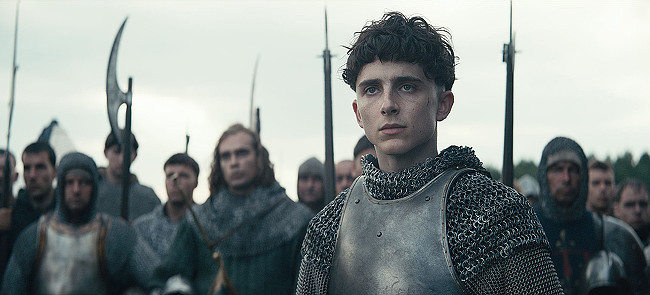 The gloomy intensity that floods through this British historical drama very nearly swamps the screen, leaving it rather murky and brooding. But the script is so sharp, and the actors so good at finding the textures of their characters, that the story comes to life with some surprising moments of modern-day resonance. And filmmaker David Michod stages both the tense conversations and muddy battles with gusto.
---
In the early 15th century, Henry IV (Mendelsohn) is infirm, and his heir Hal (Chalamet) lives East End pubs with carousing pal Falstaff (Edgerton). But Hal returns when younger brother Thomas (Chapman) is declared the successor, then promptly dies in battle. As king, Hal now has to work out which shifty advisors he can trust, and the only honest one seems to be William (Harris). As he begins to diffuse the warring tensions between England, Scotland and Wales, Hal faces a new threat from France, reluctantly deciding to launch an invasion with Falstaff's help.
---
The narrative shifts seamlessly between throneroom discussions and huge-scale battlefield action, as Michod keeps the focus tightly on the characters. Byt the most gripping struggle is in Hal's mind. He knows what kind of king he wants to be, but is unsure how to get there. His disdain for his father's reign is intriguingly echoed in the pompous French Dauphin (Pattinson), who ignores his father to take on the invading Brits. And Hal's connection with Falstaff is more parent-child than he admits. This idea flows through most scenes, giving the film a powerful emotional pull.

Chalamet delivers another darkly internalised performance as a young man grappling with passions and responsibilities. In each scene, he exudes both charisma and self-doubt, pulling the audience into Hal's decision-making. His chemistry with the terrific Edgerton and Harris is particularly strong. Pattinson is gleefully camp as the grinning, snarky heir to the French throne. And of the rather small female roles (blame Shakespeare), Depp has the most pungent scenes in the film's final section.

Along with modern-day dialog, Michod designs the film impeccably to create a sense of realism, although there are times when it's almost comically medieval (including one laugh-out-loud Pythonesque moment). Muddy and grimy, colours are deep and muted, leaving everything grey. So it's good that the characters are so vividly written (thank Shakespeare), and played to offer resonant feelings at every turn, plus political themes that feel scarily relevant at the moment.
| | | |
| --- | --- | --- |
| | themes, language, violence | 3.Oct.19 lff |
R E A D E R R E V I E W S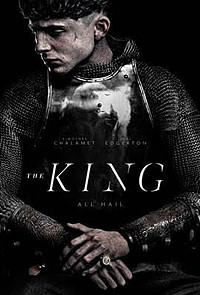 Dennis Arkapaw, Australia:

I am perplexed by the very strong sense of divided opinion over Michod's adaptation of the Bard's trilogy and the failure of the more erudite to see how profoundly the implausible Chalamet is the exact embodiment of the young Hal. Roundly put down as a tin soldier clanking around like some Monty Python caricature, these myopic critics totally miss the intensity and mental dilemmas that Chalamet conveys with presence, anxiety, naivety and intelligence, that the sensitive audience is drawn into over the narrative, and Michod develops into a full blown characterisation of an untried novice pacifist warrior sorely betrayed. I for one believe this modern retelling may be at the heart of its original theatrical conception despite the slings and arrows of critical marksmen. (14.Oct.19)