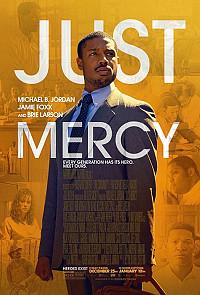 dir Destin Daniel Cretton
prd Asher Goldstein, Gil Netter
scr Destin Daniel Cretton, Andrew Lanham
with Michael B Jordan, Jamie Foxx, Brie Larson, Rafe Spall, Rob Morgan, O'Shea Jackson Jr, Tim Blake Nelson, Karan Kendrick, Michael Harding, Darrell Britt-Gibson, Kirk Bovill, Hayes Mercure
release US 25.Dec.19,
UK 24.Jan.20
19/US Warners 2h16




---
TORONTO FILM FEST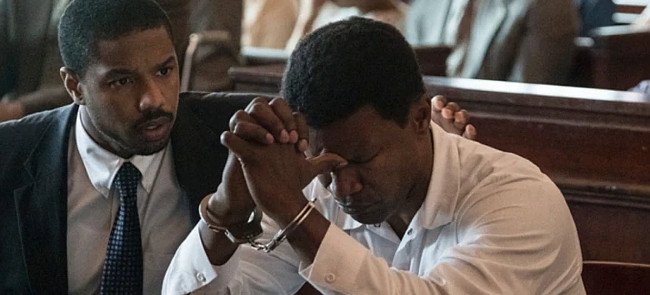 This drama recounts powerful true events in a rather straightforward style. The writing and direction are so standard that it's possible to predict each thing that happens, including lines of dialog before they're spoken. It's a surprisingly unambitious movie from talented filmmaker Destin Daniel Cretton. But cast members dive into the roles with plenty of passion, creating a strong sense of tension in this story of real-life racial injustice.
---
In the late 1980s, Harvard Law School graduate Bryan (Jordan) moves to Alabama to open a legal centre with Eva (Larson) to help provide equal justice for death row prisoners. His clients include Herb (Morgan), a war veteran with PTSD who admits his crime but clearly wasn't in control, and Jimmy D (Foxx), convicted of a murder he couldn't have committed. As he digs in, Bryan is stunned by the rampant corruption, including cops fabricating evidence, judges ignoring truth and a district attorney (Spall) who seems to believe all black men should be behind bars.
---
The big themes hold the interest, even as the central plot never quite comes to life. It's intriguing, tense and sharply well-played, but it feels like every death row movie we've ever seen. Even the horrific racism feels carefully sculpted, with characters who are relentlessly villainous without other textures. At least there are enough twists to make Jimmy D's storyline feel like real life. And the entire cast is excellent.

Jordan is a likeable everyman, carrying the viewer's sympathy as he digs into a society that shocks him. His scenes with Foxx bristle with edgy emotion, as do ace side players like Jackson (as a fellow death-row inmate) and Nelson (as a key witness). In a small role, Larson is terrific as the person who supports Bryan against the grain. And Spall does what he can to add some interest to his basic bad guy role.

Perhaps Cretton kept everything unambiguous to honour the real people who lived through these events. That's laudable, because it eliminates the usual grandstanding. But the script is so packed with cliches from the legal drama genre that it makes the events themselves feel almost insignificant. In other words, the film is simply far too familiar, and even derivative. This story needed a much more singular perspective to bring it to life on-screen. Because the facts of this case are deeply shocking, and the real-life Bryan is doing important work in a difficult place.
| | | |
| --- | --- | --- |
| | themes, language, violence | 3.Oct.19 lff |
R E A D E R R E V I E W S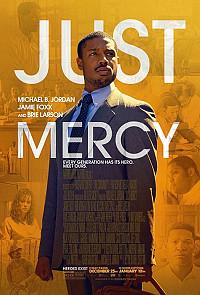 Still waiting for your comments ... don't be shy.