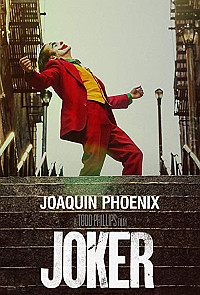 dir Todd Phillips
scr Todd Phillips, Scott Silver
prd Todd Phillips, Bradley Cooper, Emma Tillinger Koskoff
with Joaquin Phoenix, Robert De Niro, Frances Conroy, Zazie Beetz, Glenn Fleshler, Brett Cullen, Bill Camp, Shea Whigham, Leigh Gill, Douglas Hodge, Josh Pais, Brian Tyree Henry
release US/UK 4.Oct.19
19/US Warners 2h01




---
VENICE FILM FEST
TORONTO FILM FEST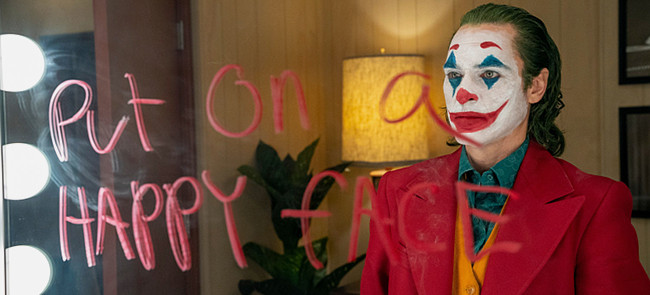 Filmmaker Todd Phillips takes a bold approach to this origin story about the Batman villain. The film is impressively lurid, with a freak-out performance from Joaquin Phoenix as a mentally ill man who goes off his meds just as the streets erupt in protest about wealth disparity. But even as it feels very of-the-moment, the film is indulgent and rather too lurid to take seriously.
---
In 1981 Gotham, Arthur (Phoenix) works as a clown and lives with his bedridden mother (Conroy). Bullied in the streets, a clown colleague (Fleschler) gives him a gun. And when he's attacked on the metro, he snaps. This maked him feel empowered to take on the billionaire mayoral candidate Thomas Wayne (Cullen), whom Arthur believes to be his father. Arthur also pursues a job as a standup, ending up as the butt of a joke on a live late-night chat show hosted by his idol Murray (De Niro), who invites him to appear on air.
---
Because of news reports, Arthur's clown makeup inspires the street protests, fuelling both public discontent and his own dangerously precarious ego. Deeply delusional, Arthur's grip on reality is nonexistent, and Phillips plays with his false perspective as the story unfolds, taking the audience down some fantastical sideroads amid the generally heightened 1980s trashiness. The movie is a flurry of colour and madness.

Looking painfully thin for no narrative reason, and removing his shirt to make sure we notice, Phoenix gives Arthur an almost elegiac quality. He's prone to breaking out in dance at any moment, and with his lanky physique and caked-white face, he has an eerie resemblance to Michael Jackson. There's also quite a bit of Charlie Chaplin to the performance, a reference echoed more obviously at one key point. It's a riveting turn, and Phoenix deserves acclaim for disappearing completely into the role with gusto.

The most intriguing things about this movie are the parallels between the recession in the early 1980s and the current rumblings about the growing gap between rich and poor. This adds a horror sensibility that makes Arthur's most hideously violent behaviour almost appear within some sort of deranged artistic context. So it's a little frustrating that the script tries to explain his history by adding a mentally unhinged mother and a cruelly abusive stepdad. Can't this man just be furious about the injustice in the world? No, according to Phillips, he has to be both damaged and insane.
| | | |
| --- | --- | --- |
| | themes, language, violence | 30.Sep.19 |
R E A D E R R E V I E W S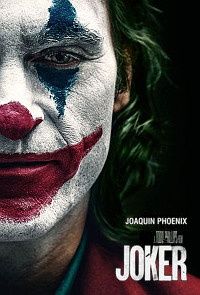 Still waiting for your comments ... don't be shy.