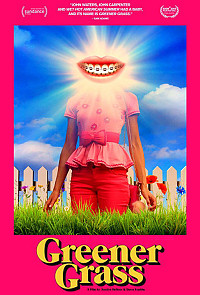 dir-scr Jocelyn DeBoer, Dawn Luebbe
prd Natalie Metzger
with Jocelyn DeBoer, Dawn Luebbe, Beck Bennett, Neil Casey, Julian Hilliard, Asher Miles Fallica, Dot-Marie Jones, D'Arcy Carden, Mary Holland, Mike Scollins, Janicza Bravo, Jim Cummings
release US 18.Oct.19,
UK 22.Nov.19
19/US 1h35


---
SUNDANCE FILM FEST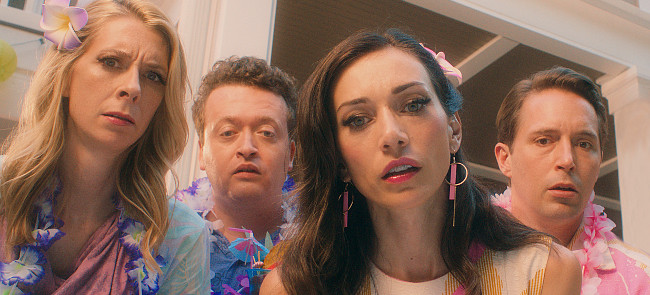 With an exhilaratingly bonkers tone, this suburban satire uses surrealism to maximum effect, as if it's the lovechild of David Lynch and John Waters. Drenched in lurid pinks and blues, the film looks simply amazing, and actor-filmmakers Jocelyn DeBoer and Dawn Luebbe pack every moment with witty touches, astutely skewering a society that places value on surface over substance. And even as it's laugh-out-loud hilarious, there are strong emotions gurgling underneath.
---
As they watch their sons play football, Jill (DeBoer) impulsively offers Lisa (Luebbe) her infant daughter. And Lisa is delighted to take the baby. Their husbands Nick and Dennis (Bennett and Casey), respectively, take this in stride. Meanwhile, their 7-year-old sons Julian (Hilliard) and Bob (Fallica) are acting out both in school and at home. Then during Nick's 40th birthday party, Julian transforms into a happy golden retriever. Meanwhile, their friend Kim (Holland) throws her husband Buck (Scollins) out. And everyone is on the lookout for a fugitive killer.
---
Every moment of this film features something that seems to come from out of nowhere, from wacky gags to incomprehensible plot twists. And yet, it feels eerily recognisable as present-day suburban life, where no one speaks about what's really important, people judge each other based on erroneous assumptions, and everyone is terrified to reveal who they really are. Media manipulation adds to the warped sense of reality, throwing priorities wildly out of balance. And through it all, everyone smiles as if they're doing just fine.

Performances are remarkably deadpan, with a gifted ensemble of comic actors creating characters to interact with impeccable timing. Each tiny glance is flat-out hysterical, as are the seemingly random lines of dialog that send scenes spiralling off in crazy directions. DeBoer and Luebbe are wonderfully silly in the lead roles, as are the up-for-anything Bennett and Casey. And ace players like Jones (Glee), as a stand-in yoga teacher, and Carden (The Good Place), as a prairie-obsessed teacher, add superb touches.

DeBoer and Luebbe pack so many clever ideas into this film that it's almost impossible to keep up. But at the centre, Jill's journey from idealised soccer mom to frazzled outsider is superbly involving. As she encounters one obstacle after another, her reactions are never quite right, and the script smartly plays around with the viewer's expectations right along with the characters'. It's impossible to predict where this might be headed, which helps it dig in a lot deeper than we may want it to.
| | | |
| --- | --- | --- |
| | themes, language, violence | 22.Sep.19 rff |
R E A D E R R E V I E W S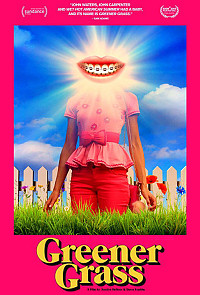 Still waiting for your comments ... don't be shy.