dir-scr Francis Lee
prd Manon Ardisson, Jack Tarling
with Josh O'Connor, Alec Secareanu, Gemma Jones, Ian Hart, Melanie Kilburn, Patsy Ferran, Liam Thomas, Sarah White, John McCrea, Harry Lister Smith, Alexander Suvandjiev, Stefan Dermendjiev
release US Jan.17 sff, UK 1.Sep.17
17/UK 1h44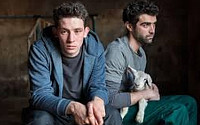 Farm friends: O'Connor and Secareanu


SUNDANCE FILM FEST
BERLIN FILM FEST
EDINBURGH FILM FEST
R E V I E W B Y R I C H C L I N E
This low-key British drama is a staggeringly astute depiction of people and a setting, loaded with pungent themes that never become obvious or preachy. First-time filmmaker Francis Lee beautifully shoots the story in striking West Yorkshire locations with a cast that never compromises on their performances. Awkward and inarticulate as they are, they have a lot to say.

After his father (Hart) is limited by a stroke, Johnny (O'Connor) is feeling annoyed that he's stuck working the family farm. So he spends all of his spare time drinking, which doesn't leave him in the best shape for tending to the cows and sheep. His grandmother (Jones) patiently takes care of both of these wounded men, and is relieved when temporary Romanian farmhand Gheorghe (Secareanu) arrives to help out. But his skill with the animals only annoys Johnny even more. Then one day they find themselves alone together, and there's a spark of attraction between them.

This may sound like a Yorkshire variation on Brokeback Mountain, but it's actually a subtle coming-of-age story about a young man learning to accept himself without dreading his future. Johnny has only expressed his sexuality in secret rutting encounters, and Gheorghe offers a glimpse of an alternative. The sexiest scene in the film is when Gheorghe teaches Johnny the power of a gentle touch and a warm kiss. And every moment, indoors and out, is photographed both generously and intimately by Joshua James Richards.

In the central role, O'Connor has the biggest challenge: maintaining the audience's sympathy even though Johnny is a callous idiot. But the actor lets us see the struggling young boy inside this man, a product of his upbringing in a place where it's acceptable to torment anyone who's different. Opposite him, the magnetic Secareanu radiates intelligence and understanding, but he also doesn't suffer fools. And Hart and Jones are terrific as the no-nonsense elders who aren't as closed-minded as they seem.

Writer-director Lee tells this story with minimal dialog, watching the characters using tight camerawork, rhythmic editing and a vivid sense of reality in a place where time seems to stand still. This adds layers of meaning about modern-day farming, generational conflict, social pressures and of course ingrained bigotry that leads to self-hatred. And best of all is the fact that these ideas swirl around powerfully without ever being shouted. Instead, the film holds us quietly in its grip until it wrings us dry in the final act.
| | | |
| --- | --- | --- |
| | themes, language, sexuality, violence | 7.Jun.17 |