dir-scr Barry Jenkins
prd Dede Gardner, Jeremy Kleiner, Adele Romanski
with Trevante Rhodes, Andre Holland, Naomie Harris, Mahershala Ali, Janelle Monae, Ashton Sanders, Jharrel Jerome, Alex R Hibbert, Jaden Piner, Patrick Decile, Shariff Earp, Stephon Bron
release US 21.Oct.16, UK Oct.16 lff
16/US A24 1h50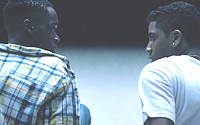 On the beach: Sanders and Jerome




• TOP 5 FILM
• BEST SCREENWRITER
• SUPPORTING ACTRESS:
NAOMIE HARRIS

---
TORONTO FILM FEST

R E V I E W B Y R I C H C L I N E

With its intimate approach and deeply resonant themes, this film gets under the skin right from the start, putting us in the shoes of the lead character at three points in his life. His journey to self-discovery is difficult, partly because he is painfully withdrawn due to his tough life experiences. And what this movie has to say is so important that it deserves all the the attention and awards it gets.

In Miami, 9-year-old Chiron (Hibbert) is known as "Little" by classmates who pick on him mercilessly for being different. Afraid to go home to his junkie mother Paula (Harris), he roams the streets, meeting drug dealer Juan (Ali) and his girlfriend Teresa (Monae). They're the first people to show him kindness, and years later when he's 16 (now Sanders), Chiron still uses Teresa's flat as a bolt-hole. But the bullying persists, destroying his close friendship with Kevin (Piner, then Jerome). Then after a decade apart, Chiron (now Rhodes) and Kevin (now Holland) finally meet again.

This is a bold, honest approach to the impact of racial bias and school bullying, especially in a subculture in which being openly gay is seen as impossible. Writer-director Jenkins refuses to accept silence on these issues, but he never shouts his opinions. So everything churns loudly just under the surface. And most importantly, he keeps the focus on characters whose lives are easy to identify with.

Rhodes, Sanders and Hibbert are superb as Chiron, representing three key points in his life. Each captures the essence of a person who doesn't talk much because his life is continually derailed by circumstances out of his control. And yet he continues to look for meaning and purpose, sometimes in the wrong places. All three actors have terrific chemistry with their respective Kevin, played with energy and hope by Holland, Jerome and Piner. And Harris and Ali add nuance that undermines any stereotyping.

The structure of this film is difficult to shake, since it centres right in Chiron's emotional inner life. Everything is witnessed from this complex perspective, which gives the film a compelling, urgent tone. The filmmaking may sometimes feel a bit loose, using handheld cameras and long swirling takes that kind of over-work the characters feelings. But this pulls the audience right into the story, experiencing everything through Chiron's eyes. It's very rare for a movie to so astutely explore these kinds of vital issues in America's black subculture. And it's about time.
| | | |
| --- | --- | --- |
| | themes, language, sexuality, violence, drugs | 20.Sep.16 |