SHADOWS ON THE WALL | REVIEWS | NEWS | FESTIVAL | AWARDS | Q&A | ABOUT | TALKBACK

Shadows off the beaten path
Indies, foreigns, docs, videos, revivals and shorts...
On this page: JIM: THE JAMES FOLEY STORY
TAB HUNTER CONFIDENTIAL | TICKLED | WOMEN HE'S UNDRESSED
< < D O C S > >
last update 28.Aug.16
See also: SHADOWS FILM FESTIVAL

R E V I E W B Y R I C H C L I N E
Jim: The James Foley Story

dir Brian Oakes
scr Brian Oakes, Heather MacDonald, Chris Chuang
prd George Kunhardt, Teddy Kunhardt, Eva Lipman
with James Foley, Daniel Rye Ottosen, Clare Gillis, Manu Brabo, Michael Foley, Diane Foley, John Foley Sr, John Foley Jr, Katie Foley, Mark Foley, Nicole Tung, Phil Balboni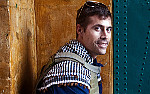 release US 6.Feb.16,
UK 2.Sep.16
16/US HBO 1h53

---
SUNDANCE FILM FEST


A personal, hugely emotional documentary, this film, traces the life of journalist Jim Foley, who was murdered on-camera by Islamic State. Using his own words and reports, plus interviews with his family and colleagues, this is an unusually detailed depiction of an extraordinary man who understood the risks and the urgency of conflict journalist.

Foley began his career as a teacher before switching to journalism. In 2010 he took his first trip to Iraq as an embedded reporter, then travelled to Afghanistan and Libya, where he was detained by government troops for 44 days with colleagues Gillis and Brabo. Then in November 2012, he was kidnapped in northern Syria. Over the following months, he was held with other journalists, sometimes up to 20 of them, including Danish photojournalist Ottosen. Yet while most of them were ultimately released, Foley was executed on-camera in August 2014.

Filmmaker Oakes follows this story from a variety of perspectives, talking to Foley's family members, work colleagues and fellow hostages, as well as dramatising events for which there is no footage. Much of the imagery is taken from Foley's own video reports, which reveal him as a perceptive and compassionate man who had a rare interest in the plight of people in war-torn countries. As a result, the film becomes a passionate plea for the role of a conflict journalist to tell stories that otherwise wouldn't be told.

There are times when this portrayal borders on the saintly. Even comments about his disorganisation and free-spirited behaviour are presented as endearing. But the fact remains that Foley was a thoughtful guy who made the world better everywhere he went, refusing to buy into military jingo. He was clearly loved by the people who knew him best, and footage shows that this sentiment was shared by those whose lives were destroyed by war.

The account of his imprisonment is harrowing and detailed, with telling first-hand reporting from a number of journalists who were there in the cells. This alone would make a riveting film, as it reveals a side of the story no one else knows. And by combining this with Foley's reportage as well as home movies and snapshots from his family, the film paints a vivid portrait of a remarkable man who never thought he was special: for him, there was no other valid reaction to pain and need.
15 themes, language, violent imagery
---
14.Apr.16

R E V I E W B Y R I C H C L I N E
Tab Hunter Confidential


dir Jeffrey Schwarz
prd Allan Glaser, Neil Koenigsberg, Jeffrey Schwarz
with Tab Hunter, Allan Glaser, John Waters, George Takei, Debbie Reynolds, Robert Wagner, Connie Stevens, Lainie Kazan, Etchika Choureau, Clint Eastwood, Rex Reed, Rona Barrett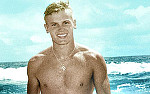 release UK Mar.15 flare,
US 16.Aug.15
15/US 1h30

---


While this documentary about the 1950s heartthrob feels a bit gentle and overtly positive, it also focuses attention on how Hollywood's studio system routinely moulded stars into a carefully managed image, creating a whole generation of artists who were living a lie. So this is an important document, even if a grittier might have revealed some sharper edges.

Tab Hunter was one of the most beautiful men in movie history, and yet his private life remained relatively obscure, simply because he hadn't talked about it. A natural athlete, Hunter excelled in ice skating and horse riding, landing his first Hollywood role due to his California-surfer physicality. His wildly enthusiastic fan base propelled him to superstardom as a singer and actor while he was under contract to Warners, but when he left to have more control over his career the gossip mill turned on him and work became sparse. Through all of this he kept his romantic liaisons private.

While publicly linked to costars Natalie Wood, Debbie Reynolds and Etchika Choureau, Hunter was actually in relationships with Anthony Perkins, figure skating champion Ronnie Robertson and producer Allan Glaser (still his partner more than 30 years later). He only confirmed his sexuality in his 2006 autobiography, 25 years after he shared a love scene with Divine in the John Waters classic Polyester. Even as he tells his story to camera here (still looking amazing at 83), there's a wry reticence to go into too much detail.

Schwarz assembles the in a straightforward way, moving through Hunter's career chronologically while taking sidesteps to explore his childhood and other personal events. The imagery is a wonderful collage of film clips, home movies, rarely seen footage and stills that have been cleverly juxtaposed and animated. It's a brisk, entertaining look at a singular artist who took on both Elvis Presley and Marlon Brando on his own terms.

It's intriguing to see how awkward it is for Hunter to, even now, be truly open about his personal life. Years of hiding behind a carefully crafted public image have taken a toll on him; he properly relaxes around his horses. So there's a sense that the film is avoiding darker corners, letting Hunter's bright blue eyes sparkle through his happier memories, hilarious anecdotes and emotional issues that relate to his family. So what emerges is a double-sided man with unusual integrity, a rare gay actor who resisted pressure to marry a woman because he felt it would be dishonest.
12 themes
---
26.Mar.15

R E V I E W B Y R I C H C L I N E
Tickled


dir David Farrier, Dylan Reeve
prd Carthew Neal
with David Farrier, Dylan Reeve, Hal Karp, David Starr, TJ Gretzner, Richard Ivey, Debbie Scoblionkov, David D'Amato, Kevin Clarke, Marko, Adam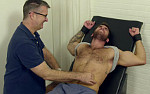 release NZ 26.May.16,
US 17.Jun.16, UK 19.Aug.16
16/New Zealand 1h32

---
SUNDANCE FILM FEST

Watching this documentary is an extraordinary experience, as two intrepid New Zealand journalists discover a well-established secret society far beyond most peoples' imagination, then tenaciously dig until they reveal the rather mind-boggling truth behind it. It's also a pacey, witty doc that plays out like a riveting mystery thriller.

In Auckland, David makes a living reporting on quirky news stories. So when he spots a video online about "competitive endurance tickling", his interest is piqued. He contacts the organisers and receives a bewildering reply, dismissing him for his homosexuality. So of course he digs a little deeper. Suddenly he's being visited by lawyers from America, threatening him if he doesn't drop the story. Undeterred, David and his colleague Dylan travel to California to get the story. It's difficult to find anyone willing to talk, but with each bit of information, this underground tickling empire sounds more and more suspicious.

Where this goes is impossible to predict, as Farrier and Reeve uncover a global network of tickling cells, and their investigation uncovers even more threats, blackmail and extortion. Is this a giant secret society? A sexual fetish? Or the work of one disturbed man with deep pockets? The journalists take the audience along with them down into a rabbit hole that continually twists and turns in unexpected directions. And what they discover in the end offers insight into a previously hidden segment of our culture.

The film is assembled with an offhanded sense of humour, as Farrier jokes about the increasing absurdity of everything he discovers, from the jaw-dropping video clips to the menacing legal letters. Clearly, nothing is quite what it seems, firing up these intrepid journalists. Even when they confront key figures in public places, Farrier's approach is disarmingly comical, recognising the ridiculous irony of a sinister subculture centred around athletic young men tying up and tickling each other to earn some cash.

Most interesting is that the sexuality remains in the subtext. If this is ultimately about sex (isn't everything?), then the young men are unwitting participants. And their reluctance to speak publicly is due to an understandable combination of embarrassment and fear. What this reveals about the complexity of civilisation is remarkable. There are things going on everywhere that we can barely imagine. And by pulling back the curtain on something as seemingly innocuous as this, Farrier tells us rather a lot about humanity in general.
15 themes, language
---
4.Aug.16

R E V I E W B Y R I C H C L I N E
Women He's Undressed


dir Gillian Armstrong
scr Katherine Thomson
prd Gillian Armstrong, Damien Parer
with Darren Gilshenan, Jane Fonda, Angela Lansbury, Colleen Atwood, Catherine Martin, Ann Roth, Leonard Maltin, Eric Sherman, William Mann, Scotty Bowers, Deborah Kennedy, Louis Alexander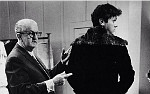 release Aus 16.Jul.15,
UK Mar.16 flare, US 8.Aug.16
15/Australia 1h35

---


This rather indulgent hybrid biopic/documentary is tagged as the story of someone "nobody has ever heard of". But triple Oscar winner Orry-Kelly is one of the greatest costume designers of all time. With some 300 films to his credit, he certainly made Hollywood's greatest actresses look fabulous. Although his personal life remains something of a mystery.

The film is hosted by Orry-Kelly (Gilshenan), who teases that he has something to tell us about himself. Growing up in a small Australian island community, he was always "different" and "artistic". So in the mid-1920s he heads to New York at age 20, he meets Archie Leach, and they become flatmates and "business" partners. During the Depression, they move to Hollywood together. Working at Warner Brothers, Kelly becomes a close confidant to various big-name actresses, but loses touch with Archie, who now better known as Cary Grant.

The film's breathless pace is a bit bewildering, zooming through the story with a lot of attitude and energy, but not a lot of clarity. And there are odd holes in the story. In addition to Gilshenan's rather hammy, manic narration (packed with revelatory gossip), there are interviews with stars, costume designers and experts who talk about how Kelly hardly seemed to admit that he himself existed. And of course there are lots of amazing film clips.

It's fascinating to see Kelly's work in the context of Hollywood history, including his notorious clashes with studio boss Jack Warner. Kelly's style was more subtle than most, unfussy and character-based. Still, his biggest hits like 42nd Street, Casablanca, An American in Paris and Some Like It Hot demonstrated so much imagination that they changed the industry. The film also chronicles his long working relationship with Bette Davis, the ongoing strain of his contact with his ex Cary Grant, and the trouble caused by his alcoholism.

The film's strongest element is its exploration of the conservative crackdown in Hollywood, with rampant homophobia surging just as the Production Code began censoring the movies. So the studios invented cover stories for their stars, but Kelly refused to play that game. The stories from this era are pretty shocking even now, with a secret gay community trying to stay out of the spotlight in their unhappy fake marriages. Equally disturbing is how this plays into the way Kelly's friends abandoned him when he fell on hard times.
PG themes, language
---
20.Mar.16


< < D O C S > >
See also: SHADOWS FILM FESTIVAL

© 2016 by Rich Cline, Shadows on the Wall


HOME | REVIEWS | NEWS | FESTIVAL | AWARDS | Q&A | ABOUT | TALKBACK