dir Tom McCarthy
scr Josh Singer, Tom McCarthy
prd Blye Pagon Faust, Steve Golin, Nicole Rocklin, Michael Sugar
with Mark Ruffalo, Michael Keaton, Rachel McAdams, Brian d'Arcy James, Liev Schreiber, Stanley Tucci, John Slattery, Billy Crudup, Len Cariou, Jamey Sheridan, Neal Huff, Paul Guilfoyle
release US 6.Nov.15, UK 29.Jan.16
15/US 2h08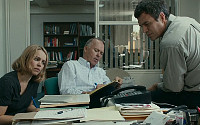 On the case: McAdams, Keaton and Ruffalo



R E V I E W B Y R I C H C L I N E

Journalistic investigations are rarely allowed to drive a movie narrative (because police investigations are flashier), but this film demonstrates that a well-crafted script can make reporting the news feel nerve-shreddingly urgent. As a true story, the outcome is well-known, but it's utterly riveting to watch four determined reporters uncover systemic child abuse in Boston's Catholic Archdiocese.

Headed by editor Robby (Keaton), the Boston Globe's Spotlight team is charged in 2001 with digging for big stories. And new senior editor Marty (Schreiber) wants them to look into abusive priests, unaware that the Catholic Church controls the city. Robby's journalists are Mike, Sacha and Matt (Ruffalo, McAdams and James), and even as their research hits a series of walls, they realise that the story is bigger than anyone imagines. So they keep talking to lawyers (including Tucci and Crudup), working out that Cardinal Law (Cariou) has been covering up this abuse for decades.

McCarthy directs with a sure hand, letting scenes build their own internal power with subtle camerawork, music and editing that reveal telling details and punch emotions without tipping over into sensationalism. It's a fine balance to achieve with such a loaded topic, but McCarthy holds his nerve to maintain the perspective: these are seasoned, cynical writers who grow increasingly horrified at what they discover. And in their conversations with victims, the film finds its emotional wallop.

The actors form a terrific ensemble, clicking with each other while each takes his or her own personal journey. Ruffalo holds the centre beautifully with one of his most internalised performances, finely supported by Keaton, McAdams and James. Schreiber finds surprising perspectives as the outsider who's more trustworthy than anyone expected. And Tucci is terrific, stealing his scenes as a dogged lawyer overwhelmed by the task he has given his life to.

The script constructs the bigger picture slowly, focussing on how these journalists painstakingly uncover facts and witnesses to verify their story. And the more they learn, the less willing they are to sit quietly while their city's venerated religious leaders bury the truth. This isn't a salacious movie about sexuality or psychological damage, it's about an organisation that was allowed to commit hideous crimes for centuries before someone had the nerve to say that it was evil. In other words, it's not about something that happened 15 years ago. It's about the world we live in right now.
| | | |
| --- | --- | --- |
| | themes, language | 29.Oct.15 |