dir Lenny Abrahamson
scr Emma Donoghue
prd David Gross, Ed Guiney
with Brie Larson, Jacob Tremblay, Sean Bridgers, Joan Allen, Tom McCamus, William H Macy, Amanda Brugel, Joe Pingue, Wendy Crewson, Zarrin Darnell-Martin, Cas Anvar, Jack Fulton
release US 16.Oct.15, UK 15.Jan.16
15/Ireland Film4 1h58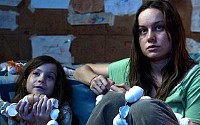 On the inside: Tremblay and Larson



R E V I E W B Y R I C H C L I N E

With goosebump-inducing skill, Lenny Abrahamson and novelist-turned-screenwriter Emma Donoghue dig deep beneath a notorious global headline. In the process they tell a story that actually changes the way we see the people in the news. And the use of a young child's perspective gives it undeniable power, especially since every scene is so inventively directed and played.

Just after his fifth birthday, Jack (Tremblay) finally learns the truth about his life. Raised in a single room by his mother Joy (Larson), he has never even seen out a window. The sky is visible through a skylight, and until now he believed that everything on TV is fake; there is no outside world other than Old Nick (Bridgers), the man who visits with supplies and the occasional treat while his Ma makes him stay quiet in the wardrobe. But now Ma needs Jack's help: she's plotting their escape.

What happens next hinges on Joy's startlingly risky plan, which propels Jack into the world beyond Room for the first time, meeting his grandparents (Allen and Macy) and Grandma's new friend (McCamus). And amid the police interviews, media intrusions and psychology sessions, Jack begins to think that maybe he can one day have a dog that's not imaginary. But he also realises that Ma is struggling to return to her long-lost life. And since the film sees everything through his eyes, what happens is both frightening and hopeful.

At the centre, Larson and Tremblay both deliver beautifully transparent performances that offer continual insight into their unusual relationship, including the challenges Joy must have faced raising a child in such extreme conditions. Her almost crippling compulsion to protect him makes the adjustment to being outside even more difficult than it is for Jack, whose innate curiosity slowly begins to blossom when he realises that there are other people concerned with his safety.

Allen, McCamus and Macy are terrific as loved ones who each have distinct responses to what has happened. Through their thoughts and words, our own reactions to these kinds of news stories are refracted into something sharply personal. In other words, Abrahams and Donoghue achieve the unusual feat of making distant notorious events into something with complex resonance that really gets under the skin. It will make future reports of kidnappings feel much more vivid, and hopefully spark more sympathy from the press to the victims.
| | | |
| --- | --- | --- |
| | themes, language, violence | 10.Oct.15 |