SHADOWS ON THE WALL | REVIEWS | NEWS | FESTIVAL | AWARDS | Q&A | ABOUT | TALKBACK

Shadows off the beaten path
Indies, foreigns, docs, videos, revivals and shorts...
On this page: BEEBA BOYS | HOWL
THE INVITATION | TANGERINE
< < I N D I E S > >
last update 21.Oct.15
See also: SHADOWS FILM FESTIVAL

R E V I E W B Y R I C H C L I N E
Beeba Boys


dir-scr Deepa Mehta
prd David Hamilton
with Randeep Hooda, Ali Momen, Sarah Allen, Gia Sandhu, Waris Ahluwalia, Gulshan Grover, Balinder Johal, Kulbhushan Kharbanda, Ali Kazmi, Steve Dhillon, Jag Bal, Gabe Grey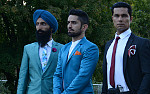 release UK Oct.15 lff,
Can 16.Oct.15
15/Canada 1h35

---
TORONTO FILM FEST


An disarmingly comical tone undercuts any point this movie might be making about gang violence, as it portrays murderous thugs as hapless dandies who don't realise that they're playing with fire. Even so, the film is sharply well-made, with a strikingly watchable cast (in largely unlikeable roles) and enough humour and energy to keep us entertained.

Violence is escalating between the two Sikh gangs in Vancouver. The older, more traditional Grewal (Grover) is annoyed by his upstart rival Jeet (Hooda) and his Beeba Boys. So Grewal sets out to take him down by sending Nep (Momen) to infiltrate Jeey's gang. As tensions rise, Jeet's parents (Johal and Kharbanda) try to stay out of the line of fire, as does his new Polish girlfriend (Allen). Meanwhile, Nep begins to fall for Grewal's daughter (Sandhu), which is a problem as things begin to turn deadly.

The fact that Mehta stages this story as a boisterous caper comedy is more than a little disturbing, especially once people start dying in tit-for-tat attacks and it begins to look like few will remain standing at the end. At least the blackly comical tone makes the film entertaining, with several laugh-out-loud moments along the way, usually due to the hapless interaction between these posing, sharp-dressed guys.

The central actors are strong, nicely anchored by Hooda's smooth-slick turn as the preening Jeet, who clearly thinks he's above all of this nonsense. And Momen has the more complex role as a guy in way over his head, trying to be a different person to everyone he meets, and offering glimpses of the nice guy underneath along the way. Allen and Sandhu don't have much complexity in the female roles, which is odd for a movie made by a woman. Their characters are merely passive, caught in the storm. Johal injects a bit more passion as Jeet's fed-up mum.

Of the boys, only Ahluwalia's Manny stands out due to his more intriguing interaction with the other characters. The rest of them kind of fade into the colourful background of skinny suits and cocked pistols. The problem is that all of these people are so intent on a life of violence that they seem destined to get what they deserve. And in the end, despite a basis in fact, the depiction of Vancouver as some sort of Scarface-style gangland feels strangely exaggerated.
PG themes, language, violence, drugs
---
29.Sep.15

R E V I E W B Y R I C H C L I N E
Howl


dir Paul Hyett
prd Martin Gentles, Ed King
scr Mark Huckerby, Nick Ostler
with Ed Speleers, Shauna Macdonald, Elliot Cowan, Holly Weston, Sam Gittins, Duncan Preston, Ania Marson, Amit Shah, Rosie Day, Calvin Dean, Sean Pertwee, Brett Goldstein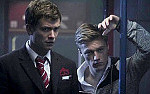 release UK/US 16.Oct.15
15/UK 1h29

---


An enjoyable riff on the werewolf genre, this British horror romp is a lot of fun as it mixes corny drama and gonzo violence. The filmmakers indulge in every cliche imaginable, but still have some surprises up their sleeves. And just a hint of social satire helps make it feel like there's more to it than just guilty-pleasure grisliness.

On a routine journey, train conductor Joe (Speleers) confronts the usual range of tired, cranky and frankly vile passengers. It's a rainy night as the train chugs through the night under an ominous full moon. Then it comes to a sudden stop due to an obstruction on the line. The driver (Pertwee) goes to sort things out but never returns. So the passengers gang up on Joe, and the panic only increases when whatever's out there in the dark reveals itself to be a snarling, gigantic werewolf. And it starts taunting and attacking them.

Even with its comical excesses, the film maintains a dark tone, playing up the subtle insults each character feels as well as the intensity of the menace they are facing. Even when the violence erupts, the chaos has an intriguingly personal tone to it. Well-shot mainly in the confined train carriage, director Hyett has a lot of fun with genre gimmicks. The script introduces the frankly monster about two-thirds in, and it looks rather ridiculous. But the script continues to suggest further nastiness that maintains the suspense. Can the beast be killed? Is its bite contagious? Does it have friends?

The film is nicely cast, with an eclectic group of characters, each of whom has serious issues. So the interaction sparks with energy and unease. Speleers holds everything together as a guy who has just missed out on a promotion and has nothing left to lose, managing passengers who are violent (Cowan), angry (Macdonald), oblivious (Dean) and selfish (Day). There's also a plucky crew member (Weston), a bright young guy (Gittens) and an older couple (Preston and Marson) that doesn't quite get it.

Yes, the script is pure cheese, packed with ludicrous coincidences and manic grisliness. The character interaction is barbed and infused with melodrama. The set looks like an out-of-service train painted in drab colours, while the effects look just as cheap, And the monsters look like repurposed Lord of the Ring orc costumes. But the filmmakers turn this to their advantage by gleefully playing everything for schlock value.
18 themes, language, violence
---
12.Oct.15

R E V I E W B Y R I C H C L I N E
The Invitation


dir Karyn Kusama
scr Phil Hay, Matt Manfredi
prd Phil Hay, Matt Manfredi, Martha Griffin, Nick Spicer
with Logan Marshall-Green, Tammy Blanchard, Michiel Huisman, Emayatzy Corinealdi, John Carroll Lynch, Lindsay Burdge, Mike Doyle, Jordi Vilasuso, Marieh Delfino, Michelle Krusiec, Jay Larson, Karl Yune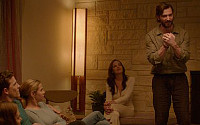 release UK Oct.15 lff,
US 8.Apr.16
15/US 1h37

---


This unnerving, contained thriller pours on suggestions of horror until the audience begins to believe that the terror might only be in the central character's mind. Even so, there are so many cleverly nagging incongruities that it's impossible to sit back and relax. This is fiendishly sharp filmmaking, with layered performances and a terrific sense of its single setting.

Will (Marshall-Green) is nervous about taking his girlfriend Kira (Corinealdi) to meet his old friends, whom he hasn't seen for two years. And when they arrive, hosts Eden and David (Blanchard and Huisman) are indeed acting odd, talking about a Mexican retreat where they learned the secret to tackling grief. But it sounds like a cult to their guests (including Doyle, Vilasuso, Delfino, Krusiec, Larson and Yune). Especially since two unknown believers (Lynch and Burdge) are also present. And David keeps locking the doors out of the house.

Director Kusama builds an almost unbearable sense of dread right from the opening scene, in which Will and Kira hit a coyote on the road to the Hollywood Hills home. Then flickering flashbacks reveal that Will used to live in this house with Eden, and that they had a son. Further revelations dribble information that add to the tension, while each person finds a distinct way to deal with the elephant in the room, which is about to come rumbling right onto the dinner table.

If screenwriters Hay and Manfredi had left it there, this would have been a riveting psychological thriller, but they push things quite a bit further, tipping everything into violent horror. The cast keeps up perfectly, and both Marshall-Green and Blanchard manage to find some emotional subtext in their roles. Huisman is solid as the slightly slimy host, and Corinealdi has a surprising edge. Others are never have much chance to be more than one-note side players, but they fill the screen with an enjoyable unpredictability.

But it's the depth of the themes that keep the audience riveted. As it grapples with issues of death and grief, including personal guilt, the film's more outrageous excesses are grounded in honest human emotions. Meanwhile, Kusama keeps the film looking terrific, as the camera continually reveals new corners in this strikingly visual home while keeping a tight focus on tiny details of the characters' interaction. It's a breathless, entertaining thriller, but the emotional kick makes it something much more interesting.
15 themes, language, violence, nudity
---
5.Oct.15

R E V I E W B Y R I C H C L I N E
Tangerine


MUST

SEE
dir Sean Baker
scr Sean Baker, Chris Bergoch
prd Sean Baker, Karrie Cox, Marcus Cox, Darren Dean, Shih-Ching Tsou
with Kitana Kiki Rodriguez, Mya Taylor, Karren Karagulian, Mickey O'Hagan, James Ransone, Alla Tumanian, Luiza Nersisyan, Arsen Grigoryan, Ian Edwards, Ana Foxx, Chelcie Lynn, Shih-Ching Tsou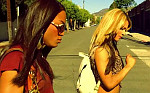 release US 10.Jul.15,
UK Nov.15
15/US 1h28


SUNDANCE FILM FEST
LONDON FILM FEST


This film is so fresh and original that it's easy to forget that it was shot entirely on an iPhone, proving that money isn't what makes a movie engaging. With snappy dialog, colourfully complex characters and a farcical plot that's genuinely hilarious, this is a seriously unforgettable Christmas comedy.

When her best pal Sin-Dee (Rodriguez) is released after a month in jail, Alexandra (Taylor) tells her that her pimp/boyfriend Chester (Ransone) has shacked up with a "real fish". As a transgender hooker in Hollywood, Sin-Dee is furious that Chester's seeing an actual woman. Now she's a diva on a mission to find Dinah (O'Hagan) and exact her revenge. Meanwhile, Alexandra is preparing to sing at a bar, trying to drum up business, including her friend/client Razmik (Karagulian), whose interfering mother-in-law (Tumanian) is determined to convince his wife (Nersisyan) that he's up to no good.

Director-cowriter Baker infuses the film with a blast of sassy energy from the start, coaxing his cast to deliver riotously naturalistic performances as people who never let their guards down. This is the kind of delicate balancing act that most movie stars struggle with, but these actors are strikingly unselfconscious. They ricochet off each other with impeccable timing, throwing out raucously funny one-liners while adding telling character touches into every encounter.

Most impressive is that the actors do all of this while portraying people who are hiding something about themselves. Each of them is a bundle of secrets, hopes and fears as they roam the streets over the course of this Christmas Eve, navigating through a world driven by drugs and sex. But both the cast and the filmmakers never make this a cautionary tale; they merely tell an honest story in a way that brings out much larger themes.

Essentially this is a story about loyalty, and how love and friendship can survive being pushed to almost any limit. Not only is the story engaging and entertaining, but it's also a rare look at the real streets of Los Angeles, where people strain to catch a whiff of glamour even as their lives are lived in squalor. And especially in Razmik's story, the film also finds some moving deeper truths about the collision between culture and personal identity.
15 themes, language, sexuality, drugs
---
9.Sep.15


< < I N D I E S > >
See also: SHADOWS FILM FESTIVAL

© 2015 by Rich Cline, Shadows on the Wall


HOME | REVIEWS | NEWS | FESTIVAL | AWARDS | Q&A | ABOUT | TALKBACK