dir-scr Ryan Coogler
prd Nina Yang Bongiovi, Forest Whitaker
with Michael B Jordan, Melonie Diaz, Octavia Spencer, Ariana Neal, Keenan Coogler, Trestin George, Michael James, Kevin Durand, Chad Michael Murray, Marjorie Shears, Ahna O'Reilly, Joey Oglesby
release US 26.Jul.13, UK 6.Jun.14
13/US 1h25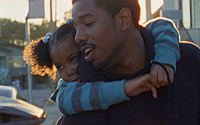 New Year's Eve: Neal and Jordan



---
SUNDANCE FILM FEST
CANNES FILM FEST
R E V I E W B Y R I C H C L I N E

Expertly written, fluidly directed and performed with earthy authenticity, this drama recreates a terrible real-life event without resorting to melodramatics or manipulation. And what's most remarkable is that filmmaker Coogler presents the story without trying to wedge in a contrived message. In other words, these kinds of things happen to complex people who are neither heroes or bad guys.

On New Year's Eve 2008, Oscar Grant (Jordan) is evaluating his life choices. At 23, he loves his girlfriend Sophina (Diaz) and young daughter Tatiana (Neal) and knows he must stop selling drugs and chasing other women. He's just lost his job, but today's about throwing a birthday party for his mother (Spencer) before heading across San Francisco Bay to party with Sophina and his pals (Coogler, George and James). Then on the way home, a fight breaks out as the train pulls into Fruitvale Station. And the transport cops (Durand and Murray) badly overreact.

Even viewers familiar with the story will find the final sequence shocking and deeply devastating. It's very difficult to watch the police approach a relatively calm situation with vicious racial profiling that led to a fatal act of callous brutality. This is one of the most intense cinematic scenes in recent memory, and it's no wonder that these events continue to cause a storm of protest.

Which makes it especially remarkable that writer-director Coogler resists ramping them up on-screen. The film opens with actual footage of the fateful moment captured on a witness' phone, so we know where this is going. But Coogler humanely refuses to make anyone good or evil. Jordan is terrific as Oscar, a hot-head who's trying to be a good guy. He's utterly transparent in every scene, likeable and troubled at the same time.

Spencer is especially strong as his no-nonsense mother, as is Diaz as a young woman who should have given up on Oscar long ago but still sees something in him. There isn't a simplistic moment here, or a character who lives up to stereotypical expectations. Coogler has made a film that simply can't be put into a box: this isn't a lament about racism, injustice, economic inequality or religious fervour. Although all of these and more swirl around with raw honesty. And the only message here is that this must never happen again.
| | | |
| --- | --- | --- |
| | themes, language, violence | 25.Oct.13 |