dir-scr Bruno Dumont
prd Rachid Bouchareb, Jean Brehat, Muriel Merlin
with Juliette Binoche, Jean-Luc Vincent, Robert Leroy, Marion Keller, Emmanuel Kauffman, Armelle Leroy-Rolland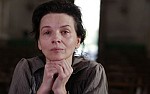 release Fr 13.Mar.13,
US 16.Oct.13, UK 20.Jun.14
13/France 1h35

---
BERLIN FILM FEST


Bruno Dumont continues his provocative exploration of religion in society with this true story, which plays out as a sequel to the 1988 biopic. Like the film itself, Binoche plays the title role in a stripped down, unadorned way that forces us to listen to her words and look beneath the surface.

After splitting up with the sculptor Rodin, Camille (Binoche) was making her way as an artist when her family had her sectioned. In 1915 she's stuck in an asylum where constant noise from the inmates prevents her from working. The nuns and her doctor (Leroy) know she doesn't really belong here, but her family won't let her go free. So she's thrilled when her younger brother Paul (Vincent) comes to visit. But his religious devotion has given him both a loathing of the arts and an inability to show compassion to his sister.

Aside from an interlude focussing on Paul, the film is sharply focused on Camille, and Binoche lets us see into her soul in a wrenchingly open-handed performance. We observe her glimpses of hope and moments of bliss as well as very dark yearning to get her life back on track. Meanwhile, Dumont cleverly forces us to experience daily irritations and the pressures of trying to live in an asylum.

There's perhaps a sense that Dumont has deliberately cast the film to depict mental illness as something visually horrific, but he also manages to find the humanity in the other patients. The nurses are thoughtful and observant, and the doctor does what he can. The real problem is that everything is so comprehensively controlled by the church that real treatment and rehabilitation are almost impossible.

Dumont sets the story nicely in the period, with references to the Great War raging far from this isolated asylum, which looks like a prison with its bare rooms and austere gardens. It might as well be on the moon for all its connection to the culture and arts that Camille so desperately longs for. And Dumont also hints that she is also trapped here by her own faith, which has made her obedient even to the rampant injustice against women in French society. Thankfully these themes just hang in the air; Dumont never hammers anything in, instead letting the idea get under our skin in a way that's difficult to shake.
PG themes, brief nudity
---
11.Oct.13 lff

R E V I E W B Y R I C H C L I N E
Cupcakes


dir-scr Eytan Fox
prd Lauranne Bourrachot, Marco Cherqui
with Ofer Shechter, Anat Waxman, Keren Berger, Yael Bar Zohar, Dana Ivgy, Efrat Dor, Lior Ashkenazi, Ofer Hayoun, Alon Levi, Oren Shkedy, Ruti Asrsai, Edouard Baer, Sarit Vino Elad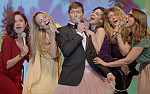 release Isr 14.Feb.13,
UK 25.Apr.14
13/Israel 1h29

---
Best Feature:
IRIS PRIZE FESTIVAL


Israeli filmmaker Fox shifts into musical fantasy with this hugely entertaining comedy about a time when a silly song competition is the biggest news item in Israel. Even with serious undercurrents, this is pure joy in movie-form. And it leaves you wanting to dance in the streets with the cast.

After Israel comes in last in the UniverSong competition, schoolteacher Ofer (Shechter) suggests that he and his friends could do better. Indeed, they've just improvised a song to cheer up their cupcake-baker pal Anat (Waxman). But lawyer Yael (Zohar) feels like she's above such nonsense, politician Dana (Ivgy) worries that it'll jeopardise her career, blogger Keren (Berger) thinks she has no talent, and musician Efrat (Dor) hates sappy pop. And when they're selected to represent Israel the following year, they have to fight for their right to perform the song their way.

As if this weren't enough, each character has romantic issues: Ofer's boyfriend (Levi) is too famous to come out as gay, Anat's husband has just moved out, Keren has a crush on her on-line tutor (Shkedy), Yael's having an affair with her boss (Ashkenazi), Dana is flirting with her driver (Hayoun) and Efrat's girlfriend (Asrsai) is struggling to be supportive. Like the song contest, each sideplot explores the theme of overcoming fear to do what's right. The charming actors dive into roles that are colour-coded like Teletubbies, and each is good enough to stir subtext into the silliness.

This is a story about the importance of escapism. So Fox keeps everything bright and bouncy while adding a hint of depth. Characters break into song at the drop of a hat, so the film is packed with hilarious pastiche versions of Eurovision songs. And the group's competition tune, Anat You've Got the Guts, is the catchiest of the lot, reminding us to resist fear, seize every challenge and rely on our friends.

This subtle layer of meaning makes all of the fun intriguingly satisfying. It's certainly not nearly as fluffy as as the wacky colour-drenched production design suggests. Yes, it's impossibly to fully develop all of these plot-threads, but every scene is so strongly played that we have the sense of much bigger stories in the lives the central six characters. All of them are engaging and enjoyable, and they all have something important to say to us.
PG themes
---
4.Nov.13

R E V I E W B Y R I C H C L I N E
Ida


MUST

SEE
dir Pawel Pawlikowski
scr Pawel Pawlikowski, Rebecca Lenkiewicz
prd Eric Abraham, Piotr Dzieciol, Ewa Puszczynska
with Agata Trzebuchowska, Agata Kulesza, Dawid Ogrodnik, Adam Szyszkowski, Jerzy Trela, Halina Skoczynska, Joanna Kulig, Artur Janusiak, Marek Kasprzyk, Pawel Burczyk, Mariusz Jakus, Izabela Dabrowska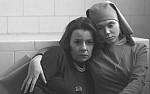 release Pol 25.Oct.13,
US 2.May.14, UK 26.Sep.14
13/Poland 1h20

---


With pristine black and white photography and beautifully textured performances, this simple story overflows with observations about history and faith. And since the two central characters are so beautifully written and played, they engage us on layers that go much deeper than we expect.

Anna (Trzebuchowska) is a young novice in the isolated 1960s convent where she grew up. Her mother superior (Skoczynska) thinks she should learn something about her past before taking her vows, so sends her to visit her only living relative. Aunt Wanda (Kulesza) informs Anna that her name is actually Ida and that her parents were Jewish. But Wanda never found out the truth about their death, so she and Anna travel to the old family village to find answers, confronting local father-son farmers (Trela and Szyszkowski) until they get the story.

The collision of religion and history is fascinating, as it allows the film to probe deeply into Poland's past. Of course, the central irony is that the Jewish Ida was raised as a Catholic to protect her from the Nazis, and now she has to figure out what she really believes: the faith of her parents or the one she was taught? Meanwhile, Wanda's a former judge who helped prosecute criminals from the Soviet occupation, so her story is just as twisted.

Ida deals with her past through religious devotion, while Wanda uses alcohol and sex. These two women are more alike than they know, and certainly more than their personalities signpost. Both actresses are terrific: Trzebuchowska brings out the taciturn Anna's bracingly complex internal struggle, while Kulesza has the showier role as the resolutely unsentimental Wanda. We learn why this is, and each moment of truth is heart-stopping filmmaking.

Pawlikowski's use of black and white in an Academy ratio gives the film the feel of a timeless classic. And in many ways Anna's life is stuck back when she was given to the nuns in the 1940s, which gives weight to Wanda's urge that Anna's vows mean nothing unless she knows what she's sacrificing. The key factor here, of course, being that Wanda doesn't know what she has sacrificed. This is a riveting, compelling story, beautifully written and directed to force us to respond emotionally. And to understand that we should never be afraid of the truth.
12 themes, language
---
13.Oct.13 lff

R E V I E W B Y R I C H C L I N E
Let My People Go!


dir Mikael Buch
scr Mikael Buch, Christophe Honore
prd Philippe Martin, Geraldine Michelot
with Nicolas Maury, Carmen Maura, Jean-Francois Stevenin, Jarkko Niemi, Amira Casar, Clement Sibony, Jean-Luc Bideau, Aurore Clement, Kari Vaananen, Charlie Dupont, Didier Flamand, Olavi Uusivirta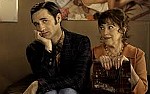 release Fr 28.Dec.11,
US 11.Jan.13, UK 14.Oct.13
11/France 1h36


A snappy tone and luridly colourful production design makes this film entertaining enough to hold our interest, although it's also oddly abrasive, never quite engaging us below the surface. At its centre, the film is a rather sweet romantic comedy, and if you can lock into that amid all the chaos, it's rather enjoyable.

When a dying neighbour gives happy postman Ruben (Maury) €200,000, he thinks he needs to flee from Finland to escape a murder charge. But his husband Teemu (Niemi) finally snaps at his drama-queen refusal to face reality and throws him out. So Ruben heads home to Paris and is plunged into the chaos of his meddling Jewish parents (Maura and Stevenin), desperate-housewife sister (Casar) and hothead brother (Sibony). He also has to fend off the advances of their amorous family lawyer (Bideau). Meanwhile back in Finland, Teemu is trying to figure out what really happened.

The film opens like a smiley musical fantasy, with Ruben and Teemu's idyllic life in a red cabin on a lake in the Finnish woods. But director Buch also stirs in an odd streak of blackly violent slapstick that isn't very funny. Much more entertaining is the way the film continually makes fun of too open-minded Finns, the xenophobic French and the wackier aspects of Jewish subculture as everything builds to a head on Passover.

Frankly, Ruben is such a scatterbrained idiot that he's hard to like, although we do have some sympathy since he's not to blame for his troubles and Maury is a likeable actor. But the plot deprives him of sleep while cranking up his guilt, which leaves Maury flouncing around unable to get to the root of the character. This makes it almost impossible for us to engage with anything that happens. And the solid supporting cast gets lost in the shuffle.

In the final act, the film finds some resonance in Ruben's Jewish heritage, which feels like a burden to him. He has to be reminded that people screw up all the time, and that it's part of being human. Then after sending the characters into spiralling chaos, the screenplay resolves everything rather simplistically. It's warm and often funny, but never sits still long enough to draw us in.
15 themes, language, sexuality, violence
---
5.Nov.13


< < F O R E I G N > >
See also: SHADOWS FILM FESTIVAL

© 2013 by Rich Cline, Shadows on the Wall


HOME | REVIEWS | NEWS | FESTIVAL | AWARDS | Q&A | ABOUT | TALKBACK