dir Abdellatif Kechiche
scr Abdellatif Kechiche, Ghalia Lacroix
prd Olivier Thery-Lapiney, Laurence Clerc
with Adele Exarchopoulos, Lea Seydoux, Salim Kechiouche, Jeremie Laheurte, Catherine Salee, Aurelien Recoing, Mona Walravens, Sandor Funtek, Alma Jodorowski, Fanny Maurin, Benjamin Siksou, Baya Rehaz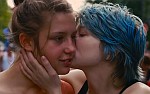 release Fr 7.Jul.13,
US 25.Oct.13, UK 15.Nov.13
13/France 2h59

---
CANNES FILM FEST
TORONTO FILM FEST


Food, art and sex are the three elements of life in this evocative French drama, which takes a generous three hours to tell its story. This is an almost unnervingly honest film that holds us in rapt attention, shaking us even if we have nothing in common with the characters. Because it's about something much deeper than what's on screen.

In Lille, northern France, 15-year-old Adele (Exarchopoulos) is a deep thinker, diving into literature that asks questions about philosophy and existence. But she's not sure who she is. She agrees to go out with the cutest boy in school (Lahuerte) due to pressure from her friends, but feels something isn't right. All she can think about is a blue-haired girl named Emma (Seydoux), and romance blossoms when they get together. Years pass as the relationship grows, but neglect and distractions cause problems between them.

The script touches provocatively on how Adele is terrified to reveal her sexuality to her friends or her parents (Salee and Recoing), but this is never a coming-out story: it's an intimate look at one young woman's first voyage into the complexities of love. So the notoriously extended, explicit sex scenes are never gratuitous: they reveal the shifting bond between Adele and Emma. It's certainly much deeper than a lesbian love story.

Exarchopoulos is transparent, revealing thoughts and emotions so we understand everything she does, even when she's obsessive, secretive or transgressive. And she maintains this remarkable honesty right through the long running-time as well as the six or seven years of the plot. Opposite her, Seydoux is mesmerising, brainy and seductive, a sharply contradictory figure who is easy to fall for.

You could argue that filmmaker Kechiche should have edited this down to a more manageable length, but there isn't a wasted moment. And the approach carries such a strong emotional wallop that it's difficult to think what could be cut. By shooting largely in close-up and using a punchy sense of colour (yes, there's a lot of meaningful blue), this is a rare film that lets us fall completely into it, experiencing Adele's journey in a visceral way. And in the end we may even understand ourselves better.
18 themes, language, violence, strong sexuality
---
26.Aug.13

R E V I E W B Y R I C H C L I N E
Heli


dir Amat Escalante
prd Jaime Romandia
scr Amat Escalante, Gabriel Reyes
with Armando Espitia, Andrea Vergara, Linda Gonzalez, Juan Eduardo Palacios, Kenny Johnston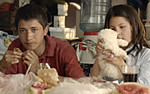 release Mex 9.Aug.13,
UK Oct.13 lff, US Oct.13 ciff
13/Mexico 1h45

---
CANNES FILM FEST


This rather grim Mexican drama depicts how the tentacles of the drug trade can irreversibly change innocents who get too close to the danger. With moments of staggeringly awful violence and brutality set against an everyday vibe, this clever and skilfully made film is deeply unnerving.

In the provincial city Guanajuato, Heli (Espitia) works in a car plant to support his wife Sabrina (Gonzalez) and their infant son. They live with Heli's dad and 12-year-old sister Estela (Vergara), who's in love with 17-year-old Beto (Palacios), a trainee cop. But in this area, it's not easy to tell the police from drug dealers, and when Beto gets his hand on a stash of cocaine slated to be destroyed, he falls afoul of military commandos who raid the house and drag Beto, Estela and Heli away to be tortured by a drug gang.

Director Escalante shoots this in a disarming matter-of-fact style, as if this kind of brutality is never too far away if you live in this part of the world. The daily news reports include drug-related beheadings and murders, and yet this young family goes about their life untouched by it until Beto brings it into their home. Watching what happens through Heli's eyes is terrifying, especially since Estela is taken away to be dealt with where he can't see her.

The performances are also grounded, never escalating into melodrama even though the material lends itself to emotional excess. Instead, these people react with realistically stunned horror. As Heli, Espitia is likeable and vulnerable, depicting an honest, strained relationship with Gonzalez. Meanwhile, Vergara plays Estela as a pre-teen who is savvy about the ways of the world but ultimately has no power over her own fate. And Palacios is terrific as the swaggering young guy who refuses to let his machismo slip even when he's viciously hazed as a new recruit.

Skilfully photographed to bring out the emotional resonance in each scene with camerawork that's both subtle and expressive, the film takes us into this dusty region with endless landscapes in which corruption and violence are out in the open. The menacing brutality derails not only this family's life but also sends this film in directions that are unexpected and eerily believable. And what unnerves us most is that we can sympathise even with a contrived moment of ill-planned revenge.
18 themes, language, strong violence, sexuality
---
15.Oct.15 lff

R E V I E W B Y R I C H C L I N E
Salvo


dir-scr Fabio Grassadonia, Antonio Piazza
prd Massimo Cristaldi, Fabrizio Mosca
with Saleh Bakri, Sara Serraiocco, Mario Pupella, Giuditta Perriera, Luigi Lo Cascio, Redouane Behache, Filippo Luna, Jacopo Menicagli, Diana Sergio, Dylan Tauro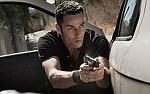 release It 27.Jun.13,
UK Oct.13 lff, US Oct.13 ciff
13/Italy 1h44

---
CANNES FILM FEST


With almost no dialog to speak of, this gritty Italian thriller is relentlessly artful, using strikingly skilful photography and a vividly detailed sound mix to tell a story about a heartless young man who has a sudden pang of conscience.

In the middle of a Palermo heatwave, mob hitman Salvo (Bakri) has a score to settle but is unnerved when he ends up facing the beautiful, blind Rita (Serraiocco), sister of the thug he's there to kill. After a long wait, her brother arrives home to meet his fate, but Salvo decides to let Rita live. She can't identify him, can she? So he locks her up in an abandoned warehouse and tells his boss (Pupella) that he's killed her.

The film opens with an ambush/chase/shootout that immediately lets us know what kind of place this is. Then things become almost inert as Salvo waits in the dark, during which time the perspective shifts between Salvo and Rita. Clearly writer-directors Grassadonia and Piazza ate trying to keep us off-balance, as their direction wrong-foots our senses by shifting back and forth between these two points of view, always telling us more through the background noises than with either words or visuals.

This can make the film feel eerily elusive, and it also lets the cast members indulge in performances that verge on silent-movie-style overacting. On the other hand, this means that the suspense builds inexorably as we see or hear hints about what is happening (or about to happen) off-screen. With his supermodel looks, Bakri has plenty of presence in the title role, even if Salvo is a rather inexpressive brute. While Serraiocco is encouraged to play Rita as tough but emotionally panicky.

Grassadonia and Piazza keep the plotting to a minimum while indulging in stylistic flourishes, heavy metaphors and references to classic crime dramas. Most intriguing is how it refuses to turn into a romance as the filmmakers urge us to find our own meaning. So even when the plot finally kicks into gear, most action remains resolutely out of sight. As a result, the film struggles to hold our attention. On the other hand, it's invigorating to allow these scenes to wash over us. And while the slim story kind of lets it down, the atmospherics are haunting.
15 themes, language, violence
---
17.Oct.13

R E V I E W B Y R I C H C L I N E
Stranger by the Lake


L'Inconnu du Lac
dir-scr Alain Guiraudie
prd Sylvie Pialat
with Pierre Deladonchamps, Christophe Paou, Patrick d'Assumcao, Jerome Chappatte, Mathieu Vervisch, Gilbert Traina, Emmanuel Daumas, Sebastien Badachaoui, Gilles Guerin, Francois-Renaud Labarthe, Thomas Salles, Alain Guiraudie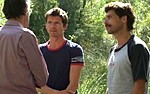 release Fr 12.Jun.13,
US Sep.13 nyff,
UK Oct.13 lff
13/France 1h40

---
CANNES FILM FEST
TORONTO FILM FEST


What starts out as a subtle drama exploring male sexuality quietly shifts into a Hitchcockian thriller, with big questions about the tension between lust and morality. Set in a gay cruising site at a naturist beach, the film isn't for the faint of heart. But its themes are bigger than the controversial setting.

Franck (Deladonchamps) is a friendly young guy who visits a nearby lake most days during the summer, chatting with the regulars including Henri (d'Assumcao), a heavy-set older guy who sits off on his own, never removes his trunks and never visits the woods. But Franck is distracted by a new guy on the scene: Michel (Paou) is tanned and muscled and very popular with the other guys. But when Michel's current boyfriend (Labarthe) goes missing, Franck suspects Michel may have drowned him.

Filmmaker Guiraudie keeps the focus tightly on Franck all the way through; we see everything through his perspective (except one key moment at the end), and we are forced to confront his ethical dilemma about whether he should pursue a sexual relationship with Michel or turn him into the detective (Chappatte) who's nosing around. This situation becomes increasingly intense as the film progresses, with tiny details adding to the suspense until a seriously harrowing finale.

All of this is photographed with earthy honesty, capturing the sun-drenched lakeshore over a few weeks of glorious summer weather. The film is never pushy, there's no background music and the interaction feels raw and improvised as these men chat rather a lot more intimately than they would in a bar, for example. Which is no surprise since they're naked! And the cameras never shy away from that, or from what they get up to in the woods.

By refusing to sensationalise anything, Guiraudie gives the film an eerily timeless feel. We can only tell it's set in the present by the cars parked at the edge of the woods, because otherwise these men interact in an almost unnervingly pure way that reduces civilisation to one urge. But of course, this particular urge is hidden away in a woods on the other side of the lake, where danger of a very different kind is also lurking. An extraordinary film for brave audiences only.
18 themes, language, violence, strong sexuality
---
7.Oct.13


< < F O R E I G N > >
See also: SHADOWS FILM FESTIVAL

© 2013 by Rich Cline, Shadows on the Wall


HOME | REVIEWS | NEWS | FESTIVAL | AWARDS | Q&A | ABOUT | TALKBACK