dir-scr David O Russell
prd Bruce Cohen, Donna Gigliotti, Jonathan Gordon
with Bradley Cooper, Jennifer Lawrence, Robert De Niro, Jacki Weaver, Chris Tucker, Julia Stiles, John Ortiz, Anupam Kher, Paul Herman, Dash Mihok, Brea Bee, Shea Whigham
release US/UK 21.Nov.12
12/US Weinstein 1h57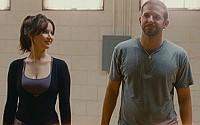 Shut up and dance: Lawrence and Cooper





• BEST ACTRESS
JENNIFER LAWRENCE
---
TORONTO FILM FEST

R E V I E W B Y R I C H C L I N E

As a writer-director, Russell packs this comedy-drama with so many jagged edges that wading into it feels unsafe. Especially since almost everyone in the film is clinically unhinged. But deep inside, it's a surprisingly warm-hearted story with characters we really root for.

After eight months in a mental institution, Pat (Cooper) is brought home by his mother (Weaver), although Dad (De Niro) isn't sure it's such a good idea. After accepting that he's bipolar, Pat hopes to reunite with his wife (Bee), but a restraining order is making that difficult. He meets up with friends Veronica and Ronny (Stiles and Ortiz), who introduce him to Veronica's sister Tiffany (Lawrence). Although she's going through her own depression, she offers to help Pat if be her partner in a dance contest.

The hitch is that Pat's condition makes him unpredictable and outspoken, which clashes with his father's obsessive-compulsive tendencies and Tiffany's self-defence mechanisms. But then no one's very stable here, and their lives aren't as simple as they seem. Russell's script playfully exploits each moment of tetchy interaction, as well as elements of American culture such as sports fanatics who rely on superstition as they wager their life savings on their teams.

Of course these kinds of fragile characters give actors plenty to chew on. Cooper holds the film together with a realistically brittle performance as a man unsure of just about everything about himself. His growing friendship with Tiffany is awkward and promising, and Lawrence gives a devastatingly powerful turn as a woman who has finally found some sense of herself and isn't going down without a fight. De Niro finally gets a role that combines his skills as an actor with his sharp comic timing. And Weaver quietly shines in a role that could easily be overlooked but holds the film together.

Best of all is the way Russell dives into the story without worrying about political correctness. These people may be flawed, but their feelings are so intense that each scene hits us in the gut while keeping us laughing at wry observations and riotous interaction. And in the end this hugely crowd-pleasing story offers us the hope that, despite our imperfections, maybe we can find our bit of happiness.
| | | |
| --- | --- | --- |
| | themes, language, violence | 23.Oct.12 |