dir Lynne Ramsay
scr Lynne Ramsay, Rory Stewart Kinnear prd Jennifer Fox, Luc Roeg, Robert Salerno
with Tilda Swinton, John C Reilly, Ezra Miller, Jasper Newell, Rock Duer, Ashley Gerasimovich, Alex Manette, Siobhan Fallon, Kenneth Franklin, Lauren Fox, James Chen, leslie Lyles
release UK 21.Oct.11
11/UK BBC 1h50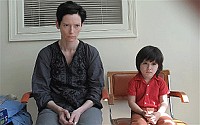 Are you my son? Swinton and Duer



---
CANNES FILM FEST

R E V I E W B Y R I C H C L I N E

Scottish filmmaker Ramsay takes an astonishingly visceral approach to Lionel Shriver's notorious novel. And combined with Swinton's internalised performance, the experience of watching this dark, disturbing film is almost unbearably moving.

Eva (Swinton) is a shell of her former self, living in isolation as the target of anger from an entire community. She clearly blames herself for an act of violence unleashed by her 15-year-old son Kevin (Miller), and misses her husband (Reilly) and daughter (Gerasimovich). But as she finds a job and starts to put her life together, the memories won't stop swirling in her mind. Does she even deserve to have survived such a horrific event? Can she ever make peace with the grieving, enraged people around her?

From the film's opening shot, we know we're not in a literal world. Ramsay paints each scene with dreamlike hyperrealism, slicing through the surface to root out subconscious feelings. Every memory contains something that's lurid red, a constant reminder that forgetting what happened is not an option. Meanwhile, Seamus McGarvey's cinematography pushes us into shadows and corners we don't want to enter, while also finding real beauty. And Jonny Greenwood's score quietly underscores the moods, even as cleverly selected songs add anachronistic counterweight.

But it's the faces that really draw us in: performances are essentially wordless, using dialog only to show us something deeper. This is one of Swinton's most delicate performances, which is saying a lot, as she uses her physicality to let us see right into Eva's heart. Her interaction with Reilly is raw and truthful, as is her bristly communication with Miller, who is also beautifully played as a toddler by Duer and as a boy by Newell. The complex connections between these characters make the final resolution that much more devastating.

Ultimately this is a story about the emotional fallout after a high school massacre, as the mother of the villain tries to cope with her own misplaced guilt. It's a staggering, wrenching, mesmerising film that never lets up. And if hints that Kevin might just have been a bad seed feel a little bit simplistic, there's also a richness to each character and scene that makes the film utterly unforgettable.
| | | |
| --- | --- | --- |
| | strong themes, language, violence, sexuality | 4.Jul.11 |