dir-scr Tetsuya Nakashima
prd Yuji Ishida, Genki Kawamura, Yoshihiro Kubota, Yutaka Suzuki
with Takako Matsu, Kaoru Fujiwara, Yukito Nishii, Ai Hashimoto, Masaki Okada, Yoshino Kimura, Mana Ashida, Kai Inowaki, Sora Iwata, Daichi Izumi, Karin Kato, Takuya Kusakawa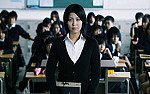 release Jpn 5.Jun.10,
UK 18.Feb.11
10/Japan Sony 1h46

---
TORONTO FILM FEST

Bravura filmmaking turns this revenge thriller into something unexpected, filling the screen with vivid characters and situations that continually challenge us as filmgoers. The result is utterly riveting, as well as wrenching and unforgettable.

On the last day of term, teacher Yuko (Matsu) tells her unruly 13-year-old students the true story of her young daughter's death: rather than an accident, she was killed by two students, underachieving Naoki and science nerd Shuya (Fujiwara and Nishii). And now Yuko has set in motion her revenge. As the next term starts, a matey new teacher (Okada) takes Yuko's place, and only one student (Hashimoto) seems haunted by Yuko's story. So she tries to get involved in the lives of both boys, whose worlds seem to be closing in on them.

Filmmaker Nakashima sets the scene with Yuko's 30-minute monologue, illustrated with eerie slow-motion flashbacks, before plunging into the psychological and physical fallout. Each sequence is packed with shocking twists that play to our own fears of illness, loneliness, injury and rejection. So even though we can never sympathise with the characters, we can't avoid seeing resonance everywhere. And as events suddenly snap into a very creepy focus, the film cleverly highlights uncomfortable truths about our humanity.

Of course, much of this is told through a pre-teen perspective, which makes it all the more unsettling. Nakashima uses lyrical camerawork and fiendishly clever editing, plus an emotive underscore and moody songs by the likes of Radiohead and The XX. The result is insinuating, mesmerising and constantly shifting from black humour to horrible revelations to grisly violence. This stylised visual approach is artfully contrasted with bracingly realistic performances that mix iciness with vulnerability.

On the way to the shattering climax, there are also complex observations about justice in a world where teens can't be prosecuted for murder. And the underlying theme centres on how our survival instincts push us to prey on those younger and weaker than ourselves in ways that are both harmless and cataclysmic. In the end, it's not so much about revenge as about the dark internal urges we all have. It's not about our hopes and fears, but our actions. And taking responsibility for them.
15 strong themes, violence
---
17.Feb.11

R E V I E W B Y R I C H C L I N E
Little White Lies


MUST

SEE Les Petits Mouchoirs
dir-scr Guillaume Canet
prd Alain Attal
with François Cluzet, Marion Cotillard, Benoit Magimel, Gilles Lellouche, Jean Dujardin, Laurent Lafitte, Valerie Bonneton, Pascale Arbillot, Joel Dupuch, Anne Marivin, Louise Monot, Hocine Merabet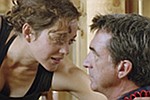 release Fr 20.Oct.10,
UK 15.Apr.11
10/France 2h34

---
TORONTO FILM FEST


With echoes of The Big Chill, this epic-length French comedy-drama explores with raw honesty the relationships between a group of people in their 30s and 40s. Especially fine writing and acting really bring it to life.

After their friend Ludo (Dujardin) is injured in a crash, his friends agonise over whether they should carry on with plans for their annual month-long holiday at the seaside. As he recovers, they head off for two weeks. But his absence causes a series of ripples. The host Max (Cluzet) is becoming increasingly paranoid due to an uncomfortable revelation made by his best pal Vincent (Magimel), while their wives (Bonneton and Arbillot) have no idea what the problem is. Meanwhile, three others (Cotillard, Lellouche and Lafitte) are trying to resolve their own romantic issues.

Filmmaker Canet throws us straight into the story, letting us immediately see these people responding to a scary event. It takes a while for the characters to reveal their personalities and complex inter-connections, but as the movie progresses they become remarkably vivid and involving. There are things about each person that we identify with, and the range of interaction is hilarious, edgy and sometimes darkly stirring.

The cast is simply wonderful, giving off-handed, natural performances that add to the film's relaxed tone. It feels almost plotless in structure, although a series of storylines carries us through the long running time with highs and lows, including raucous comedy and wrenching emotion. It's not easy to pick a stand-out among the cast, as everyone has strong moments along the way. Cotillard's character is perhaps the most moving, while Cluzet's is the most complicated.

As it continues, Canet's fiercely clever script continually deepens the relationships and heightens the tension. It also offers intensely telling insight into the way people relate to each other, mainly looking at the small lies we tell each other - and ourselves - to get through any potential awkwardness. And while the focus is a little too diffused for us to really feel the huge wave of emotion at the end, it's still the kind of film that lingers in the memory for a long time, forcing us to explore how we treat our friends and lovers.
15 themes, language, violence
---
19.Jan.11

R E V I E W B Y R I C H C L I N E
Amer


dir-scr Helene Cattet, Bruno Forzani
prd Francois Cognard, Eve Commenge
with Cassandra Foret, Charlotte Eugene Guibbaud, Marie Bos, Harry Cleven, Bianca Maria D'Amato, Jean-Michel Vovk, Bernard Marbaix, Delphine Brual, Thomas Bonzani, Charles Forzani, Jean Secq, Beatrice Butler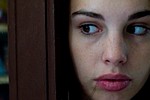 release Fr 3.Mar.10,
US 29.Oct.10, UK 7.Jan.11
09/France 1h27

---


Artfully shot like a 1970s giallo classic crossed with both vintage and more recent Japanese horror, this fever-dream thriller freaks us out from the opening shot. It can't quite sustain that tone, but it's a must-see for genre fans.

Young Ana (Foret) is deeply curious about the strange things happening in her creepy family mansion in the wake of her grandfather's (Marbaix) death, as the hallways are full of strange sounds and loud voices that make her unsure of her place in the family. Her parents (Vovk and D'Amato) are in a world of their own, which Ana can't understand at all. And as she grows up (played by Guibbaud as a teen and Bos as an adult), she continues to struggle with the mysterious connections between sexuality and violence.

The title means "bitter", which is perhaps a red herring, part of the way filmmakers Cattet and Forzani keep us off balance with the intense sound mix, insistent score, textured production design, lurid colours and startling camera work. And they also cleverly shoot the French Riviera to capture its striking beauty, crumbling history, vertiginous geography and even the menace of its flora and fauna.

The story is told with an unnerving attention to detail and no real dialog. It's also packed with unforgettable scenes. In her black-lace cloak, Grandmother (Brual) looks like a spidery angel of death. In Ana's adolescent encounter with a biker gang, she tastes the sweaty danger of her feminine power. And this echoes later when she fantasises about a swarthy driver (Cleven) who collects her from a station then returns for a grisly sequence involving a razor-wielding slasher.

All of this is depicted with heart-pounding assurance by the filmmakers. It's tactile and engulfing, and packed with insinuation and insight, although as it continues the early sense of dread dissipates. Despite the strong themes, the film is ultimately an exercise in style, infusing feminine sensuality with masculine menace. We always feel like Ana is heading for sexual violence, mainly because she keeps imagining it. So it's never actually scary. Still, it's so vivid that it may force you to confront your own dark fantasies.
18 themes, strong violence, sexuality
---
5.Jan.11

R E V I E W B Y R I C H C L I N E
Men on the Bridge


Köprüdekiler
dir-scr Asli Ozge
prd Fabian Massah
with Murat Tokgoz, Umut Ilker, Fikret Portakal, Cemile Ilker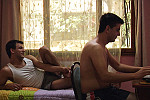 release Tur 19.Mar.10,
UK 28.Jan.11
09/Turkey 1h27

---
TORONTO FILM FEST


With an intriguing combination of warm drama and gentle politics, this unfussy Turkish film quietly paints an effective portrait of life in Istanbul, where ancient traditions collide with Western culture.

Murat is a 24-year-old traffic cop working on the Bosphorus Bridge with his partner and flatmate, a ladykiller who encourages Murat to get out and meet girls. Painfully shy, this good Muslim boy goes online to meet women in chatrooms. At 28, Umut drives a taxi, which doesn't bring in enough cash for his ambitious wife Cemile and seriously strains their marriage. And uneducated 17-year-old Fikret sells flowers on the bridge. He knows he should get a better job, but has nothing to offer a prospective employer. Will he sell flowers all his life?

These three stories only interconnect inasmuch as they all take place partly on the bridge. Of course, the themes are much more intertwined, as all involve people trying to make the most of life in a big city that isn't helping them much. None of them has enough money to live properly, all are struggling with their seemingly hopeless futures, and relationships are strained by their circumstances.

Fortunately, filmmaker Ozge doesn't lay any of this on too thickly. He keeps the focus tightly on the three young men and their interaction with people around them. This lets him make pointed comments along the way without ever getting preachy. And the cast of first-time actors, all using their own names and elements of their own lives, are genuinely likeable. This approach gives the film a strongly documentary feel, even as they play scenes that are written with sharp comedy and drama.

Ozge's low-key approach sometimes feels rather episodic, mainly due to the lack of connection between the three plot-strands. And it's essentially just a slice-of-life movie that allows us to also see the serious issues gurgling under the surface of this multicultural society. Tensions stem from religion, race, politics and gender. But the film's main focus is on personal pressures - Murat to find a good wife, Umut to earn more money to keep his wife happy, Fikret to gain focus to match his idealism. And all of us can identify with a commercialised society that demands both a better job and a happier love life to define success.
15 themes, language
---
10.Nov.10


< < F O R E I G N > >
See also: SHADOWS FILM FESTIVAL

© 2011 by Rich Cline, Shadows on the Wall


HOME | REVIEWS | NEWS | FESTIVAL | AWARDS | Q&A | ABOUT | TALKBACK