dir Lee Tamahori
scr Michael Thomas
prd Paul Breuls, Michael John Fedun, Emjay Rechsteiner, Catherine Vandeleene
with Dominic Cooper, Ludivine Sagnier, Raad Rawi, Mem Ferda, Dar Salim, Khalid Laith, Pano Masti, Nasser Memarzia, Philip Quast, Mimoun Oaissa, Stewart Scudamore, Jamie Harding
release US 29.Jun.11, UK 12.Aug.11
11/Belgium 1h48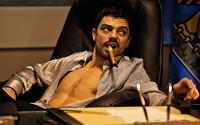 Demon spawn: Cooper



---
SUNDANCE FILM FESTIVAL
BERLIN FILM FESTIVAL
R E V I E W B Y R I C H C L I N E

Anchored by a fierce double performance from Dominic Cooper, this true story is so intensely violent that it's not easy to watch. But it's an extremely well-made film, and the tight point of view makes it both riveting and urgent.

In 1990 Iraq, Saddam Hussein's son Uday (Cooper) is on a rampage of rape, torture and murder when he grabs his old school friend Latif Yahia (Cooper again) and forces him to become his stand-in. Latif isn't allowed to say no and, after extensive training and plastic surgery, plus the approval of Saddam (Quast), he becomes Uday's doppelganger. But he never hides his belief that Uday is a psychopath, even to his mentor Munem (Rawl). And he takes an even bigger risk when he falls for one of Uday's girls, Sarrab (Sagnier).

Tamahori directs the film with an intense sense of energy that never lets up. We are thrown right into this nightmare alongside Latif, and the film focuses tightly on his first-hand reports of life in a horrific situation. At times, Tamahori seems to cross the line to convey Uday's well-documented sadism, and the more extreme scenes are overwhelmingly gruesome. But by anchoring the story in Latif's viewpoint, we have something to keep us engaged. And to maintain a sense of perspective.

Cooper's two performances are simply jaw-dropping, adding texture to both roles that continually takes us aback. With the exception of a few deliberate moments, it's always clear which character is which, thanks to Uday's whiny voice and whirling physicality and Latif's more thoughtful, dubious eyes. Cooper is simply electric on screen, especially when these complex men are engaged with each other. By contrast, Sagnier seems like a cipher, a woman we can't really trust because we never quite see her.

And while it's clear what the script is trying to say, Cooper and Tamahori continually throw in wrinkles that undermine the more obvious dialog and plotting. As a result, it's more like Scarface than Green Zone. And continual referencing to real events keeps it grounded, even with the excessive mayhem and shocking grisliness. In the end it's the bravery of both Cooper and the real Latif that lingers in our minds.
| | | |
| --- | --- | --- |
| | themes, strong violence, language, drugs, sexuality | 8.Jun.11 |