SHADOWS ON THE WALL | REVIEWS | NEWS | FESTIVAL | AWARDS | Q&A | ABOUT | TALKBACK

Shadows off the beaten path
Indies, foreigns, docs, videos, revivals and shorts...
On this page: BEARCITY | BELIEVE: THE EDDIE IZZARD STORY
JOAN RIVERS: A PIECE OF WORK | ZOMBIES OF MASS DESTRUCTION
< < V I D E O S > >
last update 2.Nov.10
See also: SHADOWS FILM FESTIVAL

R E V I E W B Y R I C H C L I N E
BearCity


dir Douglas Langway
scr Douglas Langway, Lawrence Ferber
prd Heidi H. Hamelin, Lewis Tice
with Joe Conti, Gerald McCullouch, Brian Keane, Stephen Guarino, Alex Di Dio, Gregory Gunter, James Martinez, Sebastian La Cause, Christian Dante White, David Drake, Ashlie Atkinson, Peter Stickles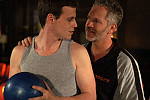 release US Jun.10 newfest,
UK 1.Nov.10 dvd
10/US 1h39

---


Combining warm humour with raucous antics, this lively comedy keeps us laughing all the way through. And while the story might be a bit tidy in the end, it's also thoroughly engaging.

Aspiring 21-year-old New York actor Simon (Conti) is afraid to admit to his twinky gay flatmates (Di Dio and White) that he prefers older hairy men. Then one night in a bar, he runs into Fred (Keane), a cameraman he met at an audition. He properly introduces Tyler to the bear scene, including Fred's "husbear" Brent (Guarino) and their friend Michael (Gunter), whose obsession with weight-loss is annoying his partner Carlos (Martinez). But the guy who catches Tyler's eye is Roger (McCullouch), a fiercely single silver fox whose sex parties are legendary.

Despite being essentially a breezy comedy, there's rather a lot of serious stuff scattered throughout this film, especially as Fred and Brent try to figure out ways to spice up their long-term relationship, Michael grapples with a life-changing decision, and Roger discovers that he might be capable of settling down after all. The cast members create vivid characters who are all thoroughly engaging; the standouts are Keane and Guarino, whose improvised throwaway lines and razor sharp chemistry are simply hysterical. And the physicality is genuinely sexy.

Director Langway shoots this with lively humour and a real sense of affection for the characters. For a small-budget debut feature, it's shot and edited with remarkable skill, and the screenplay is hilarious without feeling overwritten - a continual stream of snappy dialog and outrageously funny situations. Even more important is the way the film completely avoids gay movie stereotypes to tell a story that's engaging, honest and relevant to almost anyone.

All of the serious issues do begin to throw the central romance slightly out of balance, but that's not much of a complaint when the people we're watching are this complex and enjoyable. They're likeable without being perfect, and we really root for them along their journeys, even thought the filmmaker's style hints early on that we're heading for a finale that will tie up all the loose ends in a sweet, sticky bow.
18 themes, language, sexuality
---
8.Oct.10 ipf

R E V I E W B Y R I C H C L I N E
Believe: The Eddie Izzard Story


dir-scr Sarah Townsend
prd Sarah Townsend, James Goddard
with Eddie Izzard, Harold Izzard, Sarah Townsend, Caroline Chignell, Mick Perrin, Andre Vincent, Paul Kean, Rob Ballard, Peter Herz, George Clooney, Robin Williams, Anthony Hopkins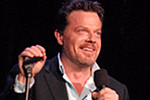 release US 9.Oct.09,
UK 22.Nov.10 dvd
09/UK 1h44

---


This biographical doc about the comedian-actor contains such a wealth of old footage that it's a must-see for his fans. And although its structure is a bit messy, the film shows an intriguingly serious side of the surreal comic.

Using animation, home movies and archive footage, we follow Izzard through his birth in 1962 to British parents who were working in Yemen, his early childhood in Northern Ireland and his youth in Wales and England. After being kicked out of university, he started performing comedy on the street, finally getting his big break in the 1990s, touring the world as a comic and becoming more famous in America as an actor. Along the way he discovers that past tragedies have inspired him to believe that he can be a stand-up, an actor or anything he wants to be.

The film is framed around Izzard's 2003 comeback after he was accused of recycling old jokes in his new show. Izzard deflates this with a couple of astute observations, leaving it feeling like a less-than-momentous chapter in his life, which makes us wonder why it's used as a framing device here. Another nagging problem is that the film was made by his ex-girlfriend, which questions the film's truthfulness.

But the material is assembled with a lively sense of humour that really catches Izzard's distinctive personality. Interviews with him over the years fill in the story, as does the remarkable video footage of his childhood and early performances at the Edinburgh Fringe and as a Covent Garden busker. And all of this adds up to an intriguingly well-rounded portrait of the man who notoriously came out as a transvestite on-stage during his first West End gig in 1993.

This event plays out with a terrific mix of humour and pathos, as do most of the scenes from his life. His overnight stardom clearly caught him off guard, as did the night when he won two Emmys. But it's his mother's death when he was only 6 that lingers in his mind and informs his self-image. This emotional aspect makes the film surprisingly involving as it reveals Izzard's passion, gifts and his determination to never take the easy route.
15 themes, language
---
18.Nov.09

R E V I E W B Y R I C H C L I N E
Joan Rivers: A Piece of Work


dir Ricki Stern, Annie Sundberg
prd Seth Keal, Annie Sundberg
with Joan Rivers, Melissa Rivers, Kathy Griffin, Don Rickles, Cooper Endicott, Larry Thompson, Billy Sammeth, Jocelyn Pickett, Sean Foley, Emily Kosloski, Patrick Alparone, Florian Klein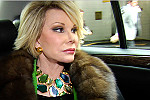 release US 11.Jun.10,
UK 15.Nov.10 dvd
10/US ICF 1h24

---
SUNDANCE FILM FEST

Filmmakers Stern and Sundberg, better known for punchy political films like The Devil Came on Horseback, turn their cameras on an iconic comic. And the result is a startlingly raw exploration of what it takes to hang on in show business.

In the 1960s, Joan Rivers broke new ground as a stand-up comic and TV host, but 20 years later both her career and personal life took a dark turn. Still, she never gave up, and through sheer willpower has continued to be a constant presence on television, stage and of course at red carpet events. Although today she's perhaps more well-known for her extensive plastic surgery than her sharp wit. For this documentary she gave the filmmakers unrestricted access to her life for a year, and what we discover is that she's pretty much the same off camera as on it.

This shouldn't be any surprise, since her lacerating wit is so outrageously quick that it couldn't be scripted. She also lives a luxurious life, which she really works for; at 75 she has the energy of a teenager. Over the course of this film, she travels to Edinburgh to launch a new play, which then transfers briefly to London, where she decides it's probably never going to work in New York. She takes part in, and wins, Celebrity Apprentice. And her colleagues hold a celebrity roast in her honour.

Early in the film Rivers comments that her biggest fear is a blank diary, and her constant reinvention has guaranteed that she has stayed working. The documentary is so intimate that we see beyond her acerbic comments to her personal insecurities. Without being sentimental, the filmmakers capture the ongoing effects of her husband's suicide in 1987 and her deep love for her daughter Melissa and grandson Cooper.

Not only is this a revealing look at a year in the life of Joan Rivers, but it also takes us behind the scenes of the business itself, with the managers, assistants and agents swirling around, constant criticism from fans and journalists, and both competition and respect from colleagues. And it also explains why so many celebrities never leave their homes without makeup.
15 themes, language
---
29.Oct.10

R E V I E W B Y R I C H C L I N E
Zombies of Mass Destruction


dir Kevin Hamedani
prd Yahya Sinno
scr Kevin Hamedani, Ramon Isao
with Janette Armand, Doug Fahl, Cooper Hopkins, Russell Hodgkinson, Cornelia Moore, James Mesher, Bill Johns, Andrew Hyde, Ali Hamedani, Linda Jensen, Victoria Drake, Ryan Barret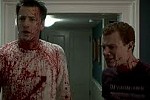 release US 23.Mar.10 dvd,
UK 18.Oct.10 dvd
09/US 1h29

---



A riotous comical tone sits intriguingly with some serious issues in this energetic, chaotic comedy-thriller. And even though it's set seven years ago, presumably to make the satire more relevant, it's actually timelier today.

In September 2003, Tom (Fahl) returns home to the idyllic Northwest island of Port Gamble with boyfriend Lance (Hopkins). The plan is to come out to his mother, but her reaction is a little unexpected: she starts foaming at the mouth and trying to eat him. Indeed, she's been infected by the zombies roaming through the town. On the run, Tom and Lance also have to escape from a homophobic minister (Johns) before teaming up with Frida (Armand), daughter of a local Iranian (Hamedani). But everyone thinks she's Iraqi, and blames her for the zombie outbreak.

Clearly the filmmakers thought that the homophobia and anti-Islamic sentiment were more appropriate to 2003 than 2009, but they had no idea that the summer of 2010 would bring both issues back into the fray. And the rabid bigotry on display in these comical characters actually seems a bit tame compared to Fox News pundits. There's also an election raging in a sideplot, as a hippie (Moore) takes on the long-time conservative incumbent (Mesher) for mayor. One example of this film's rather unsubtle humour is the incumbent's name: Hal E Burton.

But then, this kind of ridiculous comedy is what makes the film so much fun to watch. Even as the sharp topics continually fly at us (at one point Frida is kidnapped and tortured by a terrified redneck), the main point here is to get us laughing. So the violence is so far over the top that we don't have time to feel queasy about all the gore.

On a technical-artistic level, the film is pretty silly as well. Director Hamedani doesn't really bother trying to create something that looks good; he merely gets hundreds of extras to maraud through the murky landscape chomping on each other at random. It's not particularly well shot, and the acting is uneven at best. But there is a nice sense of characterisation, and the dialog more than makes up for the goofy approach.
15 themes, violence, grisliness, language
---
1.Nov.10


< < V I D E O S > >
If you have an film you want me to review - just ASK

© 2010 by Rich Cline, Shadows on the Wall


HOME | REVIEWS | NEWS | FESTIVAL | AWARDS | Q&A | ABOUT | TALKBACK