dir Richard J Lewis
scr Michael Konyves
prd Robert Lantos
with Paul Giamatti, Rosamund Pike, Dustin Hoffman, Minnie Driver, Rachelle Lefevre, Scott Speedman, Bruce Greenwood, Jake Hoffman, Anna Hopkins, Macha Grenon, Mark Addy, Saul Rubinek
release Can 17.Dec.10, US 14.Jan.11,
UK 28.Jan.11
10/Canada 2h12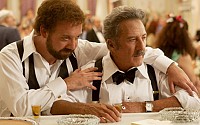 Chip off the block: Giamatti and Hoffman


---
TORONTO FILM FEST
VENICE FILM FEST
R E V I E W B Y R I C H C L I N E

Based on the novel by Mordecai Richler, this film traces some 35 years in the life of its central character. More observational than plot-driven, its real strengths lie in performances that vividly draw out everyday emotions.

Barney Panofsky (Giamatti) has had an event-filled life that not many people quite understand. His first marriage to Clara (Lefevre) in 1970s Rome was short, but his second back home in Montreal (to Driver) was even briefer, as he met wife No 3, Miriam (Pike), at the reception. His later years are haunted by a detective (Addy) who's determined to prove that Barney killed his best friend (Speedman) back in the 80s. And then there's his feisty dad (Dustin Hoffman), smart kids (Jake Hoffman and Hopkins) and a too-friendly neighbour (Greenwood).

The film assembles this out of sequence, as Barney remembers events from his life as he feels his memories start to slip away to old age senility. We know from the start that his marriage to Miriam ended in divorce, so it's intriguing to discover what a long, rich relationship they had together. These scenes are beautifully played by Giamatti and especially the radiant Pike as they age gracefully from decade to decade. And Giamatti's chemistry with Dustin Hoffman is even more vibrant.

It's in these personal scenes that the film really gets under the skin, deepening as it goes along and touching on some extremely powerful themes. The main focus is loyalty - commitment, friendship, disappointment and betrayal. And all of the actors find subtle ways of illuminating these feelings from scene to scene. Despite some awkward story strands, these are extremely well-written characters, packed with shadings and subtext, and the actors take full advantage of this.

Meanwhile, director Lewis keeps things looking warm and nostalgic without ever indulging in sentimentality. Even when things turn intensely sad from time to time, the film's tone remains comical or at least optimistic, catching the sharp Jewish culture with its straightforward humour and emphasis on the permanence of family relationships. So the fact that there's no real plotline to speak of hardly seems like a problem, even if we feel the film's overlong running time.
| | | |
| --- | --- | --- |
| | themes, language, sexuality | 6.Dec.10 |