Cowboy

dir-scr Till Kleinert
with Oliver Scherz, Pit Bukowski, Isabelle Hopfner, Sabine Bernd, Angelina Grusa, Manuela Bischoff, Dieter Gunther, Rainer Kruse
08/Germany 35m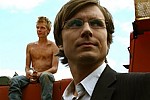 This extremely well-made short is intriguing, involving and ultimately unnerving as it follows an estate agent (Scherz) poking around an isolated farm, where he meets a skinny, tough farmhand (Bukowski). The two have a spark of attraction as they talk about their girlfriends and whether the farmer might want to sell the land. From here things take a couple of increasingly surprising turns as we find out details about both men. The film is shot in a suggestive way that lets us into the minds of these two men, even as an almost overpowering sense of foreboding makes us worry about what might happen next. It's slow and insinuating and thoroughly gripping, right to the gasping final scene.
Kali Ma

dir-scr Soman Chainani
with Kamini Khanna, Brendan Bradley, Manish Dayal, Trevis Waters
07/US 14m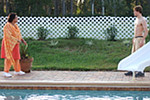 This lively short is both funny and terrifying as it confronts homophobia with a striking ethnic twist. Santosh (Dayal) is tormented at school by a gang of violently homophobic bullied led by Peter (Bradley). When Santosh's mother (Khanna) sees his bruises, she takes matters into her own hands and heads out to confront Peter's parents. But they're not home, so she takes out her rage on Peter himself, much to the horror of Santosh, who has rushed there to stop her. The film has a silly, over-the-top tone while also addressing a very serious issue with quite a bit of suspense. This combination of comedy and thriller is remarkably effective. As is the message that you really should never mess with an Indian mother.
Working it Out

dir-scr Tim Hunter
with Simon Kearney, Paul Ross, Glaston Toft
07/Australia 6m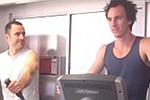 With only the slightest of ideas, this brief Australian short kind of pokes fun at one rather cliched aspect of gay relationships: monogamy. At the gym, jealousy flares when Marcus (Kearney) sees another man, Jeremy (Toft), cruising his boyfriend Peter (Ross). And while Peter thinks all of this is rather funny, Marcus gets increasingly overwrought. Until he meets Jeremy in the shower. The film is colourful and corny, and has some hilariously bitchy dialog. But Marcus isn't much more than a preening stereotype, and the message seems to be that it's pretty easy to make a couple reconsider their commitment to fidelity.
Lucky Blue

dir-scr Hakon Liu
with Tobias Bengtsson, Tom Lofterud, Britta Andersson, Johan Friberg, Michaela Berner
07/Sweden 28m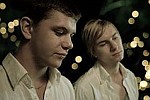 Shot like a feature, with lush cinematography and strong performances, this moody drama centres on Olle (Bengtsson), a young guy working at a caravan park for the summer, where he meets Kevin (Lofterud), the nephew of the camp managers (Andersson and Friberg). As they prepare for the big karaoke night, their friendship develops into romance, which causes quite a bit of confusion for both of them. The film is beautifully structured in an understated way that focuses on emotions and attitudes rather than plotting. It's subtle and very involving, and director Liu fills the film with lovely little touches, sharp moments of humour and scenes that are dark, tender and very sweet.
The Island

dir-scr Trevor Anderson
with Trevor Anderson
09/Canada 6m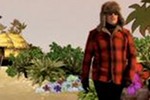 Filmmaker Anderson offers a witty visual essay with this clever short, wryly narrating as he trudges through an endless snowfield in northern Alberta. His observations spring from homophobic fanmail he receives, including one suggesting that all gays should be put on an island where they can just give each other Aids. This sparks Anderson to fantasise about life on this island, rendered in vividly colourful animation. He sees it as a "homo-utopia" that's like a tropical paradise compared to his rural childhood. And he also ruminates about Aids care and then, if someone dies, an idea for a very big send-off. It's a very astute rant, sharp and often hilarious, but with a serious, important point.
Love Bite

dir-scr Craig Boreham
with Aidan Calabria, Will Field
08/Australia 3m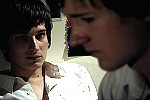 Extremely simplistic, this short feels like one scene from a much longer piece about two teen friends sitting in a bedroom as they always do. But on this day one of them announces he has something important to confess. "I've changed," he begins. And we are pretty clear that, even though it feels like he's going to come out of the closet, something else is going on here. Indeed, it's a joke with a punchline. At least filmmaker Boreham shoots it skilfully, and his young actors are very good. But it feels like a very thin fragment of something much more interesting.
Futures (and Derivatives)

dir-scr Arthur Halpern
with Bill Barnett, Cam Kornman, Vin Knight, Kelly Miller, Mark Hervey, Fredda Lomsky, Peter Picard, Marty McDonough
07/US 18m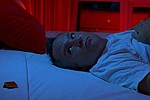 This surreal short is thoroughly entertaining as it shifts gears dramatically. It's not clear what the point is, but who cares? The first section is like The Office, as a bunch of bored desk-monkeys in a finance company blankly try to prepare for a big meeting. None of them seems to have a clue what to do, so they hire a temp (Hervey) to prepare the presentation for a big meeting. And he's a lot more creative than they are - soon everyone is mesmerised by the swirling images on the screen, an they go on to discover small, colourful pleasures in the world around them. Filmmaker Alpern gets the comical-absurd tone just right, and his cast are genuinely hilarious. Even though it's utterly vague, the film feels like a colourful flight of imagination during a particularly dull meeting. Or maybe it was the bland office that wasn't real after all.
Weekend in the Countryside

Week-end à la Campagne
dir-scr Matthieu Salmon
with Theo Frilet, Pierre Moure, Jean-Claude Dumas
07/France 16m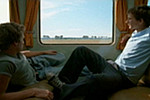 Subtle and a little creepy, this French short is filmed with first-rate production values, including strong sundrenched cinematography and sharply understated performances. Pierre and Marc (Frilet and Moure) head off to a country house where Pierre's father (Dumas) lives with a pack of scary dogs. Marc is petrified of the dogs, and is even more unnerved when Pierre comes on to him. But he overcomes both fears to head out for a swim, although the dogs don't seem to be too happy that he rebuffed Pierre. The film is virtually silent, with natural-style acting that conveys feelings far beyond any dialog. But it's so gritty that it's not easy to watch, especially as it touches on some very bleak themes.

Also on
B O Y S
O N F I L M
P A R T 2:

---
VOL 1
< BOYS ON FILM >
VOL 3
---


< < S H O R T S > >
If you have an film you want me to review - just ASK

© 2009 by Rich Cline, Shadows on the Wall


HOME | REVIEWS | NEWS | FESTIVAL | AWARDS | Q&A | ABOUT | TALKBACK